I am bummed! Here's why: I bought running shorts from Thredup because they had a 6-inch inseam, perfect for NOT chafing. It was hella hot this morning, so I was correspondingly hella excited to try them out. Well, not only do the shorts ride up when I run, there's the added twist (ha!) that they give me a full, front-to-back wedgie. :/
But! I also bought LONG running pants from Victoria's Secret Sport during one of their bra + pants = $55 sales, which is a bonkers savings although you could make the argument that I didn't technically need them. (I may have a slight running gear addiction; we will discuss later.) Needed or not, I LOOOOVE them. They look great and have THREE pockets! THREE!!!
All this reporting on lovely running gear is brought to you by my workout log:
Sunday | ran 14.36 miles outside in 2:30
I have a 17 miler coming up on my marathon training schedule and I gotta be ready!
Monday | walked 2.42 miles outside in 40 minutes; 50 minute ballet class
Tuesday | ran 5.43 miles outside in 55 minutes
Wednesday | walked 2.39 miles outside in 40 minutes; 45 minute jazz dance class
Thursday | ran 5.29 miles outside in 55 minutes
Friday | walked 2 miles outside in 35 minutes
I took an active rest day before my 5K race the next morning. My GPS didn't clock my first mile for some unknown reason, so i just called it my bare minimum of two miles on my usual walking route.
I also decided to go into DC and pick up my 5K bib to save the anxiety of needing to pick it up in the morning before the race. Sadly by the time I got down to the zoo most of the animals had already gone to bed, so I didn't get to see much except a couple vultures. Bib pickup was at least quick and easy, and in addition to a shirt the goodie bag included a Kind bar and a rhino made of squishy stress foam, among other things.
Then I went home and laid out my race gear. Ruffian helped.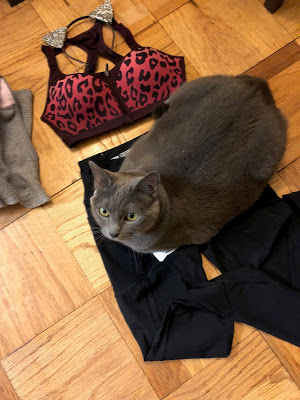 Saturday | ran 3.14 miles outside in 26:01.7 seconds
Speaking of super awesome things and animals (but nahtazu), I made my flight reservations from the Walt Disney World Marathon this weekend. Kidani Village, here I come! ^_^