Pat and I began our whirlwind Universal Studios Florida trip in unusual way: with a 3:30am flight. Hey, it was super cheap! Unfortunately, Frontier airplanes are NOT comfortable for sleepers, but we managed to snag some shuteye on the way to Orlando and landed before 6:30am, ready and rarin' for some theme park action.
We picked up an Uber from the airport and hit our hotel before 8am. We were staying at the DoubleTree at the Entrance to Universal, which I snagged for over 50% off on Hotwire as one of their "blind" hot rates.
It's not on property but may as well be; we were able to walk to CityWalk in about 10 minutes. We could even see the top of Rip Ride Rockit from our room; if we'd been higher up in the tower we probably could've viewed the whole park.
Oh, I haven't mentioned an important plot point yet – part of a tropical storm was passing over Orlando that morning, which means it was pouring down rain. I didn't even bother changing my clothes or putting on makeup as everything was bound to be ruined/covered anyway. But we were 100% undeterred from park-touring – Pat snagged us some ponchos from the hotel gift shop and off we went!
We arrived at the gates of Islands of Adventure about 30 minutes before opening. Although the borderline torrential rains weren't exactly ideal, they were performing one helpful function: keeping people the hell away. There was scarcely any crowd waiting at the gates, and when they swung open we hustled inside with only a handful of others.
Before setting off, a detour was required: we ducked into a gift shop and requested plastic bags into which we could stash our poor phones. Incidentally, this is why this post doesn't feature a lot of photos as I was busy protecting my phone from the rain. (Fear not, the next day has lots!)
That done, I led us left, wading through what turned out to be a newly formed Lake Jurassic (squishy socks say what?), and into The Wizarding World of Harry Potter. Pat claims I took him the "long" way 'round but I stand by it.
Right may or may not be technically shorter but left deposits you directly in front of Hogwarts Castle, our first destination since Hagrid's Magical whatchamahoosit was closed due to the weather. I made Pat go in front of me in line and enjoyed watching him discover the various fun elements of the castle queue.
After Harry Potter's Forbidden Journey Past Things That Are Trying To Kill You, we emerged to… buckets of rain. The storm wasn't ready to let up, and it was having an unfortunate effect on the park; namely, a remarkable number of rides weren't operating. Our ponchos were keeping us from miserable levels of wet but there was precious little in the way of rides for us to walk to.
So we made an unusual game-time decision and took the Hogwarts Express to Diagon Alley. A little early for park hopping, perhaps, but at least Gringott's was open. We were able to get in a ride there with minimal wait, then wandered about Diagon Alley a bit, which in addition to being richly themed is at least partially covered. Pat and I enjoyed Knockturn Alley's little bit of ambiance especially.
The only other ride we took in at USF at that time was Men In Black: Alien Attack. Pat DESTROYED me, and was very disappointed that the ride doesn't display everyone's score; he wanted to know if he'd destroyed everyone else.
We took the Hogwarts Express back to Hogsmeade, then ducked into The Three Broomsticks for an early lunch. It was already absolutely packed, but the cast members were keeping the place in ship-shape, actively seating and busing and just generally achieving a turnover any restaurant manager would envy. We both got turkey leg meals, which were fine.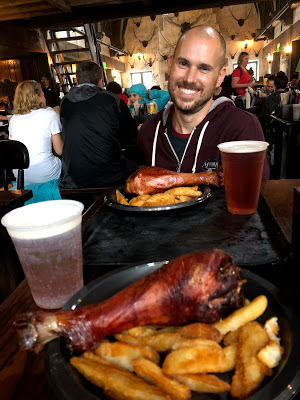 The rain was finally letting up, and we set our sights on exploring Hogsmeade a little more. We poked around some shops, ultimately ending up in Honeyduke's where Pat picked up some bulk candy. The cast member who served us was super nice and told us about a secret bar drink: part Guinness, part Strongbow, part Hog's Head ale. We never got around to trying it but maybe you can and report back?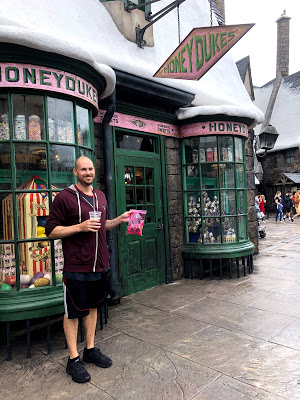 Post candy break, we saw something interesting: while Hagrid's Magical Motorbike Something Something was still listed as delayed, they were running some empty trains. I really wanted to give this a try, so we took a chance and hopped into line. It took probably about an hour, but my faith was ultimately rewarded: the ride opened and we were halfway there!
Hagrid's Magical Way Too Long Name does something sneaky-sneaky, though – the preshow room is strangely far away from the loading area. I'd say we waited another half an hour at least between viewing the preshow and boarding the train, which seems odd to me. But the important thing is that it didn't break down, I was able to climb into the sidecar, and… I loved it!
It's hard to tell since I've only done it the one time, but Hagrid's Magical Skrewt-Viewing Train might be my favorite Harry Potter ride. The launches were super fun, and the show elements really elevated the whole experience, driving home that there was a story along with the thrills. And who doesn't love unicorns?!
Mind you, it could stand to be a little longer, and it could CERTAINLY do with being open for longer hours, but I'd love to ride it again someday.
(For those wondering: Forbidden Journey is my second favorite, Gringott's third. I just think the latter is a little too abrupt with the roller coaster elements.)
Pat really wanted to ride the Hulk roller coaster, so we back tracked through Jurassic Park (Lake Jurassic had thankfully drained by then). On the way we passed The Watering Hole, so we stopped for a drink. A super nice cast member made us two Dino Roars (review forthcoming), and informed us if we kept the glasses we could get a discount on refills.
Next we slammed through a bunch of rides in a row: first the Hulk, which Pat really enjoyed. Then the Spider-Man ride, in which Pat rightly asked the question: why is everything in the queue made of blue molding?
We looped back around for Forbidden Journey again, then the Jurassic Park water ride. I was a little bummed to find it just the same as before; for some dumb reason I thought the updates Hollywood's version got applied to Orlando as well. But no, same dinosaurs, no mosasaur. Such is life.
The cast member loading the Jurassic Park boats gave me a bit of a hard time about wanting to sit in the back so I wouldn't get as wet, but I am not ashamed! I came to see the sights, not soak the soaks. And that, friends, is why I've only ridden Kali River Rapids once. >D
Since we had the glasses and were in the area and all, we stopped back at The Watering Hole for another round of Dino Roars before jumping into line for Reign of Kong. Sweet mother of my one cat Ruffian, what the hell is with that hyper-intense queue? It's dark as all hell in there, plus there are the flayed people and the creep-tastic audio-animatronic shamaness? I read there are even scare actors on busier days. Yikes. We saw one little kid walk into the main holding room, take one look, and turn around. I don't blame ya, kid.
And then the ride is… fine? I haven't seen the Kong movies but I understand the basic concept. Maybe if I knew more backstory I would find this ride more interesting but is was just kind of a lot happening to no clear purpose. Why are we here? Why are they here? What's the point, exactly? You know that I know that this is just a motion simulator with a wraparound screen, right? Can we backtrack to the room with the actual set pieces?
Maybe we didn't have the strongest driver – our audio-animatronic truck driver was Becky the cowgirl, but later research informed me that there are 5 different drivers with 5 different dialogue sets. Perhaps a different one would create a stronger narrative?
All I can say for sure is that nothing about this ride suggests that the queue theming should be half as bonkers as it is. Restraint, Universal. Or go balls to the wall. Pick one. But the queue should not be crazier than the ride, y'know?
One final note about Kong: the worm thingee in the final portion of the queue looks like a Graboid. Anyone? Anyone?
Anyway. We left Kong behind and briefly popped into the line for Hulk, but it was pretty long and we were getting tired so we bailed. Instead we left the park and grabbed dinner at Antojito's; review to follow.
Then it was back to the hotel for some much-needed shuteye. Gotta be rested for those Horror Nights!
Don't forget, you can follow FRoA on Twitter @fairestrunofall and on Instagram @fairestrunofall. If you have any questions or thoughts, leave a comment or email fairestrunofall@gmail.com. See ya real soon!