Have I ever mentioned my favorite animal here? Well, it's the humble shark. Because they are AWESOME. So whenever I see them in WDW, I combine two loves in one place and become super excited.
Sure, there are the obvious places – The Seas with Nemo and Friends has a whole play section dedicated to Anchor, Chum, and Bruce. And they get their own song in Finding Nemo: The Musical, so there's that.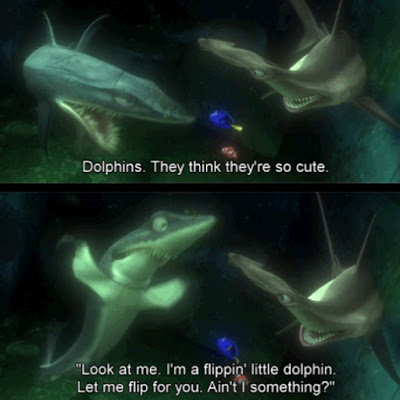 Plus the Coral Reef, of course, and I hear you can swim with them in Typhoon Lagoon, although I think they might have closed that attraction? Anyway, yeah, they show up a lot in any Nemo or ocean related exhibit, but sometimes you can find them in unexpected places, too.
To that end, I have dedicated my life, my time, my talents to the goal of locating all the random sharks in WDW. Let's start here, in the main queue for Toy Story Midway Mania:
I don't know what game this is supposed to represent – Go Fish? Or some super-aggressive aquatic version of Magic: The Gathering? – but I like it.
Jenn is running the 2015 Marine Corps Marathon for the Diabetes Action Team. Will you help her earn her bib while fighting diabetes? Click here to make your tax-deductible donation.

Don't forget, you can follow us on Twitter @fairestrunofall. To see how our training is going, check out Jenn's dailymile here and Moon's dailymile here. If you have any questions for us, leave a comment or email us at fairestrunofall@gmail.com. See ya real soon!