Hi guys! Time for another glorious trip report, highlighting our time in the Disneyland Resort. For the sake of flow, this report will be written by Jenn with Moon popping in for notes – don't worry, these will be clearly delineated. As with my last trip report, a lot of food reviews will be held for a later post, so stay tuned for that. Hope you enjoy! To read all the posts in this report, click here. 
My parents live right by BWI [MOON: Mine too!], so my dad can usually be coerced into offering rides. This day was no exception, and since Moon lives nearby we picked her up too. Airport check-in and getting through security took longer than normal, but we had arrived in plenty of time for our flight so it was no problem.
Once into the airport proper we bought small breakfast items (Jamba Juice for me, though sadly not free this time, and a Naked juice for Moon), and then we sat at the gate and read a bit until boarding time – which was actually on time! Who would have guessed?!
I had not sprung for Southwest's upcharge of Early Bird Check-In, as I only believe in it for business travel when I'm not footing the bill, but I had checked in online at precisely the opening time and managed to snag us B boarding group positions. I was some slots ahead and reserved us our preferred seats: aisles for both of us, directly across from each other so we could still converse. Perfect.
Until it happened.
The last people to board the plane came in and, not surprisingly, found that there was nothing left together. The guy asked me if I would mind moving to the middle seat for some reason; I'm not entirely clear on how that would've helped him sit with his girlfriend, but I, um, well, said no, because nobody likes the middle seat and I had won my right to early selection with careful advanced planning. Then he asked me if I would move up one, as somehow there was another aisle seat available, which did make sense to me as that would make two seats together, but I initially refused because I wanted to stick with Moon. So THEN he decided he would take the middle seat next to me and, uh… well, he was a broad gentleman. Which is fine! Some people just are! Yet it's not… an ideal trait in an airplane seatmate, y'know? I don't have a good solution for this one. Anyway. I sucked it up and moved up one and just talked to Moon diagonally backwards and occasionally got hit in the head by people traveling to the bathroom. Such is life.
MOON: Juuuuuust saying – they slept the whole time.
Go ahead and tell me if any of this behavior renders me a jerk; I'm always open to personality improvements. But I kinda feel like, if you're flying Southwest, you have to recognize and accept that if you're among the last to board you take what you can get. Naturally there are exceptions to every rule and extenuating circumstances do exist and what not, but that's the law of the jungle, no?
My new neighbors were very pleasant and actually rather adorable – a middle-aged couple, the wife slept on the husband's shoulder, and when they ordered drinks they clinked glasses before imbibing. (Side note: have you ever noticed how air travel makes drinking at any time whatsoever socially acceptable?) Moon seemed to be fine with her seatmates too, so that turned out all right.
MOON: Except for the papers. This lady had A LOT of paper. She would read a page, tear it out, then stuff it into the backseat pocket. She and her husband were also SNACK FIENDS. I've never seen anyone eat so many snacks on a flight. It was adorable, don't get me wrong, but I was impressed. 
We landed early (!) and grabbed our luggage once an LAX employee had climbed all over the carousel undoing a bag jam, much to my amusement. From there we picked up the Budget shuttle to get our rental car. The Budget guy was kinda pushy and freaked us out about insurance coverage; even though I know my own insurance covers stuff we wound up getting partial coverage from Budget too in case. Which I think may have been dumb in retrospect, but whatever.
Although we had reserved an economy vehicle, we wound up in a Volkswagen Jetta. "Is it a party color?" inquired Katherine via Twitter. No. It was brown, which filled Moon with glee.
MOON: I was indeed filled with glee. More on The Importance of Brown later.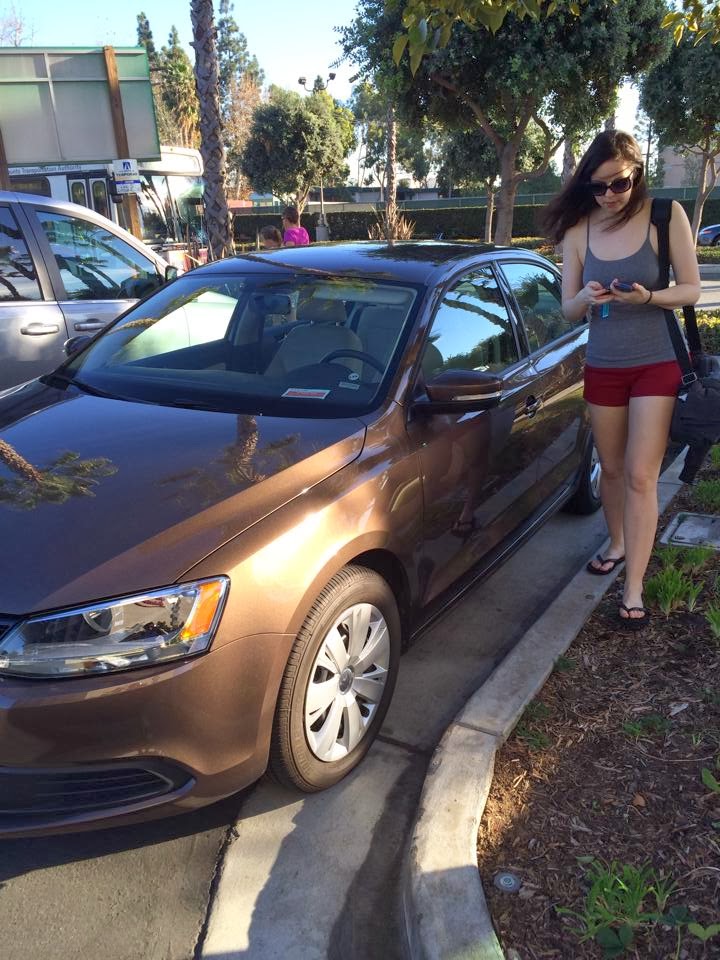 Braun.
We spent the rest of the trip periodically referring to the fact that ve vere driving in a braun Wolksvagen Jetta. Which felt like a friggin' LAND BOAT to me, a habitual driver of a little Ford Focus. BIG IS SCARY. But I didn't bend, spindle, or mutilate anyone or anything with it over the course of the week, so I guess it turned out okay.
MOON: Oh, it wasn't that big!
We took off for the Howard Johnson Anaheim and, barring a brief and exciting series of U-turns furnished by clever, clever Siri, we found it without trouble. We checked in and found ourselves in building three, right behind the main building. The room was fairly large, and had some nice features like a mini-fridge, coffeemaker, and extra sink outside of the bathroom. The one consolation to its Disney-adjacent location: a Mary Blair-style art print on the wall.
After retrieving our suitcases from the car, we dumped our stuff, changed out of our Maryland-appropriate winter clothes, and put on glorious, glorious shorts. It was awesome. Then we WALKED to Disneyland! WALKED! We were crossing under the Disneyland sign in under ten minutes! I mean, how awesome is that?! Sure beats buses. Is this what it feels like to stay at an Epco-area resort?
The Disneyland layout works so that you go through the bag check line and then you're in a wide, courtyard-type area with Disney's California Adventure on one side and Disneyland proper on the other; the gates are parallel to each other and you can go either way. Across from the bag check is another bag check/exit area, and from there – from our direction, anyway – you enter Downtown Disney.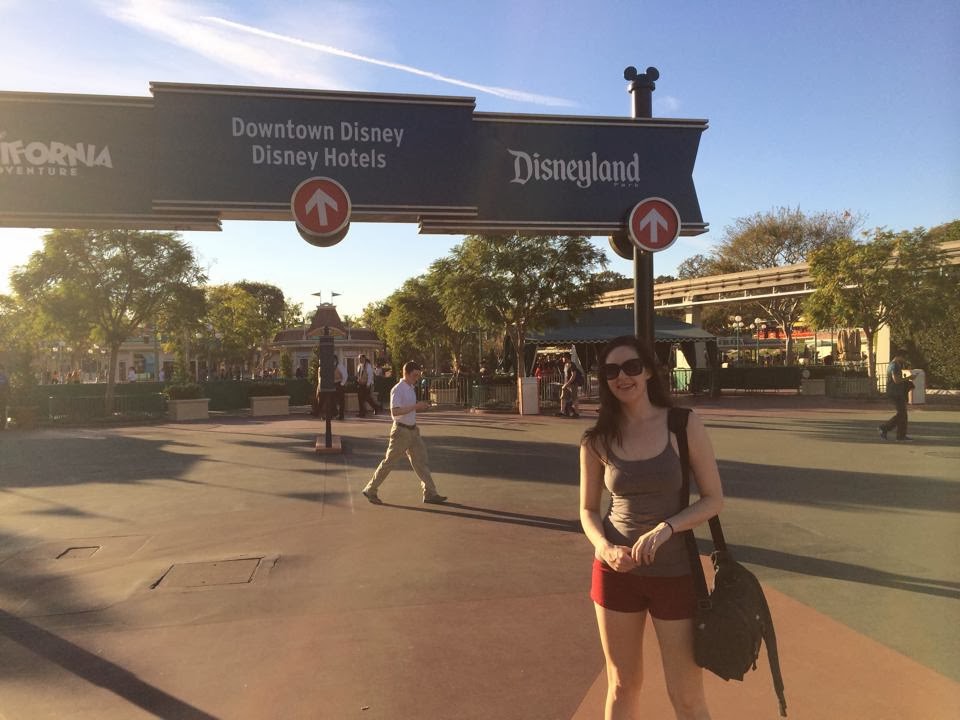 I like how Disneyland is coming out of my head.
We headed that direction and walked all the way down DTD, which, contrary to the WDW setup, is a long line of shops in straight lines all the way down the street until you bottom out in the Disneyland Hotel (there are entrances to the Grand Californian and Paradise Pier along the way).
As we went we poked about at some shops and restaurants, but nothing was quite working for us so we wound up at the Disneyland Hotel in the famous Trader Sam's Enchanted Tikki Bar. Sadly, the amazingly decorated interior was packed, but we were able to grab some drinks to go and take them out to the fire pit across the way. We spent a good 30, 45 minutes with that firepit, nursing our drinks, relaxing, and generally being silly.
Moon's latest favorite pastime is Truth or Dare.
MOON: Yes, it is. I commend your sporting behavior!
My dare? "Take a sassy photo of yourself and make it your Facebook profile picture RIGHT NOW." Which is how this happened:
Sassy!
Eventually our drinks were done and we were ready to find some dinner, so we took a look at one of the store maps posted about and decided to give La Brea Bakery a shot. It was on the other end of DTD; on the way back we stopped in Roxy so that Moon could buy a hoodie, as she had forgotten to bring one.
MOON: In fact, I forgot a lot of things. I was WEARING my hoodie in the morning before we left for the airport. I'm still not quite sure what happened to it. I still blame getting my weeks mixed up. 
We looked at the La Brea menu and selected grilled vegetable sandwiches as a likely hit, so we wandered into their Express section and… saw it wasn't available there. We turned tail, approached the sit-down podium, and were seated within minutes. Review to come!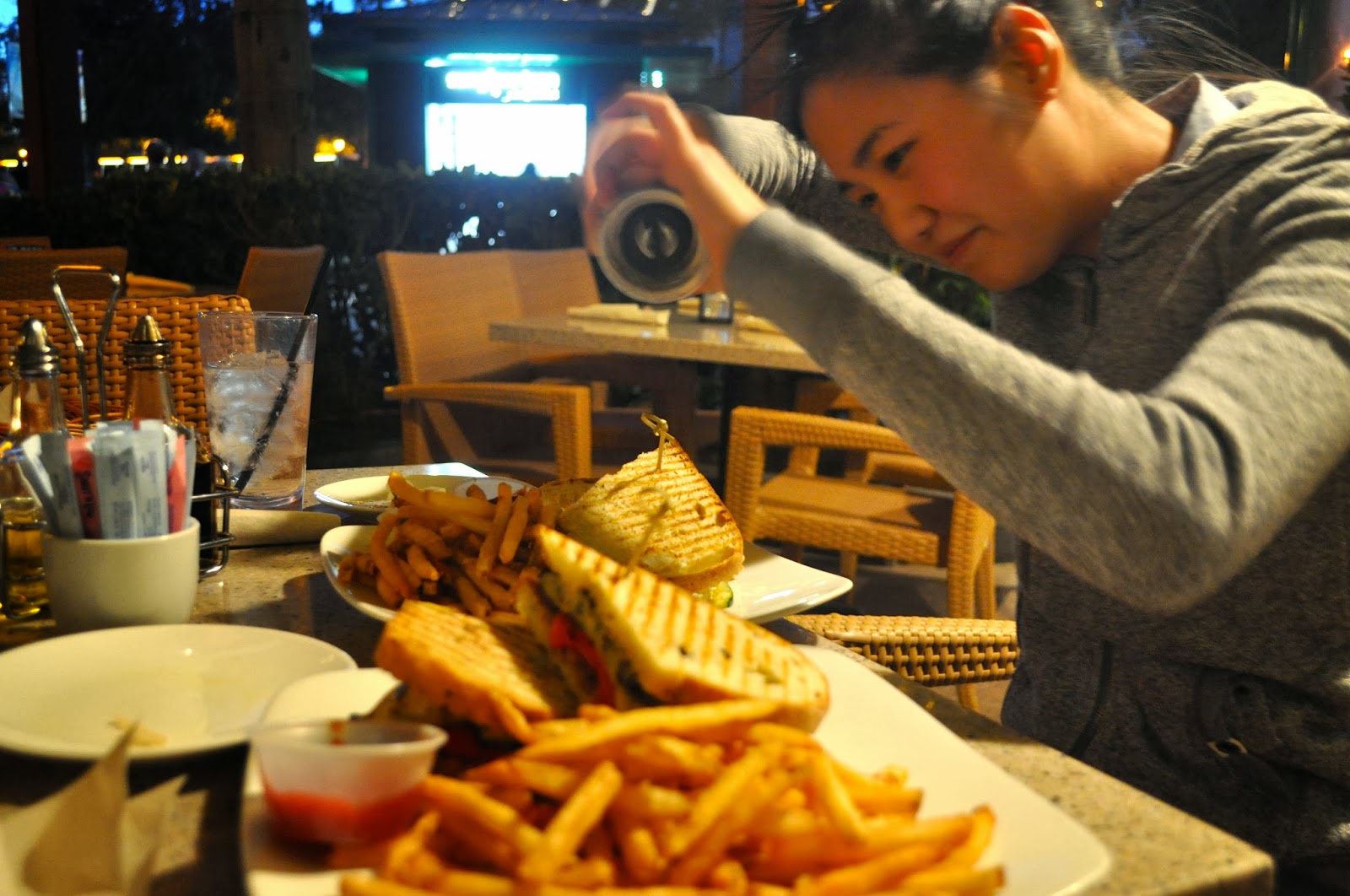 Waiter, there is too much pepper in my paprikash.
It was still only about, oh, I don't know, 6PM? 6:30PM Pacific? But to our bodies it was three hours later, and I kinda wanted to encourage that until after the race so that our 3AM wakeup call on Sunday wouldn't feel so harsh. Still, we were on vacation, so we stopped at the hotel gift shop for some fun supplies. Thing one? Reeses Pieces. Moon LOVES Reeses Pieces. She also grabbed some Sour Patch Kids, which were rung up by a cashier who looked AND sounded exactly like Edna Mode from The Incredibles. It was uncanny.
Thing two? Alcohol. As we surveyed the cases, noting with some trepidation the rather expensive bottles of wine, and Aussie lady came up and started giving us purchasing advice. Something about avoiding cabernets, or possibly ONLY drinking cabernets; I confess I got a little foggy on these points. Interestingly enough, her #1 recommendation was the 25 oz cans of Bud Light Lime, which we ended up buying because I like carbonation and we were both sick of trying to make a decision.
From there we retreated to our room and tried to find a movie but came up short. Instead we just munched on our snacks and talked, I showered, and then we went to bed at like 8PM. East Coast girls forever.
And then we woke up again forty minutes later to BOOM! BOOM! BOOM! BOOM! for like ten minutes straight and about five minutes in I realized it was the Disneyland fireworks. We had arrived.
MOON: I actually slept through the first night of fireworks; sorry for staggering your cadence, Jenn!
Tune in tomorrow for day two of our trip!
Don't forget, you can follow FRoA on Twitter @fairestrunofall and on Instagram @fairestrunofall. If you have any questions or thoughts, leave a comment or email fairestrunofall@gmail.com. See ya real soon!