For this cheater's recipe, you don't even have to use a microwave. In fact, in the spirit of my IKEA assembly instruction foods, I'm essentially going to tell you: make a caprese sandwich. Only a little better. With More Veggies, you can feel More Healthy, plus More Fueled with carbs from the bread and protein from the cheese. You can add the pesto spread back in for the bread if you want, but I swapped in olive oil and spices for heart-healthy fats. Hotcha!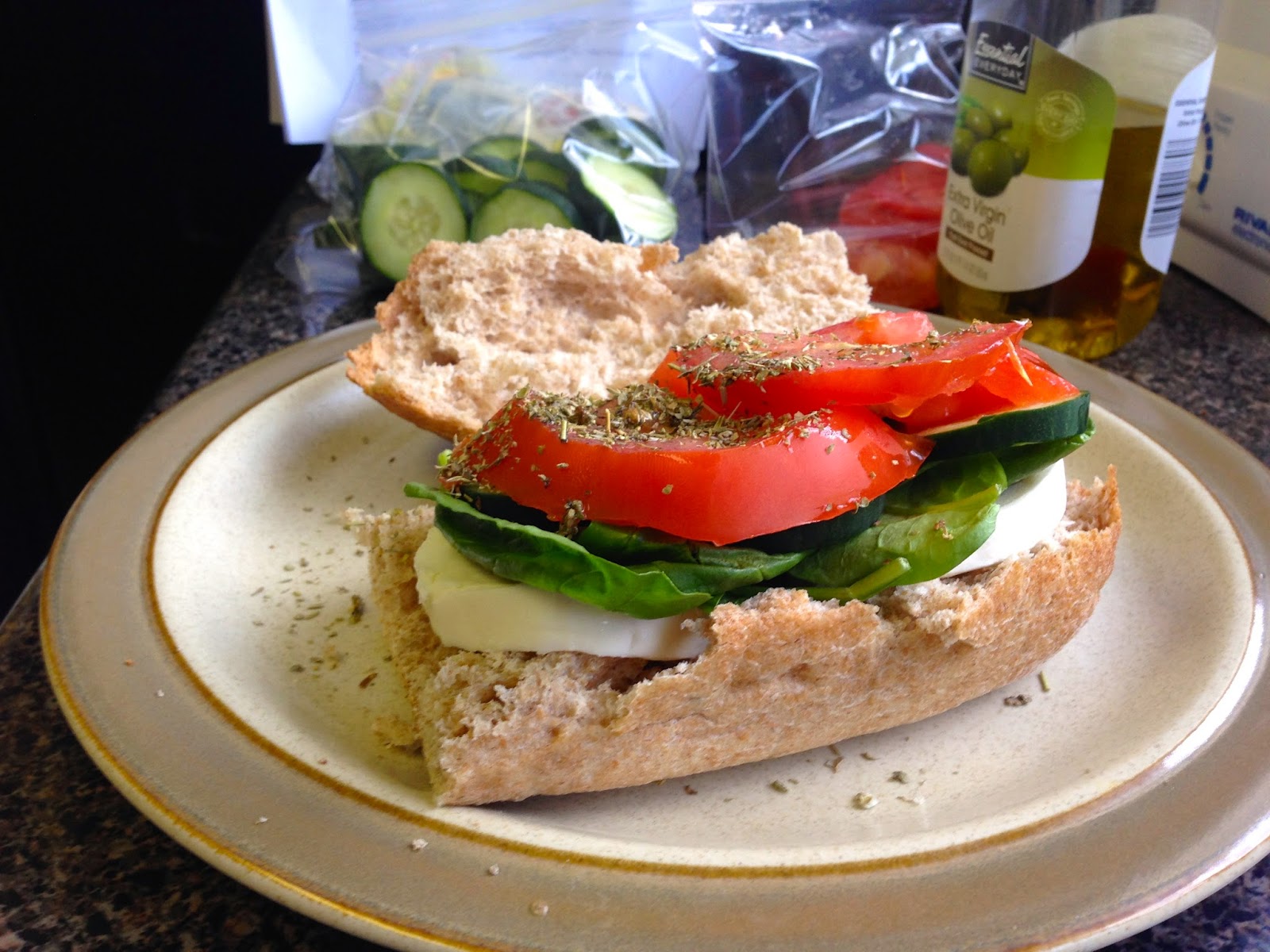 The Cheater's Veggie Sandwich
You will need:
Two slices of good mozzarella

One tomato

One cucumber

A handful of spinach

A small loaf of French bread, white or wheat

Olive oil

Italian spice blend (plus a little salt if you want, to taste)
Cut your bread loaf into the size sandwich you want, if necessary. Slice it lengthwise and then pull a bit of the innards out to make room for the fillings. (I recommend you eat the scraps with extra olive oil.)

Place the two mozzarella rounds on the bottom piece of bread. Then eat a couple more slices because mozzarella is delicious.

Artfully arrange your spinach leaves on top of the mozzarella.

Slice your tomato and cucumber up and then add as many pieces of those as you like atop the spinach.

THIS LAST PART IS CLUTCH. DO NOT SKIP IT. Drizzle olive oil over the veggies and then sprinkle with your Italian spice blend and maybe a dash of salt if you want.

Place the top slice of bread over the whole shebang, cut down the middle, and enjoy!
What's your favorite sandwich recipe?
Don't forget, you can follow FRoA on Twitter @fairestrunofall and on Instagram @fairestrunofall. If you have any questions or thoughts, leave a comment or email fairestrunofall@gmail.com. See ya real soon!