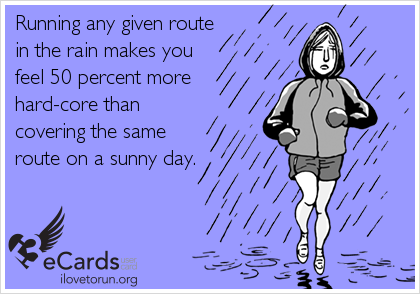 Addendum: UNLESS YOU ARE DEAD.
Last week we had a good, solid summer storm, during which I managed to fit in a good, solid Target run because I was already out post-ballet class anyway and what's a little rain?
That is today's question: what's a little rain? Or rather, a BIG rain, because while rain is no big deal in a car, it can become a problem when you're trying to get a run in.
And someone was. As I drove home from the store, I saw a guy jogging on the sidewalk, multitudinous raindrops be damned. Also, did I mention the lightning? Because THERE WAS A LOT OF LIGHTNING.
I know, I know – as a treadmill lover, I don't understand the call of the wild (although I'm working on it). Some people don't even have access to a treadmill in the first place. When you need to get that run in, be it because you've got a training plan to follow or you're just that antsy, it can be hard to sit back in the face of bad weather.
Still: LIGHTNING, people. LIGHTNING. Doesn't that get unsafe?
My questions to you are, like the aforementioned raindrops, multitudinous:
When does running outside become unsafe?

How hard does it have to be raining before you give up the running ghost?

What other weather phenomenon keep you off the road?

Have you ever gone out and run in conditions that were… well, stupid?
Don't forget, you can follow FRoA on Twitter @fairestrunofall and on Instagram @fairestrunofall. If you have any questions or thoughts, leave a comment or email fairestrunofall@gmail.com. See ya real soon!