No trip to brief for a trip report, right? Last week I was in Orlando for a conference, and I figured while there I may as well schedule in a little playtime. So I headed down a day early for some Universal Studios Florida time (don't worry, WDW, you're next!).
There was a long luggage check line at the airport, I barely made my boarding group, I had hardly eaten anything, and I was frankly exhausted by the time I made it to Orlando, but there's nothing like the promise of a theme park to fuel the old adrenaline. I met my old boss (at the conference with a different organization) at the Starbucks right outside security, picked up her coworker, checked in at the conference hotel, and then we were cabbing it to USF!
We hit the original park first and headed straight to the new Harry Potter section, Diagon Alley. The Gringotts ride – officially Harry Potter and the Escape from Gringotts, I believe – posted a 45 minute wait, which was frankly good enough for us at 2 in the afternoon in the summer, so we hopped in line.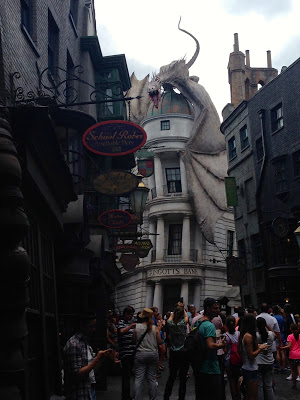 DAGRON
The queue was pretty good but VERY extended. First you walk through the main bank area with the various audio-animatronic goblins doing, I don't know, ledgers or math problems or something. Then you look at nothing but stone walls for awhile until you reach a section where they want to take your picture in front of more stone wall (maybe they magic it up in post; we didn't check). Then you get on a fake, but well-faked, elevator, which takes you down into the bowels of the bank. THEN you go up a flight of stairs and THEN you're finally in a position to get on the ride.
Iconoclast Goblin wears a bowtie.
As for the ride itself? [SPOILER ALERT] It's kind of like Revenge of the Mummy, only a bit milder in force. "Dark ride" scenes – in this case often holograms and large-screen projections enhanced with some real-life set dressing, similar to the Hogwarts ride – are interspersed with fairly gentle roller coaster action. If you can handle Big Thunder, I'd say you can handle this.
The basic plot line is that you're looking to open up an account, so Bill Weasely is showing you around. The main Potter group shows up for some reason and hijinks ensue, naturally. It's fun, and it definitely grew on me with subsequent rides, but I think I prefer the original Hogwarts ride in Islands of Adventure. Interested to hear any opinions you guys might have.
Our next stop was the Leaky Cauldron for lunch, which has NO INTEREST in nutritional balance. Not that I was necessarily looking for a kale salad, but everything had a meat-and-potatoes-hot-stuff bent. I went with the Ploughman's Lunch, which I will detail further in an upcoming food review.
After lunch we wandered through a gift shop or two and then Knockturn Alley, just checking out the details. At this point there was a 30 minute posted wait for the Hogwarts Express, so we decided to take a shot. The queue area is kinda cute, set up to look first like an actual London train station (complete with snack stop full of English stuff like Mars bars), plus a transitional trick mirror that makes it look like the people in front of you in line are disappearing into the wall. We were able to skip a significant portion of the line by virtue of being a party of three.
[SPOILER ALERT] The Hogwarts Express looks like a regular European train with compartments and whatnot, but the windows are actually screens that project the England-to-Hogwarts countryside, or vice versa. The frosted glass pane between you and the train corridor is also some sort of screen that shows silhouettes of characters as they pass by in the hall. The trip TO Hogwarts is much darker and features an attack by the Dementors, so that's fun.
Upon arrival in Islands of Adventure's Hogsmeade, we immediately encountered a mere 15 minute wait for the Dragon Challenge. Despite impending rain we jumped in line. After, of course, stowing ALLLLLL our stuff in lockers. Universal has long had a policy of making you stick bags and stuff in lockers before you can even get in line, but they've gotten MUCH more hardcore lately on some of the more intense roller coasters. Now they don't even permit you to carry your phone or anything in a zippered pocket, which I had included in my attire for this specific purpose. You have to walk through a metal detector to make sure there's nothing in your pockets.
But anyway, we made it through the line and rode the Chinese Crested before the rain started. From there we hightailed it to the Hogwarts ride (Official Name As I Remember It: Harry Potter and the Forbidden Journey), where the posted wait was 45 minutes. Unfortunately it was probably longer at that point because everyone could see rain was coming and wanted to do something indoors. Still, we made it eventually and it was a super fun ride as always.
We exited the ride to discover that it was now positively POURING outside. Everyone was coming off the ride but no one was leaving the gift shop, so it was getting increasingly insane. We decided to make a break for it and wound up in line at Poseidon's Fury, which I knew was a) relatively nearby; b) inside; and c) inside for a good 15 minutes worth of show at LEAST. The line was weirdly long (I suspect there may have been technical difficulties) but our Taylor did a good job. I do rather wonder, though, how they convinced Christina Pickles to be in this thing. Also, it is WAAAAAY dated. But kinda fun therefore!
It was still raining when we got out, but not nearly as hard. We wandered back to the Hogwarts Express, where there was pretty much no line at all. [SPOILER ALERT] The trip back to London featured nothing but safe and happy scenes, my favorite being Ron and Harry peering into our compartment and declaring that we looked like a bunch of first years. Oh, and Buckbeak. Always Buckbeak!
On our way out of Diagon Alley we passed the new Transformers ride and, seeing a 30 minute posted wait time, decided to go for it. Guys, this ride is EXACTLY THE SAME as the Spider-Man ride in IoA. In terms of mechanics, sure, but I also felt very seriously that the scenes and sets were basically just re-skins. Don't get me wrong, it was fun, but I had some serious glitch-in-the-Matrix deja vu. AUTOBOTS, ROLL OUT. (That's right, right?)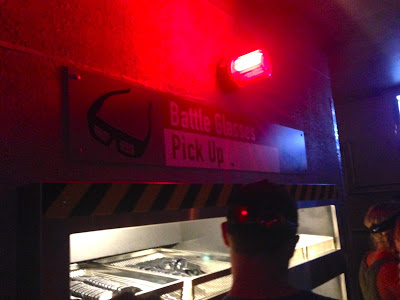 BATTLE GLASSES
Up next was Revenge of the Mummy, which is one of if not my absolutely favorite ride at Universal. I love the reasonably thrilling coaster combined with the dark ride scenes, plus Brendan Fraser is awesome of course. "I would've enjoyed this interview a lot more if I had GOTTEN MY CUP OF COFFEE!"
We had about enough time for one more ride, so we headed for the Despicable Me motion simulator – which boasted an hour wait. Pass. Instead we headed across the way to Shrek 4D, which I had never really had much interest in… and my instincts were totally spot on. I found most of the humor pretty unsophisticated. But then plenty of people just love Shrek so YMMV, as the kids acronym.
Real subtle, guys.
From there we headed out to CityWalk, where we got dinner at a Mexican place that I will talk more about in my Universal food post. And there you have it: my first day at Universal. More to come!
Don't forget, you can follow FRoA on Twitter @fairestrunofall and on Instagram @fairestrunofall. If you have any questions or thoughts, leave a comment or email fairestrunofall@gmail.com. See ya real soon!