JENN: So how's your running been going?
MOON: Steady, can't complain. Although I need something new to listen to. I get so bored.
JENN: Still enjoying the treadmill?
MOON: I am, except the boredom part.
JENN: You should've come to Orlando with me last week! I mean, the treadmill was just as boring but there was fruit-infused water every day. I mean, it was Florida so it was humid even inside the gym (and don't even get me started about outside; the 5K was NOT cool), but that infused water was really awesome. I should start doing that.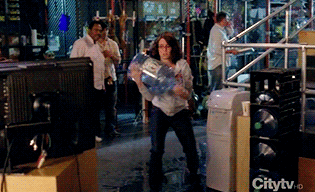 MOON: Ha, I'm not sure if you've heard of this, but since you bring up infused water… How about asparagus water? Don't be this decadent. 😉
JENN: Haha, I'll try not to.
MOON: How are the new Nikes settling in?
JENN: Pretty well… no complaints yet. I think they'll carry me through my fall races just fine (although I'll probably need another pair).
MOON: If only you ran professionally. Those shoes could be a tax deduction.

JENN: Indeed.
And with that, I take you to the roundup.
– Not relevant to us personally, but for those of you of the knocked up persuasion, From Dancing to Running has some exercise tips.
– Elbowglitter highlights a pretty awesome virtual race. I'm signed up!
– Sparkly Ever After does adorable things with Disney duct tape.
– The Adult Side of Disney points out that this whole ADR thing is getting a trifle ridiculous.
– The Disney Hipsters advocate for craft beer at WDW.
– Living A Disney Life is jazzed for Epcot's Food & Wine Festival. (Who isn't?)
Don't forget, you can follow FRoA on Twitter @fairestrunofall and on Instagram @fairestrunofall. If you have any questions or thoughts, leave a comment or email fairestrunofall@gmail.com. See ya real soon!