JENN: Did you run last week?
MOON: Almost every dayyyyy!
JENN: Yes! Good runs?
MOON: Not too bad! They'll get better! But this is nothing. Someone ran another marathon! This is so much cooler to talk about.
JENN: Haha, yeah, I'll do a recap later, but: 3 seconds faster than last year! STAGNANT. I mean, there were some mitigating circumstances I'll talk about later this week, but I have work to do.

MOON: Hahahaha, at least it was 3 seconds faster instead of slower. 😀
JENN: There is that! I also performed a Line Marathon: the expo merchandise line took 40 minutes to traverse. But wait until you feel the lining on my new hoodie! I even went during work hours and it was still nuts. God only knows what it was like after 5pm.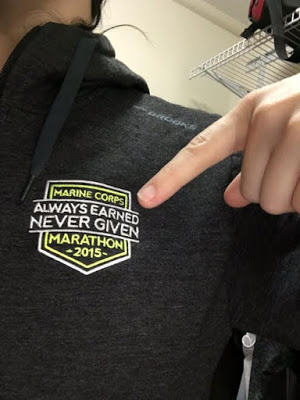 Technically a men's hoodie. Whatever; I do what I want.
MOON: Yikes. A good hoodie is a good hoodie, though.
JENN: Very much so. The rest of the expo was pretty crowded too, but not insurmountably so. I wandered around and got a couple free cereal bars and such. Tried the Honey Stinger and Clif Bar samplings, which is always fun.
You should sign up for a marathon soon – it's awful and awesome and dreadful and THE BEST.
MOON: I'm not even sure where I'll be living or what job I'll have in six months, so…
JENN: True. But maybe you can do Marine Corps with me next year! Assuming I'm also still around, you can always stay with me. ☺
MOON: That would be fun.
JENN: Also fun? The roundup.
– Will Run for Ears did a glorious thing for the Marine Corps Marathon!
– We Run Disney recapped it!
– Elbowglitter was also out there, cheering. Can't believe I missed the beer!
– Main Street Gazette assembles insane waffle fries in the Magic Kingdom.
– WDW for Grownups samples wine on the cheap. Almost Wine & Dine time!!!
– Passport to Dreams Old & New nerds it up in Disneyland Paris.
Don't forget, you can follow FRoA on Twitter @fairestrunofall and on Instagram @fairestrunofall. If you have any questions or thoughts, leave a comment or email fairestrunofall@gmail.com. See ya real soon!