Mini trip report time! I'm covering my quick weekend trip for the WDW Marathon. To read all the posts in this report, click here.
I arrived back at Pop just after noon, which gave me a little under an hour to do my shower thing and get out per the late check out rules. I ate a couple snacks, cleaned myself off, did some last minute packing, and headed out.
Disney doesn't require in-person check out unless you need to adjust your bill or something, but I still needed to swing by the front desk: my Magical Express ticket home was AWOL. Luckily the concierge CM got this straightened out without difficulty, and after checking my carry-on bag with luggage assistance I snagged a bus to the Magic Kingdom. Time for more park-free exploring!
I wandered past the Magic Kingdom entry area and up to the Resort Loop monorail station, which I took first to the Polynesian. Alas, my hopes were immediately dashed: although Tambu Lounge was open, they didn't serve food until 5pm and the opening of 'Ohana. No bread pudding for me. :/
My brain briefly flashed through alternatives but I knew I kinda needed to eat more than anything else. Solution: Kona Island Cafe right across the lobby, where I got coffee and sushi which I will detail in a later post.
The loss of my bread pudding was continuing to make me sad, though, so I turned my back on the Polynesian and took the monorail to the Grand Floridian, where I resolved to make a very thorough examination of the unique shops. Most of them were surprisingly standard Disney gift and clothing shops, admittedly in fancier packaging. The Basin White soap store was the only truly unique place I saw.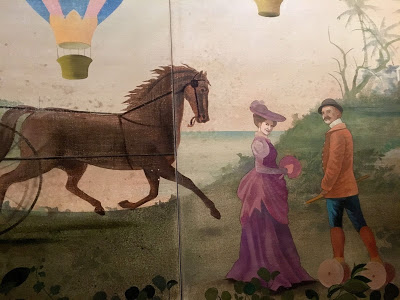 Some suspicious characters, if you ask me.
It occurred to me as I passed it that what I should have done for food was see if the Garden View Lounge had any openings for afternoon tea. Next time!
I briefly pondered making a third stop at the Contemporary, but instead I took the monorail to the TTC and then grabbed another monorail to Epcot. Mind you, I didn't get off; I simply enjoyed the ride as it took me within Epcot's boundaries and then away again.
Star-Wars-orail.
Excited yet? You will be when I tell you that my next act was to take another monorail back to the Magic Kingdom. How do I even live at these speeds?! I chose this particular option so that I could listen to the Main Street music track (it's the same as what's just outside, right?) as I walked down to the bus stop.
I took the bus back to Pop and got some Babycakes brownie cupcakes at the food court; I don't have any food allergies but I liked some of their stuff I tried way back in the day when they had a store in Downtown Disney (which they do again now under a different title, but that doesn't feed my nostalgia so whatever). The brownies were pretty delicious, with chocolate chunks in the brownie proper and different flavors of icing on top (mint, raspberry, and two… chocolate? Mocha?). The consistency of the icing is a little different than the norm, but it's good. My only complaint is that there could stand to be more of it.
After that it was a simple matter of killing time. I made a careful perusal of the gift shop and bought an extra bag of sour gummy worms just in case there came another drought. Then I got my bag from luggage services and took the Magical Express to the airport.
Just two more things before we wrap up the report proper:
MCO was the quietest I've EVER seen it. I barely had to wait in line at security at all. Is January 10 the day no one flies or something?

Almost everyone on the plane was coming from WDW Marathon Weekend. The girl next to me had come down to spectate as a surprise to friends. I heard conversations about the races in front of me, behind me, from every direction. In a weird way, it was comforting, and kinda of like the plane ride was an extension of the experience. Good times.
Okay, that's it! My two-day WDW Marathon experience. It was 100% worth it and I would do it again, but I must admit I would arrange my non-park time a little differently. Day two as it stands was, frankly, a bit boring. I would instead use my post-expo time on Saturday to go to the Polynesian and get my all-important bread pudding to go, and then hit up Disney Springs on Sunday instead. There's some sort of race after-party there anyway. Who knows? Could be fun!
Stick with me – I've still got one more post about this trip to go. Sushi, anyone?
Don't forget, you can follow FRoA on Twitter @fairestrunofall and on Instagram @fairestrunofall. If you have any questions or thoughts, leave a comment or email fairestrunofall@gmail.com. See ya real soon!