It's trip report time! You can see all the posts in this report here.
I had to get up and run on the last morning, because it was my final chance to run in WDW! So I took a quick jaunt around the All-Star Resorts before showering and prepping. We checked our luggage at the airline outpost and headed out.
We arrived at Disney's Animal Kingdom in due time and zipped through the Annual Passholder line before merging with the masses waiting outside Pandora. We came to a standstill at 8:32am for a 9am park opening time, and it was already nutsssss. People as far as the eye can see behind and in front. I can scarcely imagine what it was like for anyone attempting to maneuver a stroller.
They started to let us into the land about ten minutes later, and at first it was very much like being part of a herd – no room, no clear path, just wall to wall animals proceeding in one direction. Minimal pushing at least (but not, like, NO pushing; this isn't Shangra-La). 
Eventually we came upon Cast Members with organization on the mind, and we were funneled into a looooong line. A CM nearby held the stick-sign – Flights of Passage Line Stars Here. We were in the right place.
The line proceeded with surprising steadiness, and as we inched toward the real queue area we saw more and more people joining it behind us; that's how crazy it was. As we passed under the legit entrance the standby wait time read 90 minutes. But I was counting on it being shorter. I don't know why exactly; call it a Disney vet's hunch. 
And I was right; we were miraculously leaving our banshee experience behind and wandering into the gift shop at 9:35am. The listed wait time was clearly inflated and the line itself was even exacerbated – Disney wasn't using the full queue area. Based on what I've seen in online photos, we never even saw half the rooms; we were straight from the caves to the hallway. I only glimpsed the avatar in a tube from afar. Ah well.
Avatar headbonking risk.
 I enjoyed FoP more the second time, as is often the case with me for anything really, once the anxiety of inherent surprise has warn off and I'm better able to relax, observe, and enjoy the details. The water spray is a nice touch I didn't notice the first time. But I still don't think it's anything super special.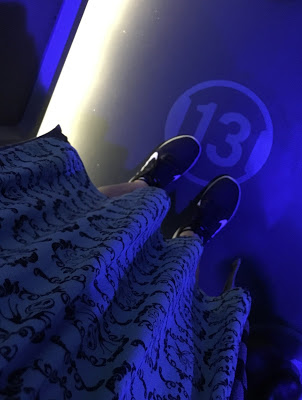 I was matched with avatar 13!
So that was a great triumph – getting to Pandora in time to experience FoP without waiting several billion years, or even one billion. Yet I was about to do us one better.
While enjoying the truncated FoP queue I refreshed the MDE app obsessively to see what sort of FastPasses were available; I hadn't scheduled anything for this day as I wanted to let my mother choose what we would do on the last day. Everything was open to us. And that meant that when a Na'Vi River Journey FP opened up for no less than 9:50am, I frantically stabbed at my phone until it was MINE.
A good thing, too, as even before 10am the standby wait was up to 110 minutes. I like this ride a lot, but I do not 110 minutes worth of like it. Luckily we had our last minute FP and breezed onto a boat. I am still inordinately proud of this one-two Pandora punch. Are there awards for outstanding theme park touring?
Mind you, after that A+ show of Disney pro dexterity, I proceeded to pull a minor boneheaded move. You know, to balance out the universe. Catch my error!
Step one: While in the River Journey line my mom said she wanted to see a show, and after some discussion I snagged us a largely unnecessary Finding Nemo FP. 
Step two: On our way out of Pandora (because Jesus Christ, why is EVERYONE ON EARTH there at once????), all the rules of FP ownership went sailing merrily out of my head and I snagged a Soarin' FP. Now, the app didn't ping this, which I found odd, but still. C'mon, Jenn. Not even you can have FPs in two parks at once.
But that was a future problem. At that precise moment we hung a left and headed over to Africa, where we stopped at Kusafiri for coffee and watched the drummers and dancers while we sipped.
Then we did head over to Finding Nemo, where our FPs obviously did not work. But given that this is FN we're talking and the theater can fit a gazillion people, the CMs let us in all the same. After all, most of those gazillion were in Pandora anyway.
After the show my mom decided against a walk through Maharajah Jungle Trek to see tiger in favor of heading over to Epcot, as our time was growing short. On the way out I picked up an anteater stuffed animal from the gift shop, then we grabbed a bus to Epcot.
It was definitely lunchtime by that point and neither of us had eaten much breakfast, so our first act was to hightail it over to France for some of those salmon Napoleons from the Alsace holiday kiosk. The predominant flavors were smoked salmon and dill; basically if you like lox you'd like this. 
I also grabbed the holiday Kir with cranberry syrup instead of creme de cassis. It was pretty sweet but very bubbly and I enjoyed it. 
Some stellar food photography. There's lox in there, I swear.
 Then I left my mom on a bench with her salmon  for just a minute while I skedaddled over to Japan to get a cinnamon mochi cake. This isn't for everyone but it's definitely for me! I loved the sticky, mildly sweet texture and taste of mochi and in cake form there's more of it.
I circled back to pick up my mom and we headed into the France movie. I knew my mom would be into this because she loves classical music, and this one has it all: Debussy, Saint-Saens, Offenbach, Satie… I must say, given how old the movie is, it holds up pretty well. Nothing too dated. I wonder how much longer it'll last? 
Post-show I gave my mom two choices: Voices of Liberty and The American Adventure or use our Soarin' FPs. She chose the latter, so we headed back to the Land and rode again.
It was getting to be that weird point in a trip where it's almost time to head back to the resort but not quite so you try to figure out what to do but it's really hard because what do we have time for?
Did we have time to finally get that margarita from Choza? We did not – the line was too long. But we did have space for a quick jaunt through El Rio del Tiempo. I still wonder what they'll do with Jose Carioca if that Brazil pavilion comes to fruition…
For my final act I ducked into Mouse Gears and picked up the cute Figment mug I'd been pondering since April, my last purchase with the AP discount. My only merch regret is that we never did find any rose gold Minnie ears for sale. Tons of people wearing them, yes, but for purchase, no. Maybe next time!
Now for mostly boring wrap up. We bused back to Music, I got my carryon from bell services, I peed, I changed, we waited for the bus. Oddly enough, we wound up taking a different one from the one we were assigned since he was a little late and we were early. But ultimately it doesn't really matter. Either way you're going home, and dead grandmothers and mild colds aside, that is always sad. 🙁 
Normally I would more or less cut the trip report off here, but one more interesting thing happened to us. 
As you probably know, Disney was currently in the throes of four-hours-early pickup for the airport, so we got there in plenty of time. But that was not the case for everyone, and the TSA line was excruciatingly long. 
So long, in fact, that they decided to turn protocol on its head. The line was halted entirely, and a K9 unit was brought in – an officer and a freaking gorgeous German Pointer. The K9 unit was roped off and everyone in line for screening took turns walking past it in a quick step. No shoe removal, no laptops in bins. We did put our bags through the scanner, but only walked through the metal detector, not the fancy one. So that was new and different.
Anyway. After that, it was pretty much status quo. Back to Maryland. It's cold here. It's boring here. It is not Walt Disney World here. 
I DON'T LIKE IT.
At least I'll always have this trip report to remind me of the good times, even when the good times were kinda weird and off. Next up, a whirlwind weekend trip down for the Walt Disney World Marathon!
Don't forget, you can follow FRoA on Twitter @fairestrunofall and on Instagram @fairestrunofall. If you have any questions or thoughts, leave a comment or email fairestrunofall@gmail.com. See ya real soon!