The quote myself on Twitter: 

As a non-Disney race, the Wrightsville Beach Marathon was never gonna be the joyous march to glory that characterizes the WDW Marathon. And it wasn't. But it went well enough. Now that I've sufficiently built your excitement, let's pe in.
I hopped out of bed at 5am (which to runDisney enthusiasts is definitely sleeping in), down an Uncrustable, slapped on some tape, and was out the door half an hour later. My dad graciously drove me to the start line, and I was able to eat another snack and hit up a porta potty with plenty of time to spare before the 6:40am start time.
There were no corrals, but the staging area was peppered by pacers with large signs indicate their expected final time; we were instructed to place ourselves accordingly. A couple minutes after 6:40am we were walked a short distance from the staging area to the official start line, and then we were off! 
The course was slightly different than last year, although not wildly so. This time we ended up on the main street right next to the beach pretty quickly, a period of time that was also marked by a rain shower. Combined with the mid-50s temperatures I wasn't exactly thrilled with this, but it wasn't a total downpour so it was okay.
Shortly after that we ended up in Landfall, a gated community of considerable size – we were in there for a good 4 miles or so. It being early there wasn't a ton of spectator support, but a couple people were out including one excellent neighborhood group blasting music and waving to the runners as they perused a table of donuts. They weren't sharing, but at least they were getting into the spirit of the thing! 
A few miles later the half marathoners split off from us, while us marathoners began our lonely trudge to the faraway finish line on separate grounds. Which were pretty lovely to start – we ran by the bay and over a bridge with some very nice views.
Of course, this was followed by a horrific, multi-mile labyrinth of Inception-style out-and-backs made all the more exciting by more rain at one point, but I suppose they can't all be winners. 
And how was I doing by this deep-in-the-marathon point? Okay. My energy wasn't roaring, but I was keeping my pace pretty steady and none of the body parts on Injury Watch were acting up. Though I felt the lack of character stops acutely, I was impressed by how much the race organizers had boosted the volunteer support.
In addition to water stops, there were a bunch of people along the course expressly there to cheer us on. Some of them were super into it, too; it may interest you to know that according to some NC high schoolers, I AM A QUEEN.
Unfortunately a rough part was coming up: the Double Lake Loop. There was a several-mile loop you had to take twice before breaking off for the finish line, and boy was that first loop rough as you watched people ahead of you peel off to the end while you trudged along on your first loop.  
In order to prevent cheating, you picked up a wristband just before completely that first loop, which served as a sort of ticket to the finish line. Some middle school kids were holding them out like jousting rings so you could just thrust your hand in without stopping, and at least that was a nice morale-boosting moment.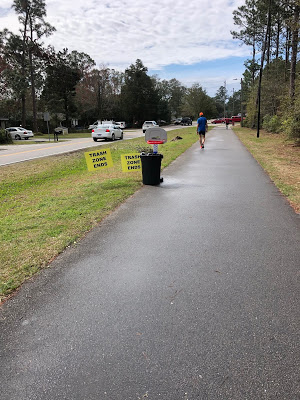 And then… to the finish! … Which was still about three miles away. At this point my mood took a bit of a dip. I never did break out any music, because I was afraid that if I stopped to get out my headphones I'd lose my momentum. Although I didn't have far to go I knew the numbers weren't adding up for a PR, and I just wanted to be done. Specifically I wanted to sit down on the side of the course and burst into tears. But I kept running, because nobody gets a medal for tears!
Luckily, a bright spot popped up unexpectedly. A lot of the water/Gatorade/Clif Shot stops (there were ALWAYS Clif Shots, which was nice, but only strawberry and vanilla, boo) were specifically themed to local colleges and universities and manned by alums. At the West Virginia University stop, they were advertising beer… and expressly NO WATER.
This a) made me laugh and b) they gave me some Bud Light or something that totally scratched the itch that was making me crave some seltzer water. I was not cured of my malaise, but I was bolstered
Finally, finally, we turned onto the University of North Carolina Wilmington campus, and I knew I was almost home. Half a mile later and then finish line was in sight!
I managed to push it a little to the finish, and wound up with a final time of 4:38:38, which is not my BEST time but it is my SECOND best time so I guess that's pretty good? 
The post-race party is modest compared to some bigger races but proportionally pretty impressive. We got water, bundt cake, and a small bag of snacks at the finish, plus there was more food and massages in a runner's only area.
And of course any race that gives out good free beer at the end is a plus – there was a Dogfish Head tent and I took two small cups of Sea Quench sour ale (YEAH BABY!) before dragging myself off to meet my dad, who in addition to drop-offs can also perform pickups on request.
This was the 10th anniversary of the Wrightsville Beach Marathon weekend of races, and based on last year versus this year I think it's starting to pick up steam. There were a lot more participants and more course support, and I enjoyed it about as much as anyone can enjoy a non-runDisney race. If you're in the general area, I would absolutely recommend it.
When's your next marathon? "Never" is an acceptable and understandable answer.
Don't forget, you can follow FRoA on Twitter @fairestrunofall and on Instagram @fairestrunofall. If you have any questions or thoughts, leave a comment or email fairestrunofall@gmail.com. See ya real soon!