Ladies and gentlemen, allow me to present… a post-marathon body in a state that does not worry me!
Okay, that's a weird thing to say. Let me explain.
After the Marine Corps Marathon, my inner knee was doing its weird unexplained one-day-delayed pain thing. After the WDW Marathon, my inner knee was fine but my IT Band, which I THOUGHT I had fixed years ago, acted up a bit. After the Wrightsville Beach Marathon last weekend? I am fine!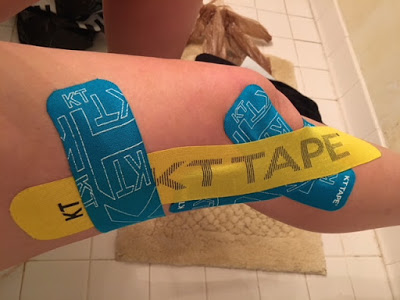 Frickin' IT Band.
Well, to be clear, I am definitely stiff and sore in areas. I do think I have some imbalance areas to correct. And my inner knee did hurt the tiniest little bit for a hot second the next day. But any pain was all gone by Monday. Nothing wrong with me now that a little rest and some stretching can't fix, baby!
And on that happy note, let us proceed to the workout recap:
Sunday | ran 5.08 miles outside in 50 minutes
Monday | walked 2 miles outside in 35 minutes; 55 minute ballet class
Wednesday | ran 3.21 miles outside in 30 minutes
Thursday | walked 2.13 miles outside in 35 minutes
Skipped ballet to do laundry and prep for my race weekend.
Friday | rest
Drove down to North Carolina, stopping first at UNC Wilmington for bib pickup and the race expo. I'd say it's a medium-sized race, and it has a medium-sized expo to match, but several local businesses and running stores were represented. I grabbed my bib and bought a couple energy gels, but mostly I wanted lunch so I didn't linger long.
Saturday | Wrightsville Beach Marathon
I lived!
Roundup time!
– Kait Around The Kingdom closely inspects Muppets Courtyard.
– Vegan Walt Disney World tries the vegan foods at the Flower & Garden Festival.
– easyWDW is reviewing ALL the F&G foods, vegan or no.
– Living A Disney Life meets them halfway by eating some stuff.
– Disney In Your Day checks out the new Be Our Guest menu.
Don't forget, you can follow FRoA on Twitter @fairestrunofall and on Instagram @fairestrunofall. If you have any questions or thoughts, leave a comment or email fairestrunofall@gmail.com. See ya real soon!