Ladies and gentlemen, allow me to present… a post-marathon body in a state that does not worry me!
Okay, that's a weird thing to say. Let me explain.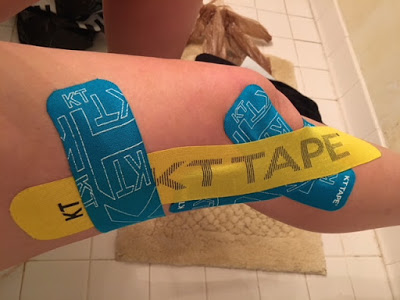 Frickin' IT Band.
Well, to be clear, I am definitely stiff and sore in areas. I do think I have some imbalance areas to correct. And my inner knee did hurt the tiniest little bit for a hot second the next day. But any pain was all gone by Monday. Nothing wrong with me now that a little rest and some stretching can't fix, baby!
And on that happy note, let us proceed to the workout recap:
Sunday | ran 5.08 miles outside in 50 minutes
Monday | walked 2 miles outside in 35 minutes; 55 minute ballet class
Wednesday | ran 3.21 miles outside in 30 minutes
Thursday | walked 2.13 miles outside in 35 minutes
Skipped ballet to do laundry and prep for my race weekend.
Drove down to North Carolina, stopping first at UNC Wilmington for bib pickup and the race expo. I'd say it's a medium-sized race, and it has a medium-sized expo to match, but several local businesses and running stores were represented. I grabbed my bib and bought a couple energy gels, but mostly I wanted lunch so I didn't linger long.
Saturday | Wrightsville Beach Marathon
I lived!