Hello intrepid runners! Staring down an unexpectedly chilly race morning, but expecting to warm up over the course of the, well, course? Forget your throwaways? Don't have time to run to the thrift store? Otherwise hate chucking valuable clothing items? I come bearing a solution!
It's tights.
You know, women's tights. Like pantyhose, but thicker. If you want to shell out for new tights, you can get a basic pair just about anywhere – Target, Walmart, CVS, you name it – for like $5. But I'd be willing to bet that, if you're a girl or know one, somewhere in the back of your sock drawer there's at least one pair of tights that's ready to be retired due to runs, holes, etc.
So let's hack that sucker up!
Yes, with just a few strokes of your scissors, tights can give you:
arm warmers, as demonstrated here as part of my Sally costume. It was a reasonably warm morning, so I didn't want to waste a real hoodie or what have you, but I do tend to get chilly easily. All you need to do is cut off the legs of the tights, then cut slashes at the toes for your wrist to emerge.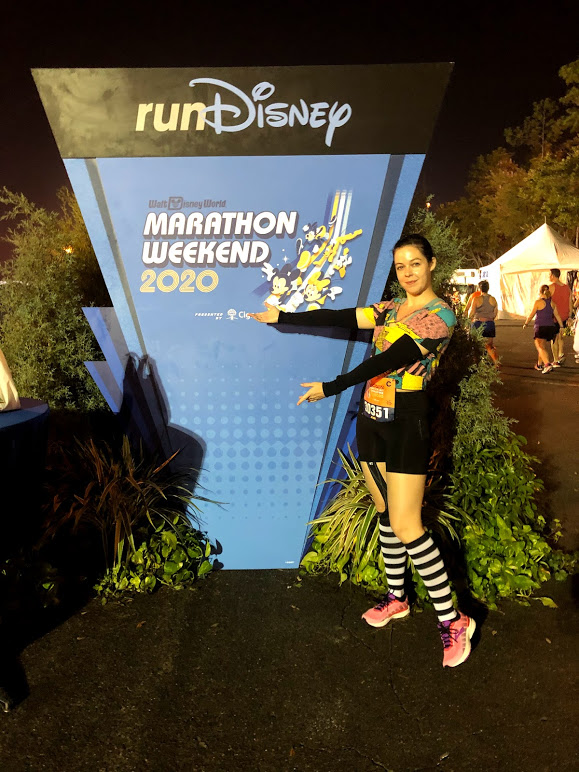 calf and even thigh warmers. Same principle.

an upper torso coverup. Just slice holes in the toes for your hands, then a hole in the crotch for your head. In this particular photo I am using old running capris, but it's the same principle. (Incidentally, these tips can also work with running tights that are out of commission due to construction flaws like parted seams, rips at the knee, etc. No, seriously, in the photo below my top layer is old running tights with a hole cut in the crotch.)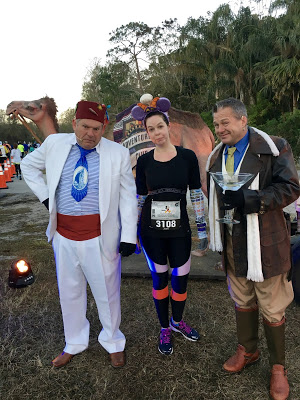 Perplexing but true!
ear warmer/headband – just cut off part of the waistband. Can also function as a neck warmer/balaclava.
Get too hot in any of these items? Strip them off and throw 'em to the side! Rip them if they get stuck over your sneakers or whatever. It's just pieces of old tights; who cares?
I myself maintain a box of old clothing items expressly for use someday as race throwaways. But in cases where a stopgap measure might be needed, I like to keep the tights method in my back pocket too.
Parting thought: if you type the word "hole" enough times it starts to lose all meaning. Hole-y trails to you!
Don't forget, you can follow FRoA on Twitter @fairestrunofall and on Instagram @fairestrunofall. If you have any questions or thoughts, leave a comment or email fairestrunofall@gmail.com. See ya real soon!