Sooo I waffled back and forth about whether to post this, but here we are.
I had a Twitter conversation about Splash Mountain's announced re-theme on Thursday evening in which I was pleased with some of the points I made. I took some screenshots with the intention of posting them here on Friday, but after thought decided against it. I'm not trying to get anyone cancelled, and others may disagree with me with civility if that's their wont.
However, while I debated peacefully enough on Twitter, I have since seen it has gotten rather uglier in other corners of the Disney world. (Metaphorically. You know, as separate from the Disney World.) As such, I think it is once again time to make my thoughts known, not because I think anyone's on tenterhooks waiting for my hot take, but because I want to make sure it's clear where I stand, if only for posterity.
As such, here as some of the thoughts I have about the upcoming Princess and the Frog redo of Splash Mountain. I have removed the tweets of my verbal sparring partner because they weren't rude and I'm not here to call anybody out, but I'll fill in any gaps with the gist of their arguments. Onward!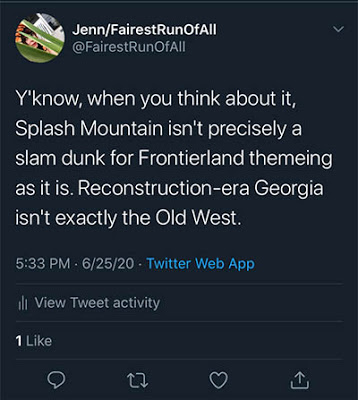 After which someone responded that New Orleans doesn't make any sense either which, fair enough. However:
To which came the rejoinder that it did matter because The Princess and the Frog could've had a brand new ride anywhere, people who grew up with Splash would miss out on sharing it with their kids, and this person's children would not be interested in the change.
My rebuttal:
To put it another way:
Give Disney a chance to figure out the themeing and location because Splash Mountain isn't perfectly placed as is.

I'm confident Tony Baxter won't let anything terrible happen to an attraction he pioneered. At the very least, see what he comes up with, along with what I can only assume is an amazing team of Imagineers.

The Princess and the Frog is a great movie with some FIRE music and the concept art looks pretty appealing! Sure, there's a princess in the title but Mardi Gras fun should be perfectly accessible to boys. As we tell kids about just about everything else in life: try it; you might like it!

If I can get past my seething hatred for Avatar and take some begrudging pleasure in Pandora's rides, you can do it too.

And finally: however hard Disney may have tried in the past to sidestep the more unsavory aspects of the movie, Song of the South can't help but impart at least some of its racist undertones upon Splash Mountain's story. Walt wanted his parks to be for EVERYONE to enjoy. That can only come to pass by learning, growing, and making changes in the name of social enlightenment – yes, even when it comes to classic attractions. Your sore nostalgia gland has nothing on the pain of systemic racism. No one should ever feel sad and/or uncomfortable at Walt Disney World! What the hell do you think this is, real life???
So there's that. I'm sure you were all wondering. Anyway, I shall bid Splash Mountain a fond farewell but I think this overlay has every capacity to be fabulous; I'm excited to ride it someday!
Don't forget, you can follow FRoA on Twitter @fairestrunofall and on Instagram @fairestrunofall. If you have any questions or thoughts, leave a comment or email fairestrunofall@gmail.com. See ya real soon!