Okay, so the Battleship Half Marathon may not have been a triumph, but it turned out fine.
The race was a bit unusual in that in order to accommodate COVID precautions, the start would be staggered across several hours. My wave time was 8:30am, so I didn't even have to wake up until like 6:30am (which if you're into runDisney is like one in the afternoon, seriously). My dad drove me over to the race start, and as we crossed the bridge to downtown Wilmington I saw the marathoners who had started at 6:30am already out on the course.
I was worried about getting to the race on time – what if it turns out important roads are blocked? What if I can't find the start area? What if I can't find the porta potties? – but of course since I had budgeted the time everything went smoothly, and I arrived about an hour before my call time. We were on strict orders not to arrive more than 15 minutes in advance for our individual wave, so I busied myself taking a few laps around the neighborhood.
At 8:15am it was my turn to file into the start area, where I found Becky from Disney In Your Day, so that was nice – it was good to have company for a couple minutes. We were given a few last minute instructions and warnings (the boardwalk could be slippery; don't take off your mask until you reach the trash cans past the start line) and we were off!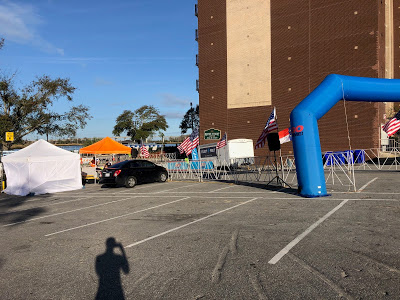 I took off at a pretty speedy clip as, per my pre-race post, I harbored unrealistic but not entirely unattainable hopes for my first sub-two hour marathon. The first few miles, along the edge of the water, were reasonably flat and any predicted boardwalk slipperiness proved no problem – so far, so good.
We turned off the boardwalk area and crossed a bridge, which had a bit of an incline but not too terrible. From there we ran around the namesake Battleship North Carolina's memorial boardwalk, which goes all the way around the ship – I was very pleased with this, as I had fully expected to run up to it in the parking lot and then immediately turn around, but nope! We got a full 360 degree view. The ship was in drydock, too, so I saw rather more of it than I ever had before.
Following that we had to suffer through a bit of an out-and-back, but not too long of one, and at least it was flat from what I can remember. Then it was back out onto the road and over what would prove to be my nemesis: the Cape Fear Memorial Bridge.
Boy howdy, was that bridge steep. I kept telling myself I could run the whole bridge, a la the Severn River Bridge when I ran the ZOOMA Half, but no – this one was much longer and much worse. And, to add insult to injury, my dad pointed out on the drive back that we had to run up the side with the steeper incline; the downhill portion wasn't as steep. I demand a reversed course!
After escaping the bridge, the course turned back to downtown Wilmington and its brick walkways. And then: power to the finish!
HA HA, JUST KIDDING. If you were doing the half marathon, it was time to do the whole thing all over again!
Yes, the half marathon course was a double loop, which meant it was time to pull a Bill Murray and repeat everything I just outlined: the Riverwalk boardwalk, the battleship, and – gulp – the stupid Cape Fear bridge.
Oh, and I hadn't mentioned the weather yet, had I? It had been sunny and steadily climbing toward 80 degrees all morning. I went into it all cocky, thinking: I live in Puerto Rico! This shouldn't be a problem! What an idiot. It was still hot, and it was still affecting my performance. I also feel like we could've stood to have more water stops, but I totally understand why that wasn't possible given the desire to keep volunteers from congregating as much as possible.
All of which is to say that when I hit the halfway mark and checked my GPS watch, I knew I was already just shy of my A goal even if I kept my pace steady. Given the heat and the stupid bridge, I knew coming in under two hours was out of my reach. Drat.
But it was okay. While it would've been nice to hit my goal, all I ever really wanted was a decent proof of time for my runDisney corral placements. I resolved to Do My Best on round two, and while I don't know if my best is right, I certainly didn't give up, either. I just wish I'd decided to bring my headphones – I was worried about missing directions, but ultimately I don't think it mattered and I could've used some music.
Wait, what I said a few sentences back was a lie. I did give up on the second round of the Cape Fear bridge, but only a little. I definitely ran some sections, but I also walked some too. And once I got to the top I made myself run again. I just didn't want to risk burning myself out completely, you know?
At least I didn't sign up for the marathon; I can't imagine doing the bridge four times. 😱
By the time I ran back into downtown Wilmington again, I was approaching toast. A random spectator – some of 'em got in somehow – called to me, "Looking good! Nice steady pace!" which just goes to show that it's impossible to know what a runner's actually going through at any given moment. 😆 Honestly, I probably could've stood to push myself a little harder over that last mile or two, but what can ya do. I crossed the finish line with a decent time and with the vast majority of my reserves exhausted, so at least I can say I put some effort in.
Medals, new masks, and snacks were all bagged to minimize contact, so I grabbed one and plopped down on a nearby curb; I needed a quick break before I felt ready to get on the move again. Becky came up behind me shortly, and we commiserated over the dang bridge for a bit before she headed off to her hotel and I called my dad for a lift. Success!
So I didn't make sub-two, or even get a new PR, but for a first race back in sub-optimal conditions I'd say it wasn't so terrible. I got my decent PoT, and that's what really mattered. Now here's hoping Rivals happens – with runDisney magic and some accompanying negative splits, maybe my sub-two hour half lives there?
Thanks to the organizers of the Battleship Half for making this race happen with maximum safety and COVID precautions. I'm sure it took even more care and planning than usual, and without it I wouldn't have my new and improved PoT, so I say again: thanks to those guys!
Don't forget, you can follow FRoA on Twitter @fairestrunofall and on Instagram @fairestrunofall. If you have any questions or thoughts, leave a comment or email fairestrunofall@gmail.com. See ya real soon!