Hello! I have two items of exciting news:
I am currently 80% vaccinated and will be receiving my final COVID booster shot on Tuesday!
It's crazy to think that I haven't run a marathon in over a year. I haven't had that much time between marathons… ever. I ran my first marathon in 2014 and then from 2015 on I ran two to three every single year. If nothing else, there was my rock, my staple, the Walt Disney World Marathon, every year in January. But with the tragic cancellation of this year's race, I have been bereft.
So I'm not sure how this is gonna go. My training has been solid, I think, but it's so hard to tell how things will go under the best of circumstances. Lord knows I've had marathons I've gone into thinking I'll kill it only to come up short, and marathons where I performed beyond my own expectations (those are the ones that keep us going, no?). And with such a long gap since my last marathon – hell, since my last race of any distance – I must confess I'm a little nervous. This one may be a matter of getting my footing back. Or, to put it melodramatically, this one may be a matter of survival. We'll worry about times in at a future date.
So here I am, laying out my race gear, chugging Powerade Zero, psyching myself up for the Wilmington Marathon. Perhaps that last one is most important – I always say that the marathon is a mental game. You can do it, me! You can do it, me! YOU CAN DO IT!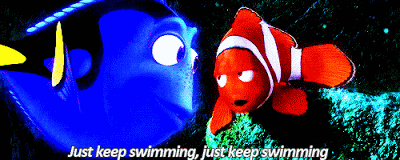 SHUT UP DORY THIS ISN'T A TRIATHLON
That's better.
Will it be a triumphant return? Or a tale of tears and tragedy? Tune in next week for the race recap and find out!
Don't forget, you can follow FRoA on Twitter @fairestrunofall and on Instagram @fairestrunofall. If you have any questions or thoughts, leave a comment or email fairestrunofall@gmail.com. See ya real soon!