The trip report continues! Click here to see all the posts for this report. As a note: I'm glossing over my food experiences here, but don't worry – I'll be doing a full food post or two later on.
Our last full day. Booo. It's funny how you can start getting bummed out over the end of your vacation before it, y'know, ends.
Anyway. We were up early again, and I ate the other half of last night's grilled veggie sandwich for breakfast while my mom got ready to go. We were out the door by 7:45 and at the Magic Kingdom gate by 8:25AM. Unfortunately, I had completely forgotten that the MK had recently extended its hours to 8AM – 1AM for that day, so technically we were late. Of course, the number of people actually there that early was pretty minimal, but it did mean that at no point this trip would my mom see the MK opening ceremony. Oh well. Next time!
I had not forgotten that they were taping the Christmas parade this morning, but I wasn't really worried about it; essentially they would be sequestering a portion of the crowd for us. Thanks, WDW! The taping did completely block off Main Street, though, so we were siphoned through a backstage area around the Main Street shops that dumped us out a little before Tomorrowland Terrace.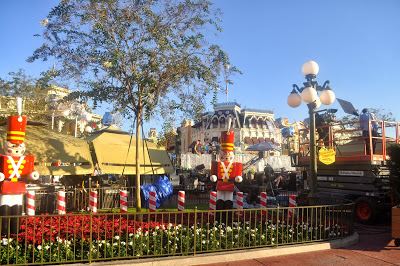 I have no idea what this stuff is for.
Doubtless it would've been smart to keep going around to the other lands ahead of the crowds, but Buzz Lightyear's Space Ranger Spin was right there and it's tame enough for my mother to ride so I figured what the heck. We walked right onto the ride and blasted some aliens. I find the weaponry of Buzz Lightyear to be EXTREMELY difficult to control, as I have a lot of trouble figuring out where, exactly, I'm pointing (I also suck at first person shooters; I'd really rather melee, thanks. Where is Buzz Lightyear's Space Rangers Punch Aliens in the Face?), but my score improved markedly this time. Must have lucked out with some high point target. My mom does not play video games in any capacity, but she managed to hit a few targets.
That's right – I'm a GALACTIC HERO.
At the point it was half past Mom Needs Coffee o'clock, so we went in search of some. The Lunching Pad wasn't open and we couldn't get to the Main Street Bakery, but a short walk found us at the Cheshire Cafe. I looked longingly, longingly, longingly at the Cake Cups – I LOVE FROSTING – but I knew I had a big lunch ahead of me. I took a big breath, exhaled, and let go of the Cake Cup. Just know that if they are eliminated before my next trip, I will CRY. Big salty tears of loss.
Philharmagic was right there, so we did that (big hit), then went back to Tomorrowland for my beloved Tomorrowland Transit Authority PeopleMover (also a big, relaxing hit). Then it was off to the Hall of Presidents. Here I want to acknowledge that this sounds kind of like Trip Planning for Boring People Who Don't Know How to Save Line-Free Stuff for Later When the Crowds Show Up, but keep in mind that my mom is a low-thrills kinda gal. Just knowing my audience!
We had some time to kill before HoP, so we browsed a few shops along the path between Liberty Square and Frontierland. (If anyone's looking for a Christmas present for me, I will cheerfully accept that Wall-E/Eve pin set. I love Wall-E so much he's my My Disney Experience avatar.) Once sufficient time had been murdered, we went back to HoP and took in the show. My mom was wildly impressed with the audio-animatronics and generally really enjoyed it. I know that HoP gets a bum rap for being boring, but I must gently disagree; it's worth the time just to see Lincoln give the Gettysburg address. Moon loves this one too.
My mom is of the generation that is legitimately familiar with The Swiss Family Robinson movie, so I decided we'd hit the tree house next. On our way over we happened to pass the Captain Jack Sparrow pirate recruitment show, and we stopped briefly to watch. I don't know how many Captain Jack impersonators are employed, but I am invariably impressed with how well they capture Johnny Depp's interpretation of the character, from slurred speech patterns to mincing mannerisms. But my mom has never seen any of the Pirates of the Caribbean movies, so we moved on in short order.
By the time we exited the Swiss Family tree house (or, as the family in front of me called it, the Swiss Family Obstacle Course), the Magic Kingdom was starting to get really crowded again. It makes me a little sad because in the early morning, sparsely attended hours, my mom was starting to get over her sardine experience at Mickey's Very Merry Christmas Party. She was starting to warm to the MK's wonderful atmosphere. But those holiday crowds were moving in, and there was nothing else for it but to grab the monorail for Epcot a little early.
A brief note: at no point during the entire morning at MK did we ever pass ANYTHING happening over in the parade area. No floats, no performers, no nothing. I have no idea when stuff starts to happen but dear Lord you must really want to be on television to wait around for that thing.
Moving right along to Epcot. The first thing we did was hit Club Cool, because I felt a little low in the blood sugar but didn't want to ruin my lunch. After that it was time for ELLLLLEEEEEEEEEN'S ENERGYYYYYYYYYY ADVEEEEEEEEEEENTUUUUUUUUUUUURE. Because we love Ellen and we love Bill Nye the Science Guy BILL BILL BILL BILL BILL and sometimes, too, we enjoy sitting for 40 minutes at a time. Not saying it couldn't use an update, mind you, but if said update doesn't continue to involve Ellen and Bill Nye I will be, in the immortal words of Lady Catherine de Bourgh, QUITE PUT OUT.
By that point it was time for our Candlelight Processional dinner package reservation at the Coral Reef. Side note: my first experience at the Coral Reef was with my ex almost three years ago. As we were walking up to the restaurant, we saw a CM freaking out over a GIANT crack in one of the big glass doors. Based on what we overheard, it seems an ECV-driving patron had crashed directly into the door about five minutes earlier. I have nothing to add to this piece of inherent comedy except to say that I am super bummed that we missed it.
Anyway – the Coral Reef. I requested at the desk that we have either a tankside seat or, barring that, a seat on the outside edge of the platform, if you know what I mean. The CM told me it could take awhile, and I said yes, that's fine. I'd say our buzzer went off 15, maybe 20 minutes later, and we were led to… a table at the very back of the very top platform. Sigh. But I didn't feel like causing trouble and my mom didn't look perturbed so I went with it.
Our server was John, also a December birthday, so we commiserated about that for a bit. He explained what was included in the CP package and we nodded and agreed and placed our orders. More on the food later, of course, but as a quick rundown: perfectly good but nothing earth-shattering. So, you know, in line with your larger majority of Coral Reef reviews. But my mom enjoys seafood and I knew she'd like the view of the aquarium, so it was worth a shot.
Post-lunch I whisked us off to Captain EO, because even my classical music-loving mother appreciates that talents of Michael Jackson. Plus let's face it: Captain EO is HILARIOUS. It's essentially MJ defeating the Borg with the power of song and dance. I can't believe Starfleet hasn't tried that yet. My mom liked it but felt that MJ didn't dance enough.
Next we rode Journey Into Your Imagination, as it was right there. In 1998, this was my RIDE. The only souvenir I asked for was a Figment t-shirt, which I still have. Tragically, and even taking into account how much I love Monty Python, I consider the current version to be a downgrade, and my mom agreed. I'll still ride it, but… can't Dean Finder be a little more visible?
We had a little while before our Spaceship Earth FP+ opened up, so we headed over to Living with the Land for a quick ride. Um… there was a LINE. Like, it said 20 minutes. It didn't look like 20 minutes, but still – a line? For Living with the Land? This officially cemented my theory that in the case of rides that have never really needed FastPass, FP+ is just creating bottlenecks where they never existed before. Not cool, guys.
I'd say we were in line for somewhere between 10 and 15 minutes before we boarded a boat, and then we hung out in the loading area for about 10 minutes before we took off, but once we did it was a pleasant trip. Living with the Land is never going to blow anyone's mind, but I always enjoy it, if only for the novelty of watching real people wander around the greenhouses as you float past.
Then it was time to hit up Spaceship Earth again, with another cute ending animation, although personally I kinda wish they'd add more dark ride scenes on the way down instead. Also, I am always confused by the message that your time rover is now rotating backwards, so please don't get out of your seat. Who are the people who respond to going backwards by standing up?
It was getting late enough in the afternoon that we wanted to make sure we were heading in the general direction of the American Gardens Theater. We ducked into France and watched the Impressions de France movie, which my mom LOVED because it's absolutely brimming with great French classical composers – Debussy, Ravel, Satie, Offenbach, and more, all ending in my beloved Organ Symphony by Saint-Saens. Glorious.
But by the time we were out it was later than I had realized, and we hightailed it over to the American pavilion for our Candlelight Processional seats. There was some slight confusion over how to get in (our server had said "Here are your tickets," not "Here are your stickers") and where, and we were sitting farther back than I would have hoped, but ultimately it was fine – we didn't have to stand in that INSANE stand-by line.
Who was our celebrity narrator, you ask? Why it was none other than GUINAN I MEAN WHOOPI GOLDBERG. And guys, she was AWESOME. Funny and very much herself without distracting from the story she was telling. If she comes back I highly recommend that you rearrange your trip dates to see her. My mom was positively raving about how totally worth it the CP package was, despite me botching the timing on taking our seats. And I am inclined to agree because as you might imagine she drew quite a line.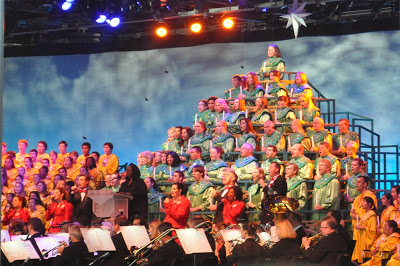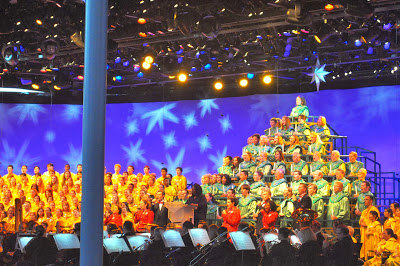 It would be the same amount of walking to get back to Future World either way, so we stepped off in the direction of Mexico and took a Gran Fiesta Tour with my pals the Three Caballeros (but pals though they may be, if some Latin baby says yes, no, or maybe, each man is for himself).
By the time our ride was over it was almost time for our Soarin' FP+. We sat by the Fountain of Nations and enjoyed a brief show and I ducked into Club Cool for a cup of sparberry soda. Meanwhile my mom called my dad for a consult on the expected weather for the next day; Maryland was predicting a wintry mix which was making us feel a trifle nervous about our flight. He felt certain that our plane would land just fine so we decided to leave our flight reservations alone, at least for the time being.
We rode Soarin' again, then headed back to Mitsukoshi with a mind to shop. It was far too crowded for our comfort, however, so we decided to browse the Germany and Italy gift shops instead. Germany in particular had many an interesting Stief stuffed animal, but the price ranges just weren't justifiable.
That was enough window shopping for the evening and it was time for Whoopi's last Candlelight Processional; we stood behind the seating area with a large group and watched her come out and read her opening lines. My mom had had enough of standing, though, and after a couple minutes we turned and went over to France instead, where my mom managed to locate a lagoon-side table next to the Vins de France kiosk. I bought us a Kir Royal to share, because Kir Royals are delicious if obscenely, wallet-gougingly expensive. At this point we made a radical decision: rather than walk over to the special Candlelight Processional dinner package IllumiNations viewing area, we decided to stay exactly where we were. Perhaps not as optimal a location for exact, right-down-the-lagoon fireworks placement, but we had our own seats!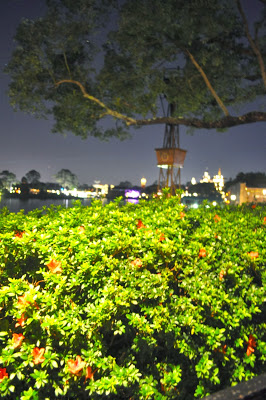 My mom held down the fort while I wandered through the France gift shop just for fun and to keep myself entertained; I also made more FP+ reservations for the next day. After about half an hour, IllumiNations started. It's not my favorite of the WDW nighttime shows, but then neither is chocolate my favorite type of cupcake and I ain't turning one down. Oh, and I'd totally forgotten about the special holiday tag. My mom was duly dazzled.
After the show we immediately walked with all speed to the bus stops, where we found a bus waiting for us. Yay! We were back at All-Star Music in due time, where we performed our usual shower swap and I uploaded my pictures and took my notes. I set my alarm 15 minutes earlier than usual so that we'd have extra time to check our bags. Tomorrow: home.
Blech.
Don't forget, you can follow FRoA on Twitter @fairestrunofall and on Instagram @fairestrunofall. If you have any questions or thoughts, leave a comment or email fairestrunofall@gmail.com. See ya real soon!