JENN: LOOK WHO I FOOOOOOUND
MOON:  GIIIIIIRRRRLLLLL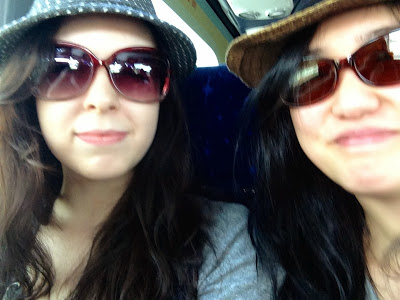 Reunited! WITH HATS.
JENN: WOO! Moon has been running!
MOON: Affirmative!
JENN: So how's your new training era been going?
MOON: Well, typically training is always a downer in the winter for me. You know… it's cold, no sun, every day is blue. So I made myself promise to run every day for a week at least to try and get back into my normal routine. I think it worked pretty well. This week I plan to do at least one long run.
JENN: Have you been running outside or treadmilling it?
MOON: HA. I'd run outside if I could run in a bubble of warmth. Treadmill.
JENN: ME TOO. I tried running outside in the cold once and my lungs went ACK ACK ACK.
MOON: Yeah, the cold air just rips your lungs right out of one's chest.
I think the treadmill worked pretty well. This week I plan to do at least one long run. But let me say this: ARTIFICAL CHERRY SCENTED PLUG-INS SMELL TERRIBLE.
JENN: New gym has an exciting anti-odor regimen, I take it?
MOON: Yes. Oh! And you'll enjoy this. So, the lights are motion sensor.
JENN: Oh no…
MOON: They don't read me. I went in after a few other people. Keep in mind there was plenty of motion because I was RUNNING… About twenty minutes in the lights go off.
JENN: Could it be where you were in the room? There's a whole swath of my gym that doesn't read.
MOON: Apparently they are just the sensors from Better Off Ted.
JENN: No, they recognized Asians. Veronica was very proud of that.
MOON: DOES THIS MEAN I'M NOT ASIAN? Identity crisis.
JENN: OH MY GOD
[Note: If you have no idea what we're talking about but do have Netflix, you can watch this magnificent half hour of television by clicking here and selecting the season one episode "Racial Sensitivity." And then you should watch all the other episodes, because they are awesome.]

MOON: How was your week?
JENN: Surprisingly good. I think my five days without running while in WDW gave my muscles a nice rest.
MOON: That's good to hear! I'm starting to get pumped for our trip.
JENN: YES.
MOON: All I have to do is keep running… Maybe I should start watching inspirational sports films.
JENN: What've you been listening to on your runs?
MOON: A pretty sweet mix made by DJ Herbert. And Chvrches. Lots of Chvrches.
What's on your iPod?
JENN: I found a bunch of really old CDs when I was at my parents' house. So I've been going back in time with Good Charlotte, Green Day, and – wait for it – the original Broadway cast recording of Footloose. Tenth grade me was very interesting.
MOON: Oh, wow. Blast from the paaaast.
JENN: Quite.
MOON: If I went back to 10th grade, I'd probably be all up on Elliott Smith and being sad in some high school bathroom cursing the stars.
JENN: Yay!
MOON: I know, right?!
JENN: And the roundup takes us home.
– Running at Disney has the details on all the new runDisney/New Balance sneakers.
– We Run Disney walks us through the mental process of a long distance runner.
– In a running rut? DisBroads can help you get out of it!
– Live, Run, Grow outlines the runDisney corral problems a lot of people are currently facing.
– This Happy Place Blog + Emmet Otter = Need I say more?
– Food Fitness Fantasy points out the weak spots regarding Magic Bands and related programs. Cosigned.
– Pink Elephant on Parade adds to her mom's legend.
Trip report continues this week!
Don't forget, you can follow FRoA on Twitter @fairestrunofall and on Instagram @fairestrunofall. If you have any questions or thoughts, leave a comment or email fairestrunofall@gmail.com. See ya real soon!