Hi guys! Time for another glorious trip report, highlighting our time in the Disneyland Resort. For the sake of flow, this report will be written by Jenn with Moon popping in for notes – don't worry, these will be clearly delineated. As with my last trip report, a lot of food reviews will be held for a later post, so stay tuned for that. Hope you enjoy! To read all the posts in this report, click here. 
I had suddenly remembered, the night before, that Disneyland opened its gates at 8AM on this morning, which would require an early start if we were to make rope drop. To which Moon said: NO. And really, if I were smarter, I would've been right there with her – we'd had a long race day and needed the sleep. But because I am me, I dragged myself out of bed early and was in line at Disneyland by 7:45AM. Because I am a crazy person.
MOON: I am not a crazy person. Here's a confession: I was awake before Jenn woke up. But, I'm laaaaazy, so I stayed in with my three blankets.
The assembled faithful were allowed into the park at 7:50AM and permitted to walk as far as the Partners statue, about halfway up the hub; the other half was blocked off by rope. The cast member on duty started asking people where they were headed, and I can offer you this observed trend per his expertise: people closer to the Partners statue are headed directly to Peter Pan, whereas those closer to the railing and bolting for Space Mountain.
Me, I was in it for the Matterhorn, and the moment we were set free I made a beeline for the line – I'd say I was in maybe the second or third car to take off. And… it wasn't that exciting. >.< Is that bad? It's an iconic attraction! But essentially it's like Space Mountain, the same sort of spiral-down ride track, only you can see the whole time so you're never surprised. I'm glad I got to experience it but I can't say I'd wait in any kind of line for it.
I had time to kill before Moon joined me, so I headed deeper into Fantasyland. My first stop was Snow White, now that we no longer have it in WDW, and I got my own car! It was a fun ride as always, but I can't help but feel that the old WDW version had a more cohesive story line. Oh well. Another one bites the dust, eh?
MOON: In the meantime, I was enjoying a nice, long shower…
Now for a new experience: the Sleepy Beauty Castle walking tour! Not particularly exciting, really, but the little dioramas were quaint and cute and the entire attraction at that hour was blessedly empty and quiet. I had a pleasant walk through the displays.
I then made the grave tactical error of getting into line for Peter Pan. It had been broken down for the first half hour or so of park opening, and the line had backed up, but I figured what the heck. Well, the heck was that after about fifteen minutes it broke down again. Is it very different in Disneyland from WDW? At the time I banked on the idea that is wasn't and jumped out of line with the intention of popping over to Disney's California Adventure to ride the roller coaster, but at that moment Moon texted me to inform me she was on her way.
On my way out of Disneyland to meet her, I had a celebrity moment: I saw Chef Oscar outside of the Carnation Cafe! He's been working at Disneyland since 1955. NINETEEN FIFTY-FIVE. Naturally I took photos like a crazed paparazzi. Because I am a nerd.
We met in the between-parks courtyard and determined that we would indeed proceed directly to DCA. First order of business was of course to grab FastPasses for Radiator Springs Racers; just the FPs alone have their own queue. Sheesh.
Our return time was for a little after 4PM, so we had some time to fill. I did something I've been dying to do since 2001: ride the roller coaster, California Screamin.' Moon declined with such a firm tone that I put up only a token effort to convince her to accompany me before hopping into the fairly short line. And was it worth my decade-plus wait? YES. YES IT WAS. I freakin' loved it – just enough intensity for a thrill, but nothing like those big killer coasters that you have to psych yourself up for. Don't get me wrong, I'll brave a 205 foot vertical drop and like it, but there's something to be said for a coaster you can approach as pure, courage-unnecessary fun.
We headed back to Buena Vista Street and the Fiddler, Fifer, and Practical Cafe – aka Starbucks. The line was several billion yards long, but we wanted hot drinks so we soldiered through for a tea for Moon and a soy latter for me. We sat at a table outside and did some leisurely sipping, idly watching the Five and Dime performance that had set up a ways away.
MOON: I was so excited for tea that I ordered a large. We're talking 24oz of tea. I forgot these things can't go on rides. That much liquid makes one uncomfortable. Just saying.
After our break, we headed over to the Monsters Inc dark ride. The queue here was awesome, and the ride was good, but… um… I DESPISE Boo. She is incalculably annoying. The only thing she did in the entire film that I enjoyed was burst into tears when Sully accidentally scared her. So as much as I dig Billy Crystal, I will never 100% warm up to Monsters Inc.
SNACK TIME. We made our way down to Hyperion Wharf and stopped in at Ghirardelli for our free square of chocolate – dark chocolate raspberry this time. Tasty! Then we did the Boudin Bakery tour, which came complete with lovely sourdough bread samples. But the tour pained me terribly. Colin Mochrie, you are a great and clever man and you are SO MUCH FUNNIER THAN THIS. Did they write that script for you? DON'T LET THEM DO THAT. Don't they know improv is your thing?
As we weren't quite lunch-ready, we decided to take a spin around Mickey's Funwheel. Moon selected the non-swinging cars and that was cool with me as it would make photography less tricky. Following the interminable inching crawl of a line that all ferris wheels inevitably provide, we made it into a car and rose high up over the park. It wasn't what I'd call exciting but the views were definitely impressive.
After disembarking, we poked around the various Hyperion Wharf eating establishments and eventually settled on the Hyperion Wharf Cafe, which featured bread bowls from the Boudin Bakery. We both got Shrimp Louis salads, although I don't think Moon's agreed with her particularly. No need to revisit these in the food review post: they were kinda creamy and not very green. Good bread, though.
MOON: I hate shrimp.
It was time to head back to Disneyland, where we first picked up passes for Roger Rabbit's CarToon Spin, and second got terrifically lost trying to find Big Thunder Ranch, which is NOT in fact in Critter Country. I think critters should be in Critter Country, don't you? While we were there, Moon did pick up a sweet Davy Crockett hat, so it wasn't a totally loss.
Eventually we located the ranch, where I discovered, much to my dismay, that the place billed as the home of the happiest horses on earth was horse-free. I did pet a donkey named Pablo, but he wasn't really enjoying it. (Cisco wasn't home.) (Ignore my parenthetical; only my dad would get that joke.) Moon enjoyed the fiddling cowboy, so at least there's that.
Our FastPass time had opened up; we selected a much more efficient route this time and before long we were on Roger Rabbit's CarToon Spin. Two words: Patty cake?!
We decided to hop back over to DCA and made a beeline for the Cove Bar, a gorgeous space jutting out into the lake. We had a table by the water after only a brief wait, and were soon enjoying some lovely cocktails. Needless to say, silliness ensued.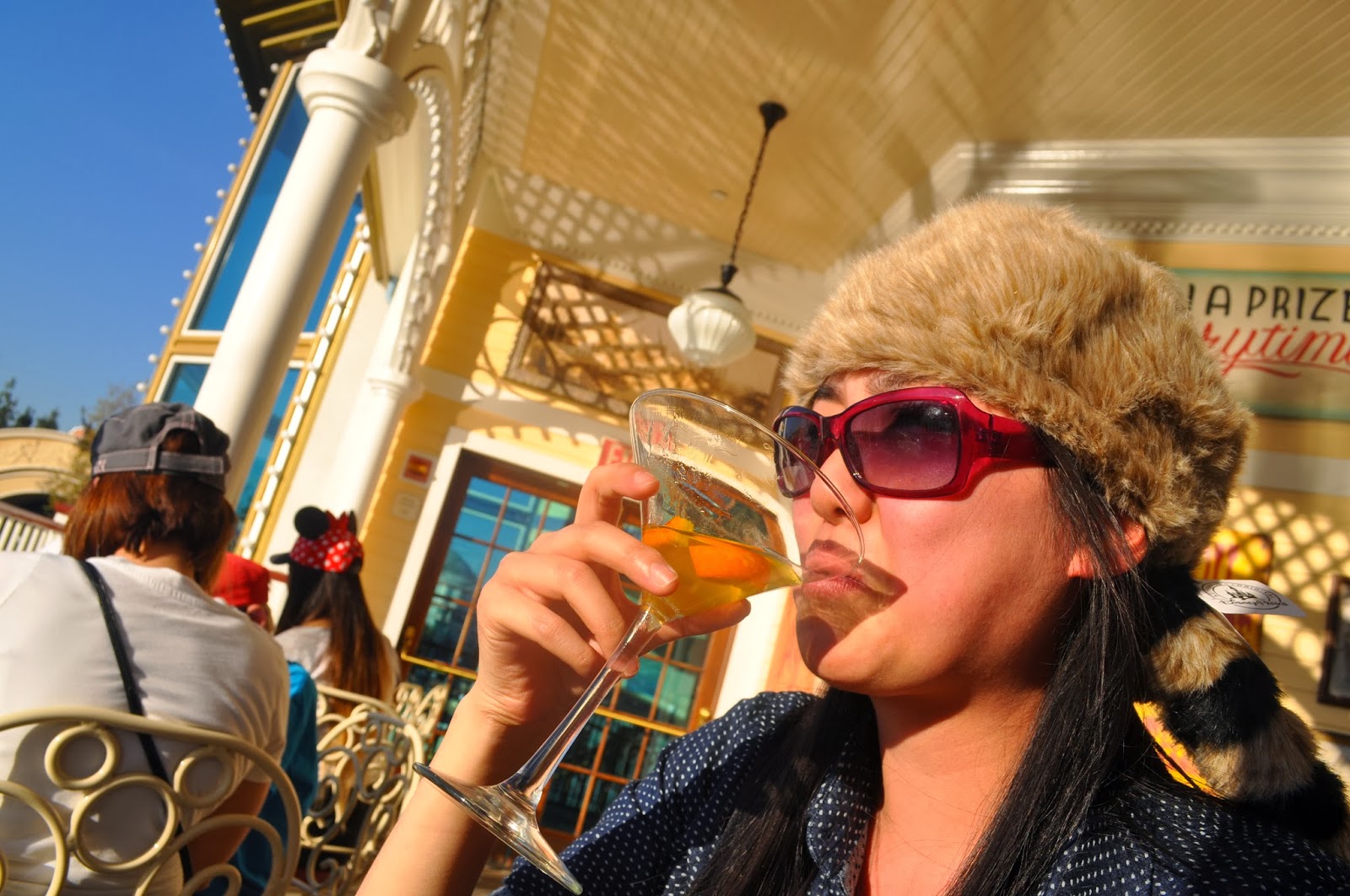 King of the wild frontier.
I hope you will forgive us if I confess that our first and only ride on Radiator Springs Racers was performed while slightly inebriated. We weren't actually driving, so that's cool, right?! The ride was fun but I kept getting distracted by all the ways I could see they had re-skinned Epcot's Test Track. We won, though (although Mater says "You're all winners today" which is a total cop-out).
Please don't be mad, but… I have never seen Cars. BUT. I now MUST see it, because – wait. Hold on. Please prepare yourself for a bit of a mind-bender.
GUYS, MY GRANDFATHER'S NAME WAS STANLEY AND HE OWNED A GAS STATION.
IT WAS A SINCLAIR GAS STATION.
AMAZING.
The sun was starting to go down, which signaled that it was time to go back to the hotel to change. Our walk was interrupted by this weird guy who tried to get us to go to some sort of timeshare breakfast, but eventually we extricated ourselves and made it to our room for some downtime.
Then it was right back to DCA for dinner and World of Color! But first we rode the Little Mermaid dark ride because there was no wait and it was warm in there. As far as I can tell it is exactly like the one in New Fantasyland only there's no castle. Downgrade. Still love Ursula, though.
Oh, and the carousel! The SEA CAROUSEL. King Triton was way into it, and so was Moon. She speaks whale. Or possibly upset stomach.
MOON: VAT! VHERE ZEE VHALES? I rode that whale like nobody's business.
We chose Paradise Garden Grill for dinner – review to come – and wandered around the Paradise Pier area taking pictures. In so doing, I came to this dismaying realization that the World of Color viewing area was pretty much exclusively for FastPass holders. As a denizen of the Hollywood Studio's Fantasmic set up, this threw me for a complete loop and made me feel stupid all at once. I should have done more research… bleh. Well, I'll know for next time.
There was nothing else for it: we took spots in a roped off section behind the main area and waited; I tried to play the color wheel game but for some reason they had already stopped playing. We managed to keep ourselves entertained all the same until World of Color began.
Verdict? I liked it. The scenes were well selected and the combination of lights, water, and projection was clever and well done. Oh, and it reminded me that Brave's "Touch the Sky" exists, so I am forever in debt to it for that. But I'd still rather watch Fantasmic or Wishes. I believe Moon loved it, though, so that was great!
MOON: I did think it was a bit too long, but I thought the water mechanics were pretty fantastic.
We exited the park with the masses at that point, but our destination was not the hotel just yet – it was Downtown Disney. I was bound and determined to find myself an epic cupcake. At WDW, they are EVERYWHERE – in Starring Rolls and Boardwalk Bakery and Contempo Cafe and they even pop up as specials in counter service restaurants – but Disneyland was coming up completely short. I was determined to locate myself a good cupcake in one of the DTD stores.
Which were all closed. INCLUDING TANGAROA TERRACE. Seriously? 10PM is when you close the Disneyland Hotel's food court? Who signed off on that? Poor Moon followed me all over what felt like the entire planet before I dejectedly entered the mercifully open late Earl of Sandwich and purchased a brownie creme. Don't get me wrong; I LOVE me a good brownie creme, which is essentially a brownie-and-frosting sandwich… but I wanted an epic cupcake. Harrumph.
MOON: I imagine all the cupcakes in CA sneering and laughing at Jenn as she trekked through all Disney property in search for one. At least there was a brownie!
But I took my brownie creme home and I showed it who was boss (hint: me; I have teeth so I win) while Moon showered and then I showered and then it was bedtime. One more day in Disneyland to go.
Don't forget, you can follow FRoA on Twitter @fairestrunofall and on Instagram @fairestrunofall. If you have any questions or thoughts, leave a comment or email fairestrunofall@gmail.com. See ya real soon!