Hi guys! Time for another glorious trip report, highlighting our time in the Disneyland Resort. For the sake of flow, this report will be written by Jenn with Moon popping in for notes – don't worry, these will be clearly delineated. As with my last trip report, a lot of food reviews will be held for a later post, so stay tuned for that. Hope you enjoy! To read all the posts in this report, click here. 
Our final full day in California. Sigh.
The parks weren't opening until 10AM on this particular morning, which meant that we could sleep in. Which meant that we woke up about an hour ahead of schedule. Naturally. So we hung around the room for a bit before readying ourselves and walking down to the resort.
Disneyland was offering Extra Magic Hours (or whatever the equivalent is over there) for their hotel guests, but we decided to go in anyway. We were corralled at the hub for a bit until 10AM sharp, then set free.
Our first stop? Buzz Lightyear, as I had heard from many sources that the detachable guns made for a superior experience to its WDW counterpart. In theory, this is correct – they did FEEL easier. But I must have gotten used to the stationary WDW guns, because my score was pretty pitiful, all things consider. Moon smoked me – but then she's always been better at first person shooters than I am. (And so are you. And so is everybody, ever. WHY CAN'T IT EVER BE MELEE?)
MOON: I'm a boss at laser tag, too!
I got the bright idea to check in on the wait time for Space Mountain. Moon did not appreciate this, but upon seeing the 10 minute posted wait time she allowed herself to be herded into line. Our ride photo would not indicate an improvement for her the second time around.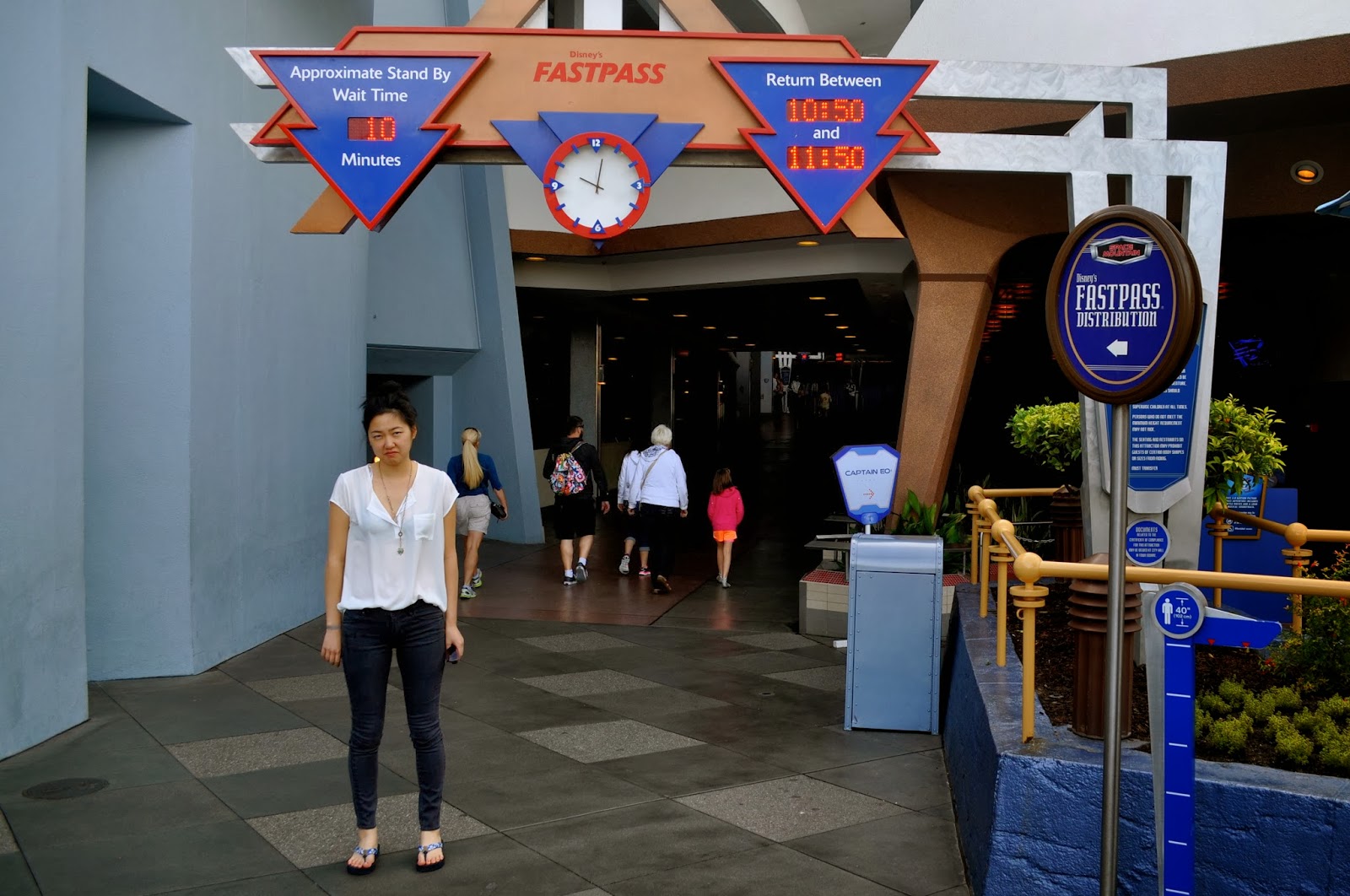 Pathos.
No one in this photo is enjoying themselves except me.
Post-Mountain, we bounced over to Fantasyland, where we proceeded to take ABSOLUTELY RIDICULOUS pictures. It was awesome.
MOON: I'm sure there are going to be a lot of those…
So awesome, in fact, that we decided to go around the entire park taking silly photos. As we passed Big Thunder Ranch, I saw a HORSE! Yay! Unfortunately this guy wasn't as accommodating as the pair I met during the Tinker Bell Half, but it was still nice to see him.
THIS IS TRUE.
And even nicer to see Woody. I coached him and Moon into their pose and the CM on duty suggested a "Woody's Angels" spin-off. Do you think we could resurrect Bo Peep for that? I always liked her.
I was still bound and determined to find myself a cupcake, and we checked the Hungry Bear for exciting desserts as we passed. Admittedly the honey lemon cupcake was a feast for the eyes and I'd heard great reviews… but I didn't want a LEMON cupcake. Too light. I WANTED a honking sugar-fest. But a GOOD honking sugar-fest, with vanilla or cream cheese frosting for preference and some sort of frosting-intensive filling. In retrospect I probably made a mistake, but we moved on.
The Winnie the Pooh dark ride was practically next door and had no line to speak of, so we took a ride in a hilariously-named honeycomb. Okay, I might be imagining things, but I remember the WDW version as being WAY better. The story at Disneyland lacks clarity. Am I making things up?
Oh, bother.
By this point I was in the mood for a snack, of which there were many inside the Pooh Corner gift shop. Despairing of ever finding a glorious, WDW-worthy cupcake in Disneyland, I gave up the ghost and bought one of those generic colored cupcakes that are all over both properties. It was fine, sugar-fest-y, even, but an underperformer compared to anything I could get at Starring Rolls. Disneyland bakers need to step up their game.
MOON: If I may be so bold and repeat my favorite tweet: "I just stuffed cake into my BFF's mouth. The trip has climaxed." There you go, guys. That's the highlight of my trip.
Subpar.
We'd photographed our way through Fantasyland, New Orleans Square, Frontierland, Critter Country, Adventureland, AND Main Street and it was time to head across the yard to DCA. On the way out we stopped in a gift shop so I could look for a shirt I liked, but they didn't have it in my preferred size and color so I vowed to look in the World of Disney store later.
Over in DCA, I made a beeline for the roller coaster, and Moon was kind enough to wait for me and take photos as my train took off. Then we stopped in at the Golden Vine restaurant, but the menu didn't inspire us to spend that kind of money; we went back to Pacific Wharf and got tofu bowls from Lucky Fortune Cookery (another one for the food review post).
Our next stop was Carsland, where Moon got a churro cone. I guess they make them fresh to order, because Moon informed me it was going to take six minutes for hers to arrive. She gave me leave to run off and look for Stanley stuff in the gift shops.
I checked through pretty much every single gift shop in the place and came up with exactly one lame t-shirt and a magnet. I mean, Stanley has a freakin' STATUE here; shouldn't he be more heavily featured? Moon called, churros accomplished, and I directed her over to me for discussion. I ultimately bought magnets for my mother and grandmother. The cashier guy was super nice – he gave us First Visit pins and Mickey stickers (which now adorn my cubicle wall and my cell phone case, respectively).
I FOUND IT!
Also, Moon gave me her cinnamon chocolate dipping sauce from the churros because she's not a huge chocolate fan and I drank that stuff like it was hot chocolate. Question: reasonable behavior or cry for help?
MOON: I'm sorry for being a fatty and eating all the churros!! But I couldn't find youuu and I was hungry. :/ But at least there was sauce, right? You ate that like a champ!
It being vacation, it was time to imbibe; we hit up the wine place next to Golden Vineyard. The guy there was also very nice, offering us different pours if we didn't like what we got and describing our potential purchases. I got a glass of Malbec and Moon got a Cabarnet, and we took our glasses over to the benches in front of California Screamin.' (On the way, Moon was accosted by a lady who wanted to know WHERE DID YOU GET WINE?????)
I snagged a FastPass for the roller coaster and we sat and sipped our wine for awhile. I finished my glass at the EXACT moment my time opened up. Moon had fallen asleep, and upon my return she was STILL asleep. It was adorable.
MOON: Zzzzzzzzz…
I did rouse her after a time, and we decided to approach DCA the same way we had Disneyland that morning – circle around and take pictures. So we did that. And as we walked past Grizzly River run, I saw him: DUG!
Oh, and here's a bear from the gift shop.
Also, at some point we took pictures with Chip and Dale. I don't remember when so I'm just going to stick this photo here. Chip tried to mime me into giving him money for food, but I refused because HE DOESN'T DESERVE ANY. (Confession: I don't like Chip and Dale because they're mean to Pluto. I harbor the same distaste for the Roadrunner and Jerry Mouse.)
It was then that I made my most exciting discovery of the entire trip: one of the famed DISNEYLAND KITTIES! Disneyland sets up feeders to support feral cat populations that keep the rodent numbers down. Cast members warned, and rightly so, that they were wild, but this particular cat was incredibly sweet, rubbing against my hands and everything. Until some stupid kid came up and started yelling MEOW!!!!! at him which freaked him out and he ran away. Why do people continue to bring CHILDREN to Disneyland? I just don't understand it.
We continued our tour with Condor Flats, but there wasn't much there beside Soarin' and we get that at WDW. After that we found ourselves back on Buena Vista Street… so I went into Starbucks and bought ANOTHER cupcake. Because it LOOKED epic. I say LOOKED… but more on that later.
I was so young and full of hope.
Moon convinced me to leave the parks, but I wasn't ready to let go. She went back to the hotel while I headed into Downtown Disney and the World of Disney store to find my shirt. It was pretty much exactly the same as a shirt I had almost bought at WDW, but it said Disneyland instead; I figured since I still liked the design it would make a good souvenir. Unfortunate WoD didn't have red in size small either, so I settled for purple. Whatever. Purple brings out the green in hazel eyes, right? The universe knows what it's doing. I also found a shot glass and got a small pack of notepads for coworkers, but otherwise I managed to hold on to my money.
What I couldn't hold on to was my sense of perspective – as usual, the prospect of leaving Disney property bummed me right the hell out. A normal person, having completed their business, would then go back to their room. I chose to walk alllllll the way down the DTD street to the Disneyland Hotel and back, ducking into a few shops for no reason whatsoever. My initial plan was to pick up the monorail and ride it into Tomorrowland before exiting, but it was down… which also saved me from the temptation to stay in Disneyland, so I guess that was just as well.
Goodbye… sniff…
Eventually I was able to drag myself away; I met Moon back at the hotel and we pondered the remainder of the day. Various driving excursions were considered, but as I am a nervous driver in new situations we abandoned those ideas in favor of staying safely close to home.
Step one: hot tub! At this dinner-ish hour, the pool area was practically empty. There was one family there, but they left shortly after we arrived. We did have one admittedly cute encounter – their little boy came up to us just before they departed and asked us very gravely if we would like him to turn the hot tub jets on for us. I don't even like kids and I found that adorable.
Eh.
Much better.
Step two: dinner. We settled in at the Rainforest Cafe because it was right across the way from the DTD movie theater (we will get to step three shortly). This will serve as the final section of our Disneyland food review post, but let me just say now that they don't skimp on the vodka.
Step three: movie. The reason we wanted to drink was because we had selected Paranormal Activity: The Marked Ones as the evening's film. WAIT HEAR ME OUT. Moon and I have a tradition with some friends that we watch horror movies together, both good and bad, and mock them and/or clutch each other in terror. We KNEW a PA movie would be mockable, but we hoped it would be a fun mockable. There is a method to our admitted madness, okay?
As you might have guessed, however, this particular PA installment was passable at best. The most interesting part was that when we walked in – a few minutes into the previews at that – we had the ENTIRE THEATER to ourselves. A couple came in shortly after, but they left about halfway through (if that informs you of the quality). Meanwhile, Moon literally stretched out across the seats and fell asleep about a quarter of the way in. The most frightening thing about the entire experience was sitting in the dark alone.
MOON: There's also a tradition of me drinking a little too much in excitement for being scared and then my subsequent snoozing. I had a nice nap. Much better than the movie, I'm sure.
I woke Moon up at the end and we walked back to the hotel in the hush of Disneyland Resort at 11PM at night and went to bed shortly after. Our vacation was essentially over. In the morning: TRAVEL TIME.
Don't forget, you can follow FRoA on Twitter @fairestrunofall and on Instagram @fairestrunofall. If you have any questions or thoughts, leave a comment or email fairestrunofall@gmail.com. See ya real soon!