HILLS.
End of recap.
No, no, I won't do that. BUT I COULD.
Anyway. The Marine Corps 17.75K took place in Woodbridge, VA, which is about 45 minutes south of me. The last shuttle from the parking lots to the race start was scheduled to leave at 6:25AM, so for safety I was up, dressed, and out the door before 5AM. Luckily I ran into no traffic AND managed not to get lost, and I was on a shuttle before 6AM. The guy sitting next to me was friendly and wanted to talk; I remained polite since he was just being nice but my internal monologue was like DUDE IT'S NOT EVEN 6AM WHAT IS WRONG WITH YOU.
Upon arrival at the start line I did the first thing we all do – got in line for the port-a-potties. While there, I heard someone mention that there was a killer hill at mile five… great.
My bathroom break out of the way, I wandered about the area and warmed up until we were called to the start line for a color guard and the national anthem. That done, we were informed that the actual start line was a little ways down the road, so the whole group walked forward until we hit the first timing pad and we were off!
The course was pretty much exclusively within a fairly heavily forested park, partially on trails and partially on roads but all lined with trees and trees and trees. And FULL OF HILLS. The first mile or so was largely downhill, but after that we started hitting some inclines that were just steep enough to make me take a walk break much, MUCH earlier than usual. Oh, and that hill at the five mile mark I'd heard about? Take a gander.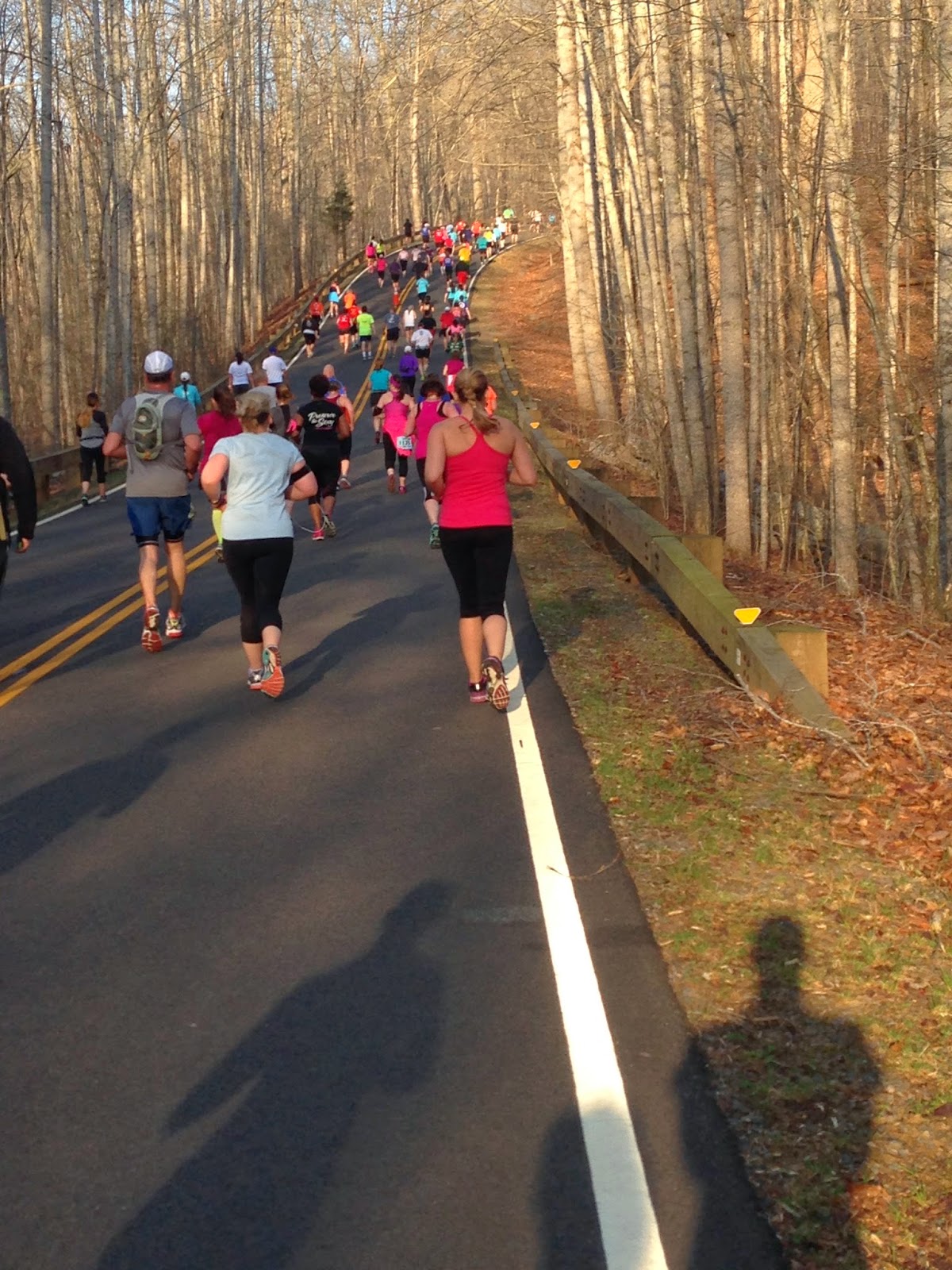 And it keeps going around that bend. FOREVER.
Yeah. No.
And remember how I said that the first mile or so was largely downhill? Well, for the last couple miles we doubled back on the course and had to go up that hill.
Not all the illustrative signage in the world can help you now.
Yeah. No.
But it wasn't all bad! Sure, I had to take approximately 27 more walk breaks than is usually the case thanks to the constant hill presence, but I maintained an okay time all the same and my morale stayed high (especially when I overheard fellow runners discussing Dopey intervals). Thanks to Nicole's generous gift of some KT Tape to try, my knee never bothered me much; I didn't even have to take the emergency pain meds I'd put in my shirt pocket. And while the pack did thin, I was always surrounded by people – I never felt abandoned like I kinda did during the Light House Half.
They also had moderately amusing boot-camp-themed signs posted about. Here are my favorites!
Excuse me, but I believe the brunette doll is called… um, Courtney?
I was more of a Breyer horse/My Little Pony girl.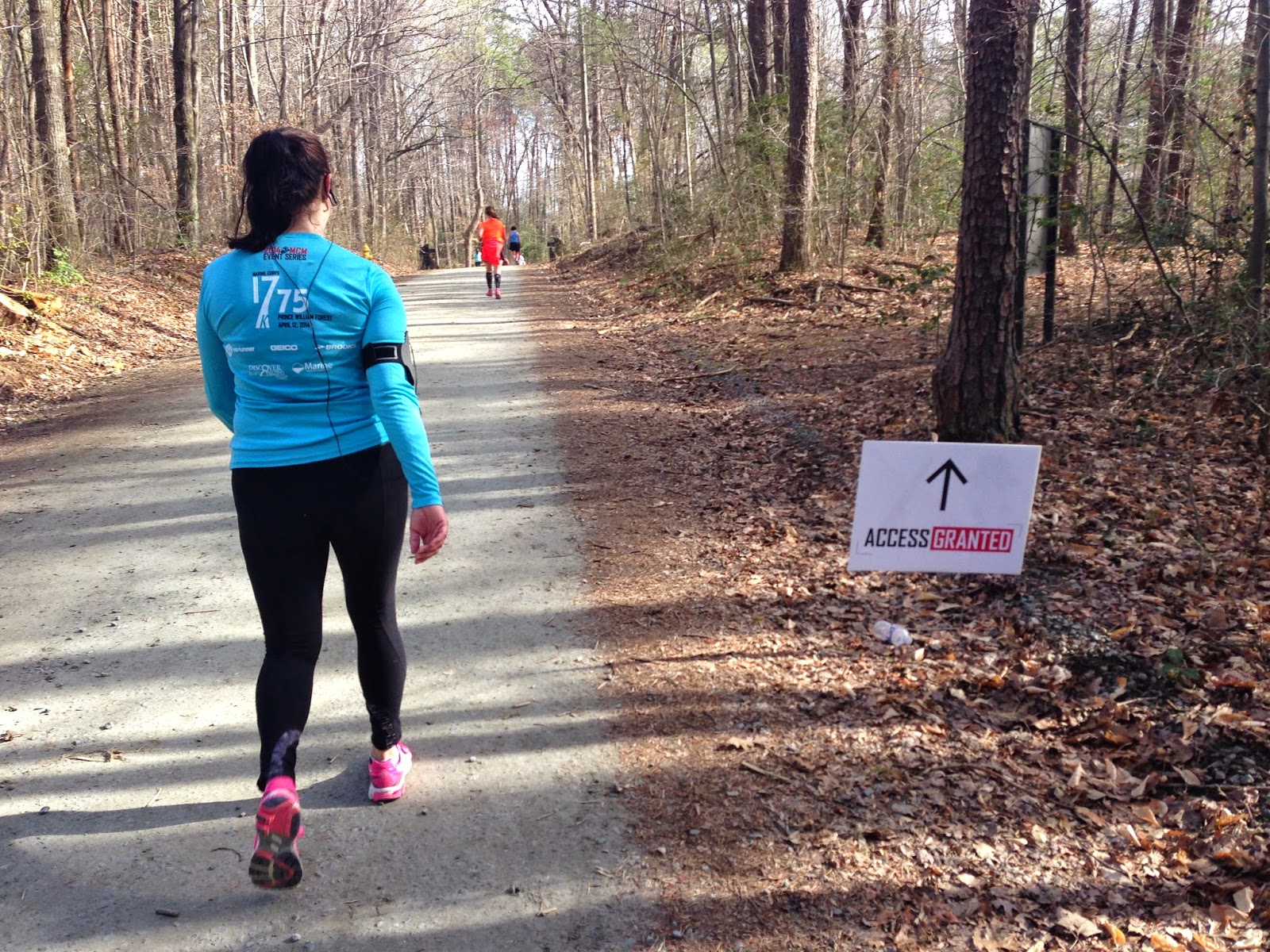 That last one is from the last quarter mile of the course. It was STILL an upward incline, but once I passed the sign I pushed a little and crossed the finish line at a decent pace. Mind you, my time was 2:14:20 for the 11.03 miles, which is only 19 seconds faster than my time during the Tinker Bell Half, but like I said – HILLS, people. Treadmill, I have loved you and I continue to love you, but I regret to say that I clearly need to do more outdoor training if I want to improve my times in the face of real terrain.
The very first thing I encountered in the finishers shoot past the med tent was a table adorned with slice after slice of pizza. While I applaud the thought, I think this was extremely cruel placement. I just ran 11 miles of hills; I don't want pizza yet! ASK ME AGAIN LATER. (Of course I wanted it later.) But I guess they didn't want it out in the post-race area where just anybody could come grab some.
Past the pizza, finishers walked through a tent collecting water, a box of snacks, a finisher's "coin" (they called it a coin but it's plastic), a protein drink called Enu, and a light cotton pseudo-jacket meant to serve the same purpose as the foil blankets runDisney hands out.
As I exited the chute, I heard a guy behind me mention that drinking the protein shake immediately was the key to recovery. Good enough for me! I plunked myself down on the curb next to many a fellow finisher and drank that sucker down. Verdict: not bad. Nutty, I think from soy protein. I wouldn't go out of my way to order it, but might buy it again if I happened to come by it on sale in a store.
The snack box was otherwise fairly boring – a tiny container of peanut butter, two graham cracker squares, sesame sticks, raisins, stuff like that. I ate one or two things in the name of not feeling sick later and then made my way back to the post-race tents.
Stop one: The #AccessGranted tent. As a finisher, I was entitled to a guaranteed entry to the Marine Corps Half Marathon. I exchanged a tag from my bib for a postcard with a website and entry code. Mission, as they say, accomplished.
Oh, but as a side note – I got completely distracted on the way by PONIES.
Well, actually, my horse breed knowledge suggests that these are technically Miniature Horses, not ponies; MH people get super touchy about how they AREN'T PONIES. I say if it's under 14.2 hands high then it's a pony per the rules, but whatever. ADORABLE either way. (And someone on Twitter told me that they're at ALL the Marine Corps races, so that's something to motivate me during the full. KEEP RUNNING THERE WILL BE PONIES)
Aside from that, there wasn't a ton going on. I did make a brief stop at the Brooks tent and talked to the guy there for a couple minutes, but aside from a freebie lip balm there didn't seem to be any incentive to buy or even try right then. After a loop or two I boarded the shuttle back to my car and drove home. (Which took forever because of the cherry blossom people trying to get into DC. Where is the teleportation technology you keep promising us, Star Trek?!)
And that was my 17.75K experience. Next stop: the full marathon!
The bib has taken its place on my Cubicle Wall of Triumph.
Don't forget, you can follow FRoA on Twitter @fairestrunofall and on Instagram @fairestrunofall. If you have any questions or thoughts, leave a comment or email fairestrunofall@gmail.com. See ya real soon!