Not that I'm obsessing or anything, but did I mention that the Marine Corps Marathon is this Sunday? And that it's my first marathon ever? I'm totally not freaking out at all. Not remotely. Nope.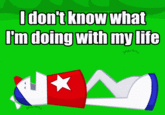 Anyway. Like last week, I'd like to take this opportunity to reach out to readers for advice so that I can blame you if anything goes wrong. Below is a listing of everything I will be bringing with me. Am I missing something? WHAT IS IT? Should I leave anything at home? WHAT IS IT???
Phone & headphones for music purposes

Vitacoco sports drink, to be consumed before the start (and pre-race bathroom break)

2 packs of Clif Shot Bloks, one of which will come with me (and the other of which maybe Nicole can deliver to me halfway through? Hi Nicole du Lancret! We should coordinate!) (Is that enough? Should I bring more fuel? There are a couple fuel stops, right?)

Armband for Shot Bloks and/or ID and SmarTrip card

Throwaway long-sleeved shirt and potentially sweat pants depending on the temperature

Vaseline, to be slathered anywhere chafing has ever occurred or could potentially occur

Bib, because not wearing my bib would be a problem
I'm also going to bring a sweatshirt to leave either with the aforementioned wunderkind Nicole or my boyfriend if he can come. I bet I'll be cold post-race.
The week thus far has been TERRIBLE (non-running related), but that only means that things have to start looking up, right? That means I'll have a fantastic race, right?
Great. Thank you, imaginary Greek chorus in my brain that always agrees with me. Good work all around.
Don't forget, you can follow FRoA on Twitter @fairestrunofall and on Instagram @fairestrunofall. If you have any questions or thoughts, leave a comment or email fairestrunofall@gmail.com. See ya real soon!