The trip report is over, but I still have a couple of posts left in me! In particular, food reviews. If you want to catch up on my Dopey experience, you can read all the posts in this particular trip report here. Ready? Let's go!
Kusafiri Coffee Shop and Bakery is easy to miss if you're not looking for it, but you're a seasoned Disney vet like me, so I'm sure you're already looking for it. (And if you're not, don't worry – just go to Harambe, pass Tamu Tamu and Festival of the Lion King, and you'll find it to the left of the Burudika stage; if you hit Pangani Forest Trail you've gone too far. Got it?)
On our last trip, Pat and I wound up visiting Kusafiri no fewer than three times. This is partially because Pat is a man who needs his coffee but also because the baked goods there are ALL KINDS of killer.
But first, a word on the coffee: it's Joffrey's and it's just fine. I don't think we ever got straight coffee, instead going for lattes, but it was perfectly acceptable. There's a cart past the pickup window with various sugars and what have you for customization. Note, though, that the small is VERY small – if you have caffeine needs, I recommend ordering up a size.
Now for the important part: DESSERT. For our first go-round, Pat attempted to order the storied paw print brownie, but they were all out. He substituted a turtle brownie. He gave me a bite, and we agreed that it was perfectly fine but not spectacular. Just a chocolate brownie with nuts and some thorough caramel drizzle. I didn't take a picture so that should tell you how enthusiastic we were.
Meanwhile, I got myself one of the newest cupcakes on the street: the "lion cub" cupcake. Whatever, Kusafiri. This is a Simba cupcake and you know it.
The frosting was vanilla and nice and thick and piled high, just the way I like it. (The Simba face was edible but, like the cat in the Cheshire Cake Cup, tasted like nothing). There was also a fruity pudding filling that I thought might be mango but research suggests is passion fruit? It didn't do all that much for me. As for the cake itself, it tasted, weirdly, like a corn muffin to me. I could be wrong on this but I swear it did. But as I go into a cupcake for the frosting experience, I was perfectly happy with my selection.
On our next visit, we got what we had REALLY wanted: those paw print brownies. And OH MY GOD, GUYS. PERFECTION.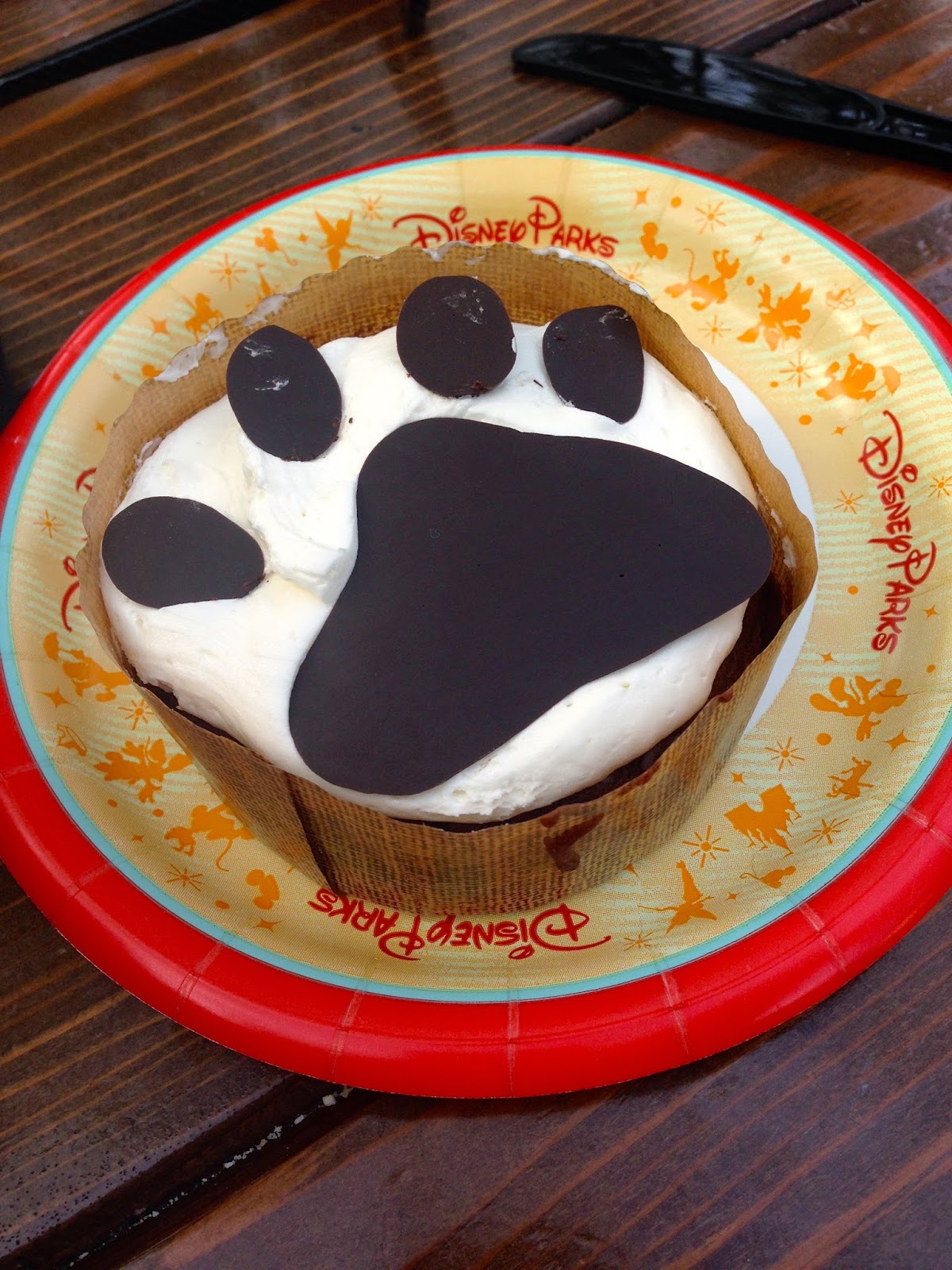 Okay, well, if you're not into sugar, maybe you won't think so. But it took my favorite part of your average baked good – vanilla frosting – and slathered onto a fudgy chocolate brownie. I'm picky about my brownies, and this one had the almost-but-not-quite under baked quality that I look for. Indeed, I generally prefer it even less solid than it was, but I understand it needed SOME structure for the frosting part. We loved this so much we split another one on our last day of the trip.
Kusafiri has a lot of famous cupcakes, although I've heard they've made some not-so-positive changes to them. Still, I highly recommend them if you want some coffee and sugar in the parks. Or maybe even that breakfast sandwich that looks pretty good.
Oh, who am I kidding? SUGAR.
Don't forget, you can follow FRoA on Twitter @fairestrunofall and on Instagram @fairestrunofall. If you have any questions or thoughts, leave a comment or email fairestrunofall@gmail.com. See ya real soon!