The trip report is over, but I still have a couple of posts left in me! In particular, food reviews. If you want to catch up on my Dopey experience, you can read all the posts in this particular trip report here. Ready? Let's go!
As you may recall if you read that day's trip report, our ADR at the Wave was last minute – and also, we cheated.
Pat and I were in line for the Haunted Mansion when we came to the conclusion that the Wave seemed like a good dinner option. I checked the online reservation system and, although I understand the Wave is not generally crazy popular, the earliest ADR I could find was for 6:55PM. We were hoping for something more in the 5:45-6PM area, but we decided to book the ADR, arrive early, and see if they could fit us in. Pat even grabbed a couple seats at the bar so we could eat there if necessary, but as it turned out we were seated almost immediately. As I said regarding Boatwright's, they might not be as accommodating during busier times of the year, so keep that in mind when making your own dinner plans.
Since the Wave is all about their organic and craft alcohol selection, we started out meal with drinks (yes, I know I had a half marathon in the morning – don't worry, I drank a whole glass of water too!). Pat got the brown ale while I went for the flight (which I didn't finish, if you're still concern about my hydration). It came with a sample pour of the blonde, amber, and brown ales, all of which were nice but none of which blew me away.
We also received a delicious loaf of still warm, fresh-baked bread and butter which, if I remember correctly, was sprinkled with black salt and was pleasantly soft for spreading purposes.
On to the entrees! I'm going to gloss right over Pat's because he just got a steak again, but my meal was possibly my favorite of the trip: curried vegetable stew! GUYS THIS WAS AMAZING. I am so glad I blew off the runner's special pasta dish!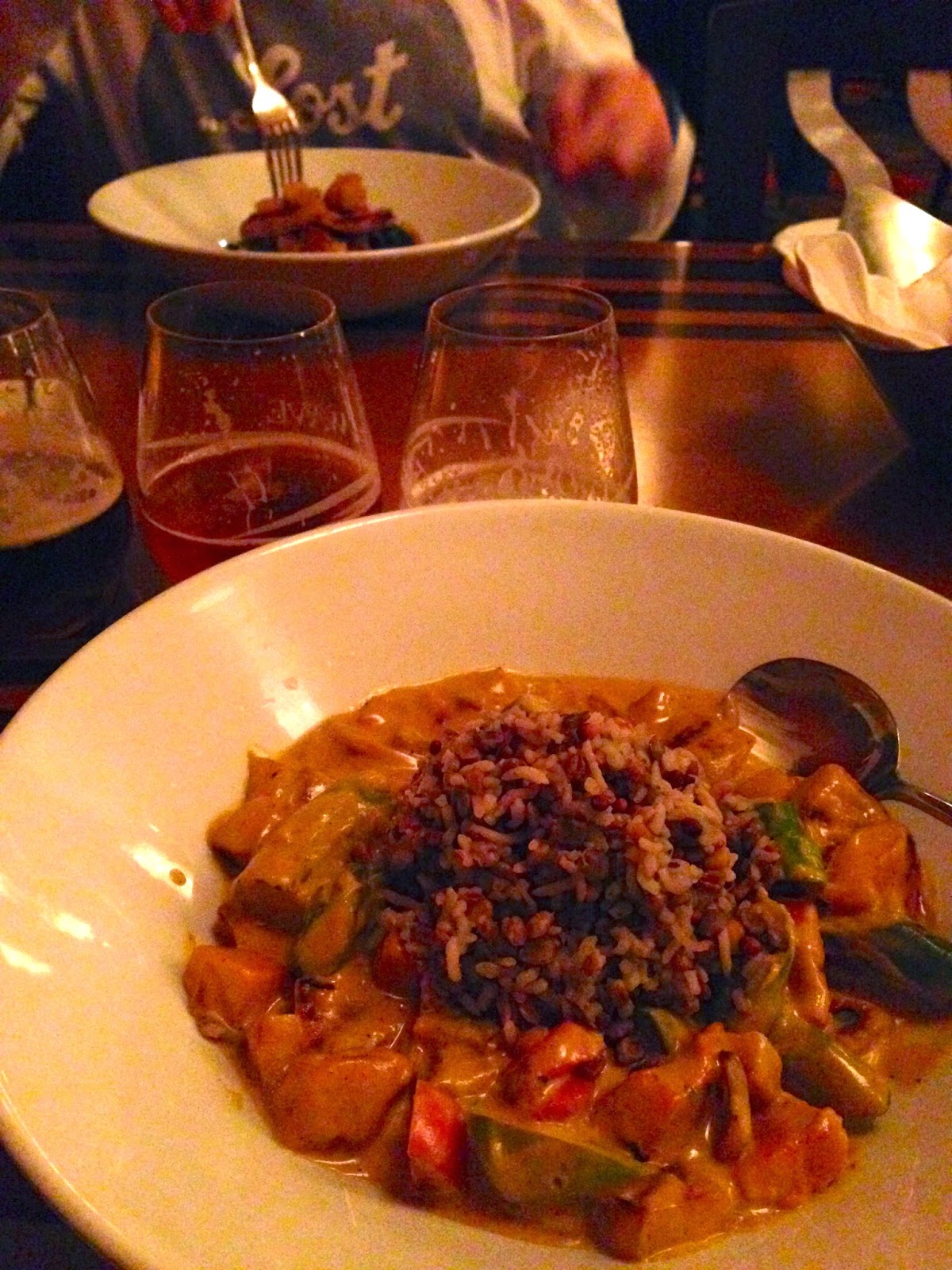 Anyway, according to the website, the stew includes butternut squash, asparagus, Pink Lady apples, fire roasted peppers, and jade rice (although I feel like based on texture I got more of a brown rice?). The butternut squash was definitely the star of the show where the vegetables were concerned, dominating both texture and flavor. I'm a major butternut squash fan, so fine by me!
But the real star of the show was the sauce. It was not spicy, in case any of you four-alarm types started getting all excited, but it was richly flavored in that way that mild curries tend to be. The sauce was not remotely running or thin but neither was it gloppy. I 100% cleaned my plate and would order it again.
We chose to skip dessert on this occasion, but it looks like they finally got rid of that "here are three mini desserts" thing. I approve! (Moon and I went here once a long time ago – like December of 2008 a long time ago – and thing were very different.)
While the Wave is hardly the most glamorous or unique of WDW's restaurants, I think it's something of a hidden gem. The food is good and organic if that's your thing, and the atmosphere, while not exciting per se, is cozy. Next time you're at the Magic Kingdom, ponder hopping the monorail to the Contemporary and trying it out. I'll think you'll be happy you did!
Don't forget, you can follow FRoA on Twitter @fairestrunofall and on Instagram @fairestrunofall. If you have any questions or thoughts, leave a comment or email fairestrunofall@gmail.com. See ya real soon!