Last week, I ran four times. Each was in an entirely different place. IT MAY NEVER HAPPEN AGAIN.
1. Toms River, NJ
My family went to my grandmother's house for Mother's Day. I figured since I had a little time I might as well fit a run in. I remembered to bring everything I needed – except my headphones. FAIL. Luckily I hadn't run in that neighborhood for YEARS, and I was kept reasonably entertained exploring various side streets. Afternoon runs are hot, though.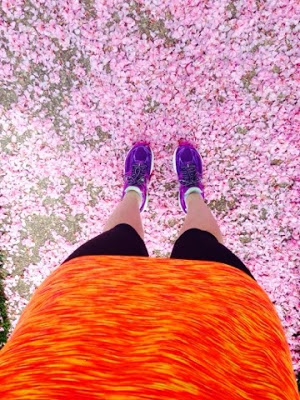 Is this what Richard Adams meant about the primroses being over?
2. Bethesda Trolley Trail
This is my standard outdoor running route. So, you know, whatevs.
3. Potomac Valley State Park
My dad asked me to dogsit for one night last week as his dog is a hyper-intelligent weirdo with trust issues and he takes the euphemism "number two" very seriously, which is to say that he will only go number two for me or my dad. Therefore I went to my parents' house after ballet on Wednesday, walked the dog, went to bed (after sulking about the Caps game seven), got up, walked the dog, and set out on a run.
My parents live within a short walk or run of an entrance to Potomac Valley State Park. This was my running area back when I first started running, although back then I was just jogging, really. I'd never run as far into the park as I did that day, and I must say I rather enjoyed it. There are certain parts of the path where the outside world melts away just enough that you can imagine yourself in a fairytale (a paved fairytale but a fairytale nonetheless). The road follows the creek and I even saw a woodpecker!
The primroses were way, way over.
You kinda had to be there, I guess.
Bonus: a real bathroom stop if you need it.
4. The Treadmill
Where's your favorite place to run?

Don't forget, you can follow FRoA on Twitter @fairestrunofall and on Instagram @fairestrunofall. If you have any questions or thoughts, leave a comment or email fairestrunofall@gmail.com. See ya real soon!