JENN: Did you finally get to run for real last week?!
MOON: YES!!! Like, FIVE! While going a month without running was saaaaad, at least I know I truly love to run. Or, at least, that's what I'm telling myself. Glass half full.
JENN: Yay! Are you running around your new neighborhood or hitting my friend the treadmill?

MOON: Your good friend the treadmill.
JENN: Awww. Always there for us, the treadmill is.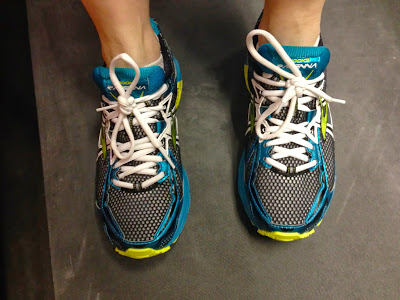 Best friends.
MOON: I have gone for a few walks with my umbrella, but I find that I often run into things/people, so I figure it's best to not run with the umbrella. >_>
JENN: That would be some impressive work.
MOON: Yes, the treadmill does not judge us. Nor does it give us unsightly tans.
JENN: Since the main complaint about the treadmill is the lack of scenery, maybe we just need a film projector behind us making it look like we're moving like in old movies.
MOON: Ah, but I have a view of a Marriott Hotel and Camden Yards! Although, I do feel weird about people looking at me through the window running. It feels terribly unnatural.
JENN: Ooh, Camden Yards sounds fun!
MOON: Well, it's mostly just the outside, haha. Would be too good to have a free view of all the games, right?
JENN: I'm pretty sure they'd price the likes of us out of the rent at that point.
MOON: How was your running week?
JENN: Just normal boring runs last week. The only notable thing was that I tried to go for a barefoot walk and blistered my feet. I don't understand how anyone could possibly run barefoot if I can't get through a mere walk that way (more on this next week).
MOON: I can do it, but I find it uncomfortable. Although, I'm sure if you had the luxury of sand-running all year-round, I can see it being good for you. Otherwise, it's just like that first work-out after taking a looooooong break.
JENN: Meh, I shall abstain. Anyway, here's the roundup! (Horribly truncated because I was at the beach, but next week's will be better!)
– It's a Marathon AND a Sprint races in all weathers.
– The Sparkly Runner rethinks perfection.
– Prairie Princess Runners ponder the running pause.
– Sparkly Ever After gets a Cast Member to dish.
– The Disney Tourist Blog catalogs common WDW newbie mistakes.
– The Main Street Gazette loves Epcot's background music because duh.
– MousePlanet offers a fascinating look into the recent weirdness surrounding Club 33's rules.
Don't forget, you can follow FRoA on Twitter @fairestrunofall and on Instagram @fairestrunofall. If you have any questions or thoughts, leave a comment or email fairestrunofall@gmail.com. See ya real soon!