The trip report is over, but I still have one or two food reviews in me. Specifically: two; and here is the first. Commentary from Elizabeth provided in red. Click here to read all the posts in this report. Onward!
Whispering Canyon Cafe! This one's been on my Disney bucket list for some time. Although I doubt I'll ever be hungry enough for one of their famous bottomless skillets, I appreciate straws as projectiles.
Let's back up. For those who are unfamiliar with resort restaurants, Whispering Canyon is a casual sit-down restaurant in the Wilderness Lodge where the servers are allowed to mess with you. Like, they can't smack you in the face or anything, but they will do things like make everyone in the entire restaurant bring you their bottles if you ask for ketchup. And throw straws, like I said. That kind of thing. Think Prime Time, only it's your prankster buddies instead of your domineering relatives.
ELIZABETH: As someone who once ate a meal at Dick's Last Resort, which is also famous for messing with the diners, I found it much more fun and lighthearted, but maybe that's because most of the shtick at Dick's revolves around sexual innuendo, which can get…weird, really fast.  Anyway, it was a good time!
That being said, they do give you a coaster that allows you to indicate to what degree you wish to enjoy the festivities – see below. The opposite side allows you to indicate that you wish to "watch from the fence," but really, I think if that's your preference you should just go eat somewhere else, you no-fun time-ruiner.
International sign for ALL THE KETCHUP
One more thing before we get to the review – as I mentioned in my trip report, the check-in desk will not repeat not give you your buzzer until the whole party has assembled. You're not really in the line until you've got your buzzer. Just so's you know.
Okay, so, food! We were there for breakfast, which I am informed is not as rowdy as dinner but I like breakfast food so there you are. When I say "we" I mean the blogger summit – Kellie, Nicole, Rae, and Kim – plus Kellie's sister and Elizabeth.
I want to say our server was Keenan? Kenan? Kieran? Definitely began with a K. Anyway, he was super nice and adorable and ribbed us gently without being obnoxious, which I imagine is quite the line Whispering Canyon servers spend their lives walking. (We tried to pick him up for you, Lisa, but he said he couldn't handle more Disney in his life so we said PASS.)
ELIZABETH: Man, now I wish I could remember exactly what his name was…
First on the docket: drinks. Elizabeth and I went with coffee – just fine – but I'm a little sad I didn't join a bunch of my tablemates in bottomless milkshakes. Rae was kind enough to let me sample her caramel shake before passing it over and it was pretty impressive – VERY thick.
ELIZABETH: Yeah, if I had to do it again I would get a lighter meal and spring for the milkshake as well.
We also received water, as Kenan (let's just call him Kenan) had discovered that most of us were running the half that night. He led us in a group hazing of one of the other servers, who we screamed at to hydrate. Good Disney fun!
Speaking of passing drinks around: Kenan came up with a tray of our drinks and… I don't quite remember how it happened, but he plunked the tray down on the table next to me and left. Assuming the was part of the shtick, I proceeded to distribute the aforementioned drinks. Only to have Kenan  return a moment later and say, "Hey, who did my job?" Please note: waiters at Whispering Canyon do not go so far as to make you serve yourself.
ELIZABETH: As I remember it, he was distracted by another server who needed help and said something along the lines of "I'll be right back!" but I was thirsty, so it seemed easiest to just help myself to some water. 🙂
Next up: food! Elizabeth and I selected two entrees to quasi-share, the Belgian waffle and the banana bread french toast, both with bacon. The latter was primarily Elizabeth's but I did try a few bites, and in a word: WOAH. This is some serious sugar. And I say that as a person who has finished more than half of a carrot cookie all on her own in the space of like fifteen minutes, so I know sugar. And this was… well, it was bananas. AHAHAHAHAHA!!!! Shut up.
ELIZABETH: It was delicious, but MAN was it heavy. Proceed with caution, and I say this as someone who loves her some banana bread.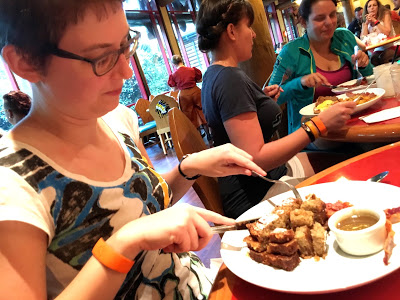 I wisely went with the Belgian waffle because WAFFLES, and was delighted to discover upon its arrival that it was a MICKEY WAFFLE. A full-sized Mickey waffle for me! Glorious!
This was of course perfect and wonderful because somehow, for all their other culinary idiosyncrasies, Disney has figured out how to make a flawless waffle every. Time. I went for the ears first; when Kenan (although now I'm thinking it might have been Kieran?) came around, he informed me he liked to go for the eyes, so I dutifully cut those out next. And that, my friends, is how you spot a budding serial killer…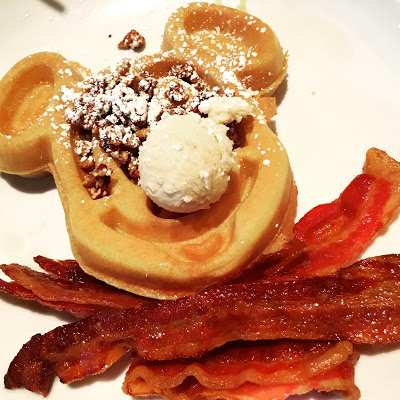 Your ears you keep and I'll tell you why.
The bacon was pretty good. I mean, it was bacon. Many strips, decent size, not too limp or transparent as is sometimes the case. No complaints.
In a nutshell: solid breakfast food, fun servers, would dine again. Maybe try dinner and see if it really is more raucous?
Have you been to the Whispering Canyon Cafe? What did you think?

Don't forget, you can follow FRoA on Twitter @fairestrunofall and on Instagram @fairestrunofall. If you have any questions or thoughts, leave a comment or email fairestrunofall@gmail.com. See ya real soon!