On this day last year I was headed to WDW for the Dopey Challenge. I can't say my heart isn't breaking over the fact that I am not doing the same this year, but it helps to know that the horizon isn't entirely barren: I am doing the marathon on its own!
As I mentioned before, this thirtieth-birthday-present-to-myself is being performed on the super-cheap – fly in Saturday morning, fly out Sunday night, no parks. That does put a minor damper on things from one angle, but from another it gives me an unprecedented opportunity to explore the new Disney Springs and whatever resort my little heart desires.
Saturday plan as of right now: hit the expo for my bib, then check out Disney Springs, maybe get a little sushi at the Morimoto place or try something from the Indiana Jones bar. Or Earl of Sandwich; that's good too. Poke around some shops, see what's up. Then it's back to Pop Century, food court dinner (possibly AoA for make-your-own-pasta?) and early bed.*
Sunday plan as of right now: post marathon, hopefully run back to my room and shower, then hit up the monorail route. Brief stop at the Magic Kingdom just to peek through the windows, as it were. Perhaps even travel the monorail track through Epcot. Bread pudding from Tambu Lounge a distinct possibility. Maybe duck into Trader Sam's?
I pondered attempting some sort of meet-up thing, but then it seemed kinda stupid; I mean, it's not like this blog is THAT big a deal, and anyway I'm sure most of you have park tickets and big dreams. Go ride those rides!
BUT. Here is my wardrobe for the weekend: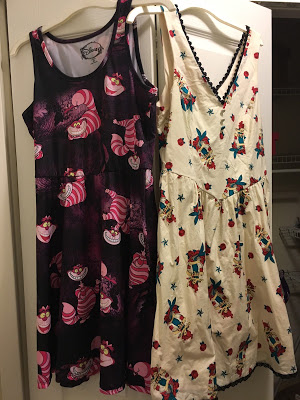 I'll be tweeting my locations. If you happen to be in my neck of the woods, come say hi!
Who will I see at the marathon?
* TWELVE MILLION ALARMS AND A WAKE UP CALL. If you're up at 3am, PLEASE TEXT ME AND CONFIRM MY WAKEFULNESS.
Don't forget, you can follow FRoA on Twitter @fairestrunofall and on Instagram @fairestrunofall. If you have any questions or thoughts, leave a comment or email fairestrunofall@gmail.com. See ya real soon!