JENN: Been getting any running done lately?
MOON: Nope! But exercising, sure, just no running this week.
JENN: That's good!
MOON: What about you?
JENN: Been knocking out my runs. The gym is getting a little old, though. I love my treadmill, but I'm ready for summer when I will have the schedule to accommodate speed runs and the weather to accommodate running outside if I feel like it.
MOON: I hear you.Who wants to run in a small room that smells when you can clearly see a nice day outside?
JENN: I just want to know I have the OPTION, you know? Like a cat. I don't necessarily want to eat my food right now, but I want it in the bowl in case.
MOON: Speaking of cats: we ran out of wet food this morning.These don't care if there's normal, boring food in the bowl. They want the real food. There is unrest here. No peace since 8am.
JENN: Well, send up a flare as necessary and the Allies will storm the beaches.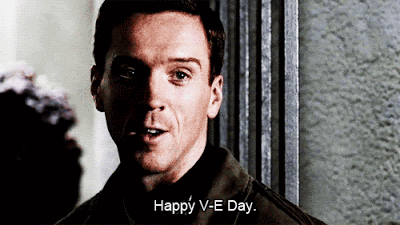 Jenn may have recently watched Band of Brothers and developed
a massive crush on Damien Lewis.
MOON: As long as those allies have some whitefish and tuna in sauce, we have a victory.
JENN: That sounds disgusting. Cats are so weird.
Not at all weird? The roundup. (Or it could be very weird. I'm really not sure.)
– Darlin' Rae can sing 'cause she can run, or possibly the other way around.
– Elbowglitter knows that running cheaters never prosper.
– Megan Biller… just… it's everything I've experienced lately when running. I wrote something along a similar vein here.
– Will Run For Ears suffered great hardship and triumphed during the Princess Half Marathon.
– WDW for Grownups drinks up at DAK.
– Plus the Magic knocks out Epcot scavenger hunts.
– On the Go in MCO offers some Disney groaners.
– easyWDW has more awesome Flower & Garden Festival food reviews from Epcot.
– The Disney Tourist Blog sizes up Disney resort hotel rooms.
Don't forget, you can follow FRoA on Twitter @fairestrunofall and on Instagram @fairestrunofall. If you have any questions or thoughts, leave a comment or email fairestrunofall@gmail.com. See ya real soon!