It's taper time! Okay, for me "taper time" often translates to "SLIGHTLY less than usual," especially in the case of races 13.1 miles and under, but hey, less is less.
What has me cutting my mileage, you ask? Why, the ZOOMA Annapolis Half Marathon on June 4! I'm extra excited for this one because the race takes place near Elizabeth's house, so I'm crashing with her the night before and then post-race we're getting a delicious breakfast. I looooove breakfast. Honestly, it's the one thing standing between WDW and perfection.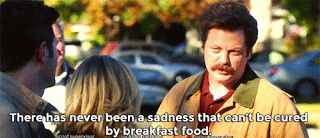 Luckily, nothing is standing between you and the roundup.
– Through Heather's Looking Glass instructs us on how to run in hot weather.
– Fairytales & Fitness keeps training steady.
– Just Me & My Running Shoes wants us all to cram in those runs on vacation.
– Darlin' Rae performs marathon prep.
– EPBOT practices a little body image self-love.
– The Runner's Guide to WDW offers a list of Disney resort secrets, one of which I legit did not know.
– A Pinch of Pixie Dust does the new Early Morning Magic thing.
– Capturing Magical Memories snags a cabana at Castaway Cay.
– easyWDW reviews the Boardwalk's new Ample Hills Creamery. WANT.
– The Disney Tourist Blog features Disney's DINOSAURSSSSSSS.
– Passport to Dreams Old & New plumbs the archives for Liberty Square's original background music.
– Speaking of old things, Disney by Mark reports on a 22 year old park hopper finally redeemed.
Don't forget, you can follow FRoA on Twitter @fairestrunofall and on Instagram @fairestrunofall. If you have any questions or thoughts, leave a comment or email fairestrunofall@gmail.com. See ya real soon!