Hey, remember that time I got an Influenster Vox Box? I guess they value truthiness after all – I got another for review.
More unbridled honesty ahead!
Orgain Organic Protein Powder in Vanilla Bean
Despite the surprising popularity of this tropical smoothie recipe post, I haven't been smoothie-ing it up much lately. For a long time smoothies were a backbone of my diet, but I've been concentrating on eating more varied meals. That being said, I broke out a peanut butter-banana smoothie recipe courtesy of the interwebs, replaced the recommended Greek yogurt with Orgain protein powder, and slurped away. Verdict: not bad. Not nearly as cloyingly sweet as some other vanilla protein powders I've tried. Still a little too sweet, though. I'd be inclined to go for the Greek yogurt instead. But if you like your proteins powdered and are looking for something organic, this could easily work for you.
Ecos Laundry Detergent
This is laundry detergent. It worked very well as laundry detergent. It did not, however, distinguish itself for me personally as the laundry detergent to end all other laundry detergents. It's green, whiuch is good. Otherwise, by all means, grab it if it's on sale, but it's a solid whatevs.
Hair Food Moisture Collection
First off, this product is produced by Clairol, which tests on animals. I'm trying to move away from giving companies that do animal testing my money. I did try it, though, since a) it was free so Clairol did not in fact get said money and b) if it's awesome, those without such hangups (after all, it's a personal choice) might want to hear a review. Well, I was only sent one wash's worth of product, and the conditioner portion could barely cover my looooong hair. It was okay, but nothing that makes me sad I can't purchase it in full. A larger sample might've produced a different result, but what can ya do. I'd stick with Soapbox Soaps if I were you (50% off this week in Target's Cartwheel app!).

Eatsmart Three Bean Tortilla Chips
I enjoyed these very much. These chips have 14 grams of whole grains per serving and have a pleasantly spicy kick. My only critique is that they could use more salt, but then me and sodium are perhaps a bit too fond of each other. Would buy again if I saw them in the store and had tortilla chips on my list.
Curate Dark and Tempting Snack Bar
The Dark and Tempting flavor was composed primarily of dried fruit, yet miraculously did not cause me any intestinal distress. Score! Tasty, but didn't keep me full overlong. I wouldn't go out of my way for it but I'd definitely eat one if I needed a snack and it was lying around.
Vichy LiftActiv Serum 10 Supreme &
Vichy LiftActiv Supreme Face Moisturizer
Okay, so, here's the thing: I'm not a good tester for anti-aging products. At the ripe old age of 30 I sport nary a forehead line. People regularly guess my age to be as much as a decade less than it is. Now, before you accuse me of bragging, please note: I'm 99% sure this is the combined product of my distressingly oily T-zone and a complete lack of cheekbones. Nothing in life comes free.
Anyway, I tried both products. I only received one packet of the serum and it was perhaps a bit slick for my oily skin but otherwise it was fine, I guess? How exactly are serums supposed to make you feel? As for the moisturizer, I received a small pot and have been using it with regularity. I like it. It's not too thick and makes my skin feels soft enough. I haven't broken out to any unusual degree, and I don't look any older than I did when I started, so victory…? They're both pretty expensive, though, so I doubt I'd repurchase either unless it was deeply discounted. YMMV.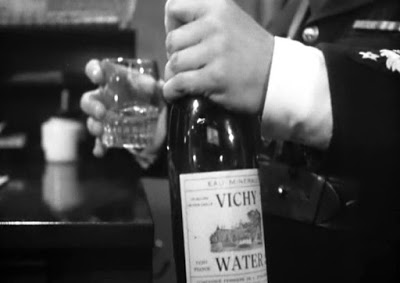 Also: Casablanca and French Nazis.

Have you tried any of these products? Do you have a sword of truthiness?

Don't forget, you can follow FRoA on Twitter @fairestrunofall and on Instagram @fairestrunofall. If you have any questions or thoughts, leave a comment or email fairestrunofall@gmail.com. See ya real soon!