runDisney recently released the dates for the 2017-2018 season – including registration dates. Guys, they have gotten BONKERS.
I mean, yeah, it was already a little nutty, signing up for a race in, say, March that wouldn't actually be happening until November (to use Wine & Dine as an example – my records show public registration opened on Tuesday, March 29. It was actually supposed to be a week or two earlier but they pushed it back to accommodate race detail changes). Well, prepare to think of that as the good old days: this year you'll be signing up for W&D in January.
That's the new pattern across the board – all races now have a registration date that drops approximately 11 months in advance. Which is interesting because, unless I'm even further out of the loop than I realize, this is basically the opposite of what the runDisney community would prefer. It's hard to know your schedule that far advance, and a lot can happen in a half year's time. A lot of people also have to budget carefully for these trips and may not be prepared to drop the dough on registration that early, especially when those dates fall post-Christmas.
I casually tweeted my bewilderment about runDisney's decisions and got a comprehensive response from DopeyRunr: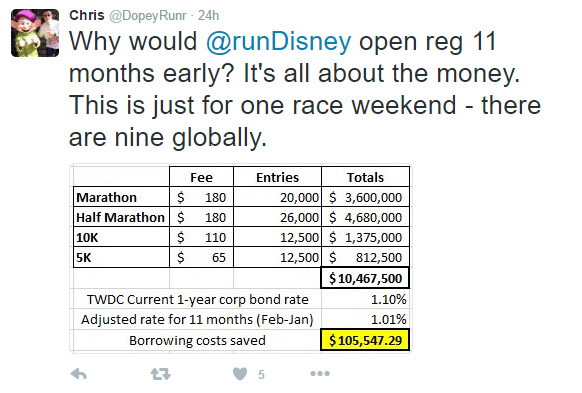 Aha. Money again. Hardly a surprise. And, okay, runDisney is a business, not a charitable organization. But I find the move odd nonetheless given the recent slowdown in race registrations as a whole.
In the past year, the only race I can remember selling out completely within hours is the Wine & Dine Half Marathon, which is boosted by its after party and gift card bonuses, plus in this past case those wanting to run an inaugural race challenge. By comparison, at the time of this writing the WDW Marathon Weekend – a race weekend that is happening in scarcely more than a month – still offers available registration for the marathon, Dopey Challenge, AND Goofy Challenge. The Star Wars – Light Side Half Marathon and 10K two weeks later are both still available. The Dark Side Half, 5K, and Half + 10K challenge? Still available. Tinker Bell? Half and challenge are yours for the running. Princess is sold out, but I don't remember if that was immediate – perhaps a reader can tell us.
I remember when you couldn't get into ANY half or challenge without hunching over your computer obsessively refreshing at the exact moment registration opened. And yet at the Marine Corps Marathon expo, the runDisney booth was offering discounted registration fees if you signed up for the marathon and its challenges or Avengers Half on site, with a free sling bag to boot.
I dunno, runDisney. Things trending as they are, you might want to rethink this one. Make that money, sure, but you might find it harder to do if you only focus on income and not what your customers actually want.
What do you think of the registration dates? Am I being too nitpicky? 

Don't forget, you can follow FRoA on Twitter @fairestrunofall and on Instagram @fairestrunofall. If you have any questions or thoughts, leave a comment or email fairestrunofall@gmail.com. See ya real soon!