Ladies and gentlemen, allow me to present: tapering. (T-minus three days to my next marathon!)
Sunday | ran 7.38 miles on the treadmill in 1:15

Monday | ran 4.31 miles on the treadmill in 50 minutes
Annnnnd starting to get Pat's cold. Awesome.
Tuesday | walked 2.35 miles outside in 40 minutes
Skipped ballet as my cold was reaching a crescendo.
Wednesday | run 6.35 miles on the treadmill in 1:10
I firmly believe that you can exercise your way out of sickness. I mean, to a degree. Depending. So I got up and did my run, albeit gently. Maybe it helped a little?
Thursday | walked 2.12 miles outside; 70 minute ballet class
Still not 100%, but I took a shot at ballet anyway. It went okay.
Friday | ran 5.22 miles on the treadmill in 60 minutes
Almost… better…
Saturday | rest

Nothing to report on the Disney front, but Pat and I made a blanket fort this weekend, so that was awesome.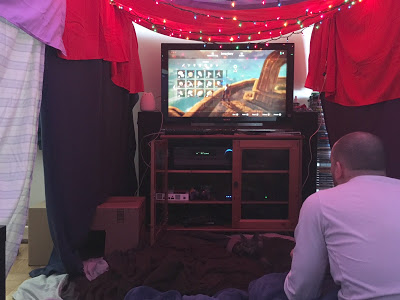 Why, yes, that IS the new Zelda. Thank you for noticing!
And now: The Twilight Bark!
– Fairytales & Fitness lists ways to save your run when you're not feeling it.
– Sparkly Runner takes on the Castaway Cay Challenge 5K.
– The Runner's Guide to WDW shepherds us through signing up for a runDisney challenge.
– The Main Street Gazette highlights Sinclair and Pixar's Dinoco. My grandfather used to own a Sinclar gas station (a great name in oil!!) and ALSO HIS NAME WAS STANLEY.
– easyWDW reviews every booth at the flower and garden festival and basically what I'm trying to get at here is I want his life and I'm Crazy Go Nuts University excited for Epcot in April.
– Rolling with the Magic offers a more general overview of the Flower & Garden Festival.
– WDW for Grownups points out Magic Kingdom attractions that have stood since 1971.
– Disney In Your Day has a super-cute Disney Madness bracket going.
– Living A Disney Life considers WDW things that are enjoyable against all odds.
– EPBOT basically just describes my entire life. (To be clear, I am a childlike nerd.)
Don't forget, you can follow FRoA on Twitter @fairestrunofall and on Instagram @fairestrunofall. If you have any questions or thoughts, leave a comment or email fairestrunofall@gmail.com. See ya real soon!