I've seen quite a few posts out there about Disney mug collections. I do not have nearly as vast or as varied a cabinet as many, but I'm taking a shot anyway. Prepare for a trip down memory lane, bottoming out in a mid-2000s Disney Store.
In my college and grad school years I worked at a Medieval Times attached to a mall, so I spent a lot of time wandering around it. Luckily this particular mall had a Disney Store, which often offered sale items. They also had a frequent rotation of mugs that looked like these: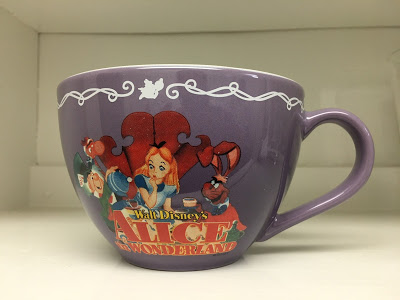 PLOT TWIST.
Didn't see Pan coming, did you? Yeah, I did my undergrad thesis on Lewis Carroll's Alice books, so for awhile there I was convinced I had to own everything Alice-related. I kinda wish I'd gotten more and varied designs, but what are ya gonna do. Regardless, these are great mugs for tea, as they hold a ton of liquid. I also love the giant teacup design.
Bonus mugs!
The blue mug was one of my souvenirs from my first modern WDW trip in 2008. I wanted something not-too-kitchsy and settled on a Walt quote; it tends to be my go-to for coffee. Not sure where the other Alice mug came from but again: Alice. Teacup. Theme.
I don't really need more mugs, but I'm tempted to pick up some of those Starbucks location-specific models next time I'm at WDW…
Do you have a Disney mug collection? Any other super awesome mugs I should keep my eye out for?

Don't forget, you can follow FRoA on Twitter @fairestrunofall and on Instagram @fairestrunofall. If you have any questions or thoughts, leave a comment or email fairestrunofall@gmail.com. See ya real soon!