Hello and welcome to a very strange trip report! If you are looking for a perfectly normal dose of pixie dust, I refer you to any of my other trip reports. For you see, this particular report will have its fair share of oddities. And before this first installment is over, SOMEONE WILL BE DEAD. Ahahaha!* … Yeah.

* Ghost Host laugh.

Still with me? Cool. I began this trip as I begin every trip: with a terrible night's sleep. It's anticipation, sure, but then there's also the crippling fear that I may sleep through the alarm. So my brain largely seems to land on scarcely sleeping at all.

No matter! I was going to WDW, so I bounced out of bed before my alarm even went off, collected my mom, and rolled over to the airport. The flight left on time, we landed early, Disney's Magical Express made us chill on the bus for awhile, and then we were on our way!

All-Star Music was the second stop. Our first act upon landing was to hit up the front desk. I had of course done online check in, but I had also received an interesting voicemail the night before offering a $20 gift card in exchange for no housekeeping services. This seemed like a fine deal to me so we accepted.

I made a pit stop in the bathroom to change and freshen up – and I must say, the All-Star bathrooms compare quite unfavorably to Pop's. They're like half the size and in terrible shape. Half the door latches were broken. Lame!

Then I did something I haven't done in four years: went straight to a park. What, no race expo to attend? What is that even like??? Well, I'll tell you what it's like: it's time-saving. We were on a bus to Epcot in no time flat.

I did something mildly clever here, I think? See, when I set up our FastPasses, I knew we wouldn't be in Epcot long enough to warrant all three. But I also wanted to take a stab at picking up some last-minute top-tier FPs, the kind you can't have two of at once. So for my first FP selection I deliberately took a slot I knew I wouldn't use (and before you get all up in arms, know it was for Figment at 9am – NO ONE HAS EVER NEEDED OR WILL EVER NEED THAT). That way once I used the other two I was free to try for FPs on any ride I wanted!

So our first legit FP was for Spaceship Earth, and while the FP line was weirdly backed up (a trend, we would find), but it was a good start – my mom enjoyed messing around with the animation at the end. Poor dear, she hasn't learned to be jaded about it yet.

I dashed into Club Cool for some Sparberry (and to complain about the lack of watermelon soda) before heading over to Test Track for our FP slot. I was off my game for the vehicle design – our car was neither particularly good nor particularly weird. I mean, it was pink and had butterflies on it, sure, but I can do better.

While in line I tried to pull up FP options, but for some reason my mom's use of our TT FP hadn't registered. I made her trek back to the FP sensor to tap it in so I could start checking for new FPs and also because I am a terrible daughter. And it was for naught, too; nothing good was coming up in our allotted time.

Instead we decided to head to our Sanaa lunch reservation early. EARLY! Oh, to be that naive again. Guys, we arrived at the AKL/Kidani Village bus stop at 12:15pm for a 1:30pm lunch ADR. Q: Did we make that ADR? A: NO WE DID NOT.

This was FAR AND AWAY that worst bus situation I have ever experienced. Disney claims a bus will arrive at each station at least every 20 minutes, but of course this is not an exact science. Here's what happened to us:
At the 30 minute mark, we asked a passing Cast Member, who assured us a bus would be along any minute.

At the 50 minute mark, someone in line called guest services, and he was told that there was a problem with the bus but it was coming now. (Followup question: there's only one bus…?)

At the 1 hour mark, I called Sanaa and asked them to hold my ADR, which luckily they were able to do.

At the 1 hour and 5 minute mark, we flagged a vest-adorned CM, who said he would call someone but didn't that we could see.

At the 1 hour and 10 minute mark, someone else from the line approached a different bus driver and was told that there was a shortage of buses and there wasn't really anything he could do.

At the 1 hour and 15 minute mark, a bus finally arrived.
So yeah. Not Disney transportation's finest hour. The interesting thing is that we did gently complain later to a very nice lady at the Kidani Village desk, and she told us the buses were delayed because of all the construction. So I don't know what the hell was going on, but at the very least get your story straight, Disney. We did walk with an extra FastPass each, though, so it wasn't a total loss.

Anyway, we finally arrived at Sanaa about 20 minutes late, but I'll save that for a full review post. Obviously it was delicious.

After lunch we picked up a very reasonably timed bus to Disney's Animal Kingdom, where we poked around in some shops for a bit before our Caring for Giants backstage elephant tour. Saving that for a separate post too, but the short version is this: awesome. Book it.

Somewhere in there I also picked up a FastPass for Kilimanjaro Safaris at my mom's request, so we did that immediately following our elephant encounter. While in line for that, I performed a miracle: I picked up evening FPs for Flight of Passage in Pandora. And they said it couldn't be done!


We saw three lions at once!
Our sunset safari was very good, but the most notable thing about it was our driver. As I noted on Twitter, this dude talked like William Shatner had fused with John Wayne and then smoked all the weed in Orlando. And he was sassy about it, too. I personally found him hilarious, but I'm surprised Disney lets him get away with it.

By this point the sun had set, and the Harambe nightlife was heating up.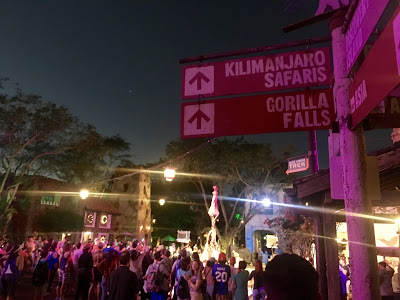 But as much as I love Harambe, it was time we journeyed with the crushing masses to Pandora. Much has been made of Pandora at night, and having seen it that way for the first time, I must say… why? It's so freaking DARK, guys, and obnoxiously crowded, and the "bio-luminescence" is just glow in the dark paint and blacklighting. I guess the fact that the mountains "float" is unique but basically it's just a rainforest, right? I felt lost the whole time and frankly cranky about it. #avatarstillsucks

With that glowing introduction, I segue to my first ride of Flight of Passage. POTENTIAL SPOILERS AHEAD. Once again, I'm going to have to be Debbie Downer Hateseverything here. I honestly do not get it. Admittedly, as you may have noticed, I am coming from a place of burning hatred for the Avatar movie, but still. 

A lot of the positive reviews for this ride go on about how it's unlike anything you've ever ridden before. Really? It's a motion simulator. I know that the bike-style seating is kinda different, but other than that… it's a motion simulator? Moving a couple pads against my thighs doesn't suddenly make me believe I'm no longer riding a bike. For starters, if I were actually riding a banshee, shouldn't I be able to see his head in front of me? Huh? Huh???

To be clear, I'm not saying it's bad. It's pretty! It's fun! The music is nice! I like the swoopiness! The star effect at the beginning is pretty cool! But… it's a motion simulator. What am I missing here? Please tell me; perhaps there's an important innovation I'm overlooking.

After that I had had quite enough Pandora for the time being, so we hightailed it out of there. We made a brief stop at the Discovery Island dance party and then headed to Serka Zong. 


I checked the Everest line but it was long, so we just handed in our bus-apology FastPasses in exchange for a place in the audience Rivers of Light, 'cause ain't nobody got time for that standby line.

I was experiencing this for the first time as well, and by contrast to Flight of Passage there wasn't much hype to overcome. Perhaps in part thanks to that I wound up enjoying it. Mind you, it's no Fantasmic or whatever, but it's a pretty little show and the shaman boats are nifty. My main complaint is the weird pop power ballad in the middle? What the hell was that about?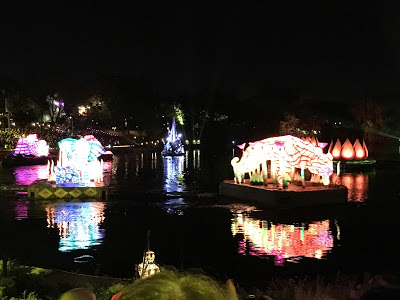 DAK was closed by the time the show ended, so we power walked out ahead of the masses and managed to pick up the second bus back to All-Star Music.

Unfortunately this is where things started to go wrong. My mom called my dad, you know, just to check in… and we found out my paternal grandmother had died. Now, she was almost 97 and had dementia, so it's not like this was completely out of left field, but still… it was a strange cognitive dissonance, hearing this in the most magical place on earth. My dad insisted we stay, saying my grandmother would want us too, but it cast a strangeness over everything.

So that was weird and dampening of spirits. We went back to our room in the Broadway section, watched some of the Disney Christmas special, and tried to get some sleep.

Probably you think this is the end of the day's report. You are wrong.

A little before 10:30pm, I'm in the bathroom area prepping for bed when, out of nowhere, the hotel phone starts to ring. Thinking it might be, I don't know, a message from my dad or something, I lunge for it.

There's a woman on the other end claiming to be with the resort. She keeps referring to me as Mrs. German, and tells me she's been trying to get in touch with me for hours. I'm 97% sure my account says Miss and I KNOW my cell phone and email address are on my record, but I roll with it.

"There's been a problem with the database, and I need to confirm some information," she says. First she asks me to confirm my name. That I do. 

But THEN she asks me to confirm the address attached to my credit card, and I balk. "Can I do this at the front desk tomorrow?" I ask. She agrees but hustles off the phone.

Yeah. That had scam written all over it. And that's how our first day ended.

There's more trip report to come, guys! It does get better. (Mostly.)

Don't forget, you can follow FRoA on Twitter @fairestrunofall and on Instagram @fairestrunofall. If you have any questions or thoughts, leave a comment or email fairestrunofall@gmail.com. See ya real soon!