It's trip report time! You can see all the posts in this report here.
We pick up the next morning with me bouncing out of bed at 6am and going for a run, because if a trip doesn't have a race built in you just have to do it yourself. I'll do a full post on running around the All-Star resorts at a later time.

I knocked out three miles before heading back to the room to shower and get ready to roll out. 

Finding out my grandmother had died had certainly cast a pall over things, but since my dad wanted us to stay we figured we may as well try to enjoy it. Unfortunately my mom is a light sleeper/as much of an anxiety machine as I am, so between the bad news and the late night phone call she was running on like three hours of sleep. 

Oh, and another thing! The whole trip we were surrounded by coughing children. There must be something going around. Sure enough, on the second morning we were both feeling a little under the weather. Nothing debilitating but there was a throat-tickling component.

Nevertheless we set out. Our first stop was at the front desk, where I recounted the story of the aforementioned suspicious phone call to a CM. She checked my record and confirmed that there were no problems with it; it was indeed a scam. That sucks – I could see through it because I have a strong understanding of how Disney operates and what information is on my account, but if they're targeting other Disney guests I bet some newbies might not know better. The CM promised to recount the tale to management but I'm not sure what can be done. Never give credit card information over the phone, people!

That out of the way, we picked up a bus to the Magic Kingdom for the tail end of Extra Magic Hour. Main Street was gloriously uncrowded, and as we walked toward the castle we could hear the opening strains of the trolley show, specifically "The Trolley Song." My grandmother looooooooved Judy Garland, so this was a nice nod to her.
We headed into Fantasyland and knocked out Winnie the Pooh, the Little Mermaid, and it's a small world in quick succession – only Pooh really had a wait, and it was maybe 15 minutes. Incidentally, I don't know who designed VotLM's queue, but they seriously overestimated its popularity. You could run an entire 5k in that thing.

After that it was off to our hard-won Be Our Guest breakfast reservation, a review of which I will of course be saving for a separate post because food always deserves a starring roll role, no?*

* RIP Starring Rolls.

Post-breakfast we were off to our first FP+ of the day, the Jungle Cruise – or I should say the Jingle Cruise, as it was all done up for Christmas. The modified name of our boat? Garland Gertie. Judy again! Our skipper was good but talked too fast; she never gave time for her jokes to land.


We stopped briefly at the Jack Sparrow show before using our Pirates of the Caribbean FP. Front row! Then it was over to the Haunted Mansion to try for standby. The posted wait was 25 minutes, so I gave my mom a choice: this or Philharmagic? Proving that not everyone classifies attractions on the same level, she chose Philharmagic. Oh, I kid, I kid; I find the movie quite enjoyable. And we only had to wait like 4 minutes to get into the theater, so all in all it was a successful use of time.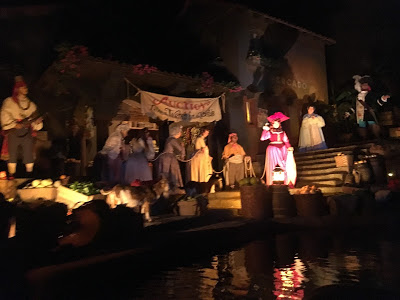 We says goodbye to the redhead.
I hustled us so resolutely to our Peter Pan FP that I accidentally tapped my band 4 minutes early. Oops! We backed away apologetically and people-watched for the necessary time before trying again with success. I do really like this ride but the standby line is always nuts.

By then it was time to head to Epcot, although we stopped briefly for snippets of the Great Moments Muppet show and the Dapper Dans. There was a monorail waiting for us at the MK stop and another for Epcot at the TTA, so that worked out beautifully. I picked up some Soarin' FPs while we rode.

Once inside Epcot we headed to the Fountain View because it was the closest place I could think of off the top of my head where my mom could get a smoothie. Then we headed to The Land and checked in for the Behind the Seeds tour. I've been meaning to do this for YEARS. Finally it happened! More detailed review coming in a future post.

The tour lasted over an hour, and by the time it finished it was almost time for our late lunch ADR. Almost, but not quite – we headed into the World Showcase and bypassed Morocco in favor of a stop in Japan's Mitsukoshi department store. Sadly all the Shinzi Kato merchandise my mom loves seems to be gone? But the whole place has been rearranged so I'm honestly not sure; maybe it's hiding in a corner somewhere. I'll have to check again some time.

We were still a little early but checked in at Spice Road Table for our Candlelight Processional package anyway, where we were whisked to a table with no wait. I'll do a full review post for this too, but for now let me say SRT is seriously underrated.

After lunch we backtracked to the land for our Soarin' FPs. This is about the thrill level my mom is most comfortable, and she found the new movie very enjoyable. We were in the middle left hangglider and the distortion was somewhat evident but I don't think she noticed.


I had to stop and say hi to my buddy Figment.
We also snuck in a ride on the new green side of Mission: Space. First of all, I don't understand WHY they re-recorded the preshow videos because it is literally the exact same script. I like Gina Torres and all, but I miss Gary. Second, the new green side is pretty underwhelming, no? Too much talking, and again, the ending is exactly the same as the Mars side. So weird!

By then it was high time we headed over to the American Gardens Theater, although we paused briefly at the gospel show on the way. My plan was to pick up a drink at the new Choza Margarita as we passed, but the line was INSANE. Next time!

Speaking of insane lines, the queue for the Candlelight Processional WITH the dining package was pretty nuts too. Obviously we had a seat, but it took some time to get in and my mom was starting to get cranky from sleep deprivation and residual shock. I soothed her as best I could and managed to scope out an empty area reasonably close to the stage. It was way to the right but it would do the job. And we were directly in front of the sign language interpreter so that was interesting.

My mom and I saw Whoopi narrate when we went in 2013, and my mom loved her so much she wanted to go again this year. Honestly I get it: even if she weren't a part of my beloved Star Trek franchise, I would love her delivery. My mom says she does it "very New York." I don't know what that means exactly but she's very straight ahead and maybe juuuust a little bit sassy, especially in the bit at the end about the origins of "Silent Night." My favorite part was when she danced and sang along to "Rejoice with Exceeding Great Joy." Great show, great show!



Oh, and BAM: before the show I messed around in the MDE app and snagged Frozen FPs. This was good. The bad bit was that my mom was starting to fade. I coaxed her over to Norway and sat her down on a bench before running into the Sommerhaus line to meet Anna and Elsa.

Normally face character meet and greets aren't my thing – I always feel awkward. The actors stay in character because that's their job, but I always want to be like, "you know I know you're not real, right? Can we just take the picture and roll out?" Costumed characters are much less awkward. I know; I'm a boring killjoy.

But I was in line for a reason: I wanted Anna and Elsa to sign a Christmas card for Pat's niece, who is freakin' obsessed with Frozen (attempts to divert her to Moana have been only moderately successful). This they did, and they seemed to like the idea, but it was definitely also a awkward as they talked about Olaf and his hot chocolate preferences while I stared them blankly like a weirdo. But I got what I wanted with only about 15 minutes' line time so it all worked out.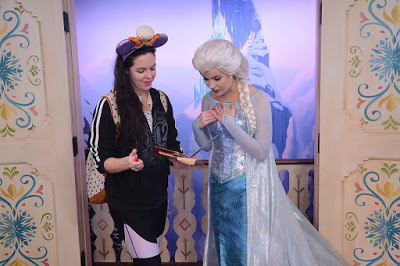 Turns out Anna and Elsa are both pretty short.
I very cruelly dragged my zombified mother through Frozen Ever After because I love the Let It Go scene more than I love her, apparently. At least I was kind enough to forego IllumiNations in exchange for an early bedtime. We grabbed a bus and headed back to Music.

Next up: we finally start to cheer up a little at DAK.

Don't forget, you can follow FRoA on Twitter @fairestrunofall and on Instagram @fairestrunofall. If you have any questions or thoughts, leave a comment or email fairestrunofall@gmail.com. See ya real soon!