It's trip report time! You can see all the posts in this report here.
A point in Trip Report Day 3's favor: We got significantly more sleep on a whole.

Point against Day 3: We felt a little sicker.

So… call it a wash?

We got up, got ready, and headed out for Disney's Animal Kingdom later than I would have liked for the Morning Extra Magic Hour, but we would still catch some resort-guests-only time. I kept an eye on the MDE app on our bus ride and ultimately formulated a brand new plan, essentially throwing out all the FPs I had booked so long ago in favor of an of-the-moment itinerary.

Our first stop was the Na'vi River Journey, which at that early hour had but a 10 minute posted wait. POTENTIAL SPOILERS AHEAD! I actually enjoyed this more than Flight of Passage; despite its low thrill level I find it does a much better job of evoking a feeling, and several of the scenes are very pretty indeed.

Unfortunately I think the main criticisms leveled at it are correct: there isn't nearly enough to look at when you consider repeatability, and yes, it is WAY too short. I think another two minutes or so would've improved matters considerably, not only in terms of return on queue time investment but also in terms of emotional resonance. The Shaman of Song audioanimatronic IS impressive, but I've only barely gotten to know her, you know?

From there we hustled out of Pandora and over to nearby African for an early morning safari, where I was pleased to find the posted 20 minute wait was in fact a zero minute wait. Nice! The lions were out and about and the painted dogs were particularly active.

While in line I picked up a FP for the first Festival of the Lion King show of the day, which I know isn't strictly necessary but I'm very particular about where I sit, so. We killed the little bit of time remaining with a coffee stop at Kusafiri, where I also got one of those breakfast wraps. They're not bad for counter service.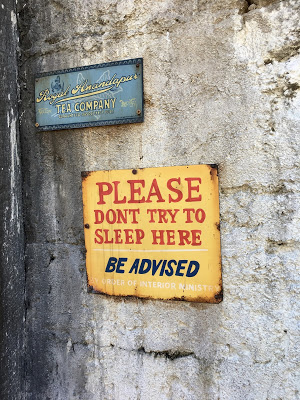 DAMMIT.
One of the advantages of seeing the first of any show of the day is that there's no wait for the previous audience to clear out; we were let into FotLK about 20 minutes before showtime. I got my preferred spot on the side of the lion section AND a tumble monkey high five, yay!

After the show we moved toward Asia, and I stopped briefly at Serka Zong to sneak in a single rider line spin on Expedition Everest, a ride far too thrilling for my mom to ever attempt. 


Then we moved on to Flights of Wonder to see the show one more time before it evolves next year. Happily we got my favorite Guano Joe (indeed, my ONLY Guano Joe with the exception of one single time). I considered asking him for a photo afterward but by the time the crowd had moved sufficiently out of my way he was moving offstage so I decided to leave it.

A quick bathroom break later and we were on to our final FP, Dinosaur – we were in the backend buffer time by this point but I knew we could make it. I was curious to see if the preshow sparked an aha moment for my mom as to why I had named my car the Time Rover – and it did!

I was determined to get a delicious Hightower Rocks before we left DAK, so I pulled my mom over to Nomad Lounge's outdoor patio. My mom didn't want to drink because of her scratchy throat, so I drank by myself like a weirdo. 🙁 It's just so good I have to bear the indignity!


I ducked into the big gift shop to scope out stuffed animals for Pat's younger niece, and then we headed out, picking up a bus to AKL before transferring to Disney Springs. I'm finally starting to get my footing here!


We wandered around a bit, poking here and there: World of Disney, TrenD, Cherry Tree Lane. The latter has the cutest dresses but DAMN are they expensive. The Haunted Mansion ballerina dress with the capelet is almost $200! I've no doubt I'll capitulate eventually but I haven't been able to pull the trigger. When I cave it'll probably be for the Snow White apple dress…

We also took a stroll through the Christmas tree trail, but if you can believe it, we balked at the three hour wait time to get our picture with Santa.


Kanine Krunchies can't be beat!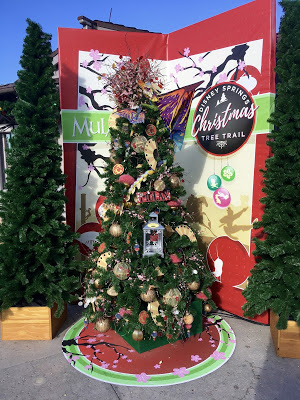 This tree brings honor to us all.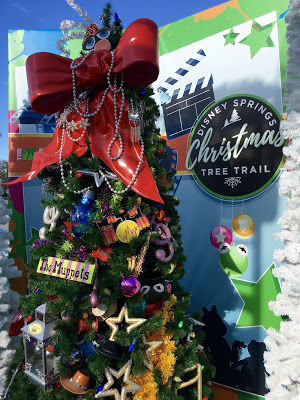 Movin' right along, footloose and fancy tree.
Oodelaly, oodelaly, golly what a tree.
Thinking ahead, I pondered the Magic Kingdom's food options and decided I wasn't into any of them. Instead we had a late lunch/early dinner at Jock Lindsey's. Review to come!

From there we picked up the bus to the Contemporary before walking over to the Magic Kingdom. Guys, it was CROWDED. Like, what the hell levels of crowded. My guess is because lots of people wanted to see the new fireworks show and Mickey's Very Merry Christmas Party precludes that most nights at the end of the year? I know that's why I was there.

Whatever the reason, I led my mom to Tomorrowland only to discover a bonkers line for – what for it – the Peoplemover. Yowza. I pivoted quickly and instead dragged her over to a just-closing showing of the Carousel of Progress. This turned out to be a big hit! She likes shows and music, and I liked the idea of an immortal dog.

After the show we skedaddled back to the hub to watch the castle lighting. It's always lovely to watch the castle light up but I miss the old Cinderella and fairy godmother version. :/ I hope Frozen fever dies down someday. (Don't tell Pat's niece I said that.)

We took another shot at the Peoplemover then, and this time we made it! Somewhere along the way I had also picked up a solo Splash Mountain FP in Pat's honor, so we started to head toward Frontierland. I had time to kill and it was on the way, so we ducked into a showing of The Country Bears. I know it's not for everybody, but I personally find the absurdist humor pretty solid. Just as soon as I find a ladder!

We tried to check out the Christmas shop afterward, but it was just too crowded. Instead I found a bench for my mom to chill on and headed into Splash Mountain. Incidentally, at that point Big Thunder had a 110 minute wait – that's the kind of crowded we're talking here.


Post Splash we headed back to Main Street and, because we were THAT desperate for throat-soothing tea, we got in a Main Street Bakery Starbucks line that spilled well out into the street. Twenty minutes or so later we had big cups of mint tea to sip while we waited for the fireworks.

Although I know it's not the optimal position, I chose us a spot down toward the entrance in front of the train station, to the right of the big Christmas tree. I wanted to be able to shoot out in front of the crowds. The tree did block some full fireworks spreads and we couldn't see the projections as well as if we were closer, but I thought it was a perfectly acceptable vantage.

As for Happily Ever After, I was pleasantly surprised. I went into this one expecting to be underwhelmed, as I am deeply suspicious of re-recordings. But there was a lot more original music featured than I expected, and the covers weren't too bad. I was also pleasantly surprised by the breadth of the movie selections. Super bonus points awarded for "That's What Friends Are For" from The Jungle Book, with Shere Khan's solo at the end and everything.


The second the show was over we spun around and booked it in front of the bulk of the crowd to the buses, and we were on our way back to Music in good time. We made a brief stop at the food court for sandwiches before slipping back into the room, eating, and conking out.

Next up: the last day. :/

Don't forget, you can follow FRoA on Twitter @fairestrunofall and on Instagram @fairestrunofall. If you have any questions or thoughts, leave a comment or email fairestrunofall@gmail.com. See ya real soon!