I debated writing this trip report at all. Aside from the marathon itself, I had an incredibly low key trip. No parks or anything. But I decided to do so anyway because a) I have a couple notes that was be interesting to people and b) someday I will reread this report and sigh happily about the good all days. So: off we go!
I slept unusually well the night before leaving for this trip, which is to say, I did sleep. It was miraculous! But no one ever enjoys a 4:20am alarm, that much is for sure.
The trip down was pretty unremarkable, except maybe for the fact that it was 6 degrees outside in Baltimore, which meant that far from complaining about the 40 degree weather when the plane touched down in Orlando, I was actually pretty okay with it.
I scooted over to the Magical Express, where I was pleased to discover I had indeed brought the right Magic Band with me. (Anyone else discovering this can be a bit of an issue when you decline a new band?) The bus left with possibly the greatest swiftness I have yet experienced, and I was at All-Star Movies in a flash.
My room was not yet ready, but I stopped by the check-in desk anyway to ask the million dollar question: could I please have an extension on check out so that I might have time to shower post marathon? *bats eyes alluringly*
A Cast Member put in the request for me but it didn't go through right away; he informed me that Mousekeeping would leave me a voicemail letting me know if it was approved or not the next morning. I thanked him and wandered away for a bit before realizing this wasn't going to work, as I would be leaving for the marathon before 3:30am and wouldn't be back until as late as noon, depending on how things went.
So I hopped back in line and got a different CM, Rachel, who gave housekeeping a call directly. Unfortunately the news wasn't great: because of the marathon tons of people were trying to get late check out, and I was told I would not be among them. 
Well, blast. I thought quickly. My first inquiry was whether or not I'd be able to check my belongings, since bell services would be closed. Rachel said she believed I could leave my stuff at the desk but she wanted to check. She disappeared for a bit, and came back to inform me that she had gotten my late check out request approved! Yay! I explained to her how amazing she was for a bit before cheerfully heading to the bathroom to freshen up.
Can we talk for a second about how much the All-Star bathrooms suck? They all have half as many stalls as at Pop, Music had a bunch of broken doors, and Movies had no communal mirror. I think I'm gonna reserve myself a room at Pop for Wine & Dine now just in case…
I check my carryon at bell services before picking up a bus to the race expo. The setup was a little different this year: bib pickup was in the same area as the main expo hall, and the official merchandise had its own dedicated area in a separate building.  
I grabbed my bib and then took a few laps around the hall before hopping into the line to get KT Taped up. Rock Tape also had a booth this year with taping services, and KT Tape also now requires you to make a purchase for free taping, which I think is why the line was pretty minimal. 
I was planning to buy a roll anyway, so that was fine with me. But the sad part is that the lady who taped my IT Band didn't do it as nicely as the guy from the Baltimore Marathon Expo, and I ended up taking it off and redoing it myself to great results. Oh, well; you get what you pay for.
Next I headed over to the expo hall to check out the official merch. On the way in I saw a sign advertising various free interactive demonstrations for things like stretching and yoga for runners. There was a yoga class starting in a little less than an hour and I didn't have anywhere to be for quite some time; I decided to attend. 
In the meantime I frittered away my time circling the merch area in a holding pattern of indecision. I found things I liked, but they were invariably expensive, and I talked myself into and out of several purchases. Most notably the Cheshire Cat running pants, which while adorable were a) $75 for b) NO POCKETS. Pass. Ultimately I picked up a plastic Marathon Weekend wine glass on the theory that it's never a bad idea to have a glass you can't break. 
Then it was off to Yoga For Runners, where an instructor led us through about half an hour of recovery poses like Happy Baby and Guppy. The emphasis was on opening up the hips, with additional no-brainers like ankle rolls and leg stretches. Very enjoyable.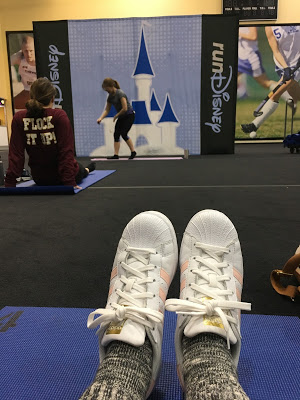 After that it was roundabouts time to head over to the Grand Floridian, so I picked up the bus there. Travel went smoothly and I arrived about an hour early, so I killed some time in the various shops. I particularly enjoyed wandering through Basin White and came very close to buying myself some solid shampoo, but I didn't have a ton of room to spare in my carryon so I deferred.
Finally it was time for my afternoon tea ADR in the Garden View Lounge. Tea has changed much since I last reviewed it, so I'll be doing another dedicated post. Suffice it to say it was exactly the carbing, hydrating, and relaxing experience I hoped it would be.
I finished up my tea around 3pm and strolled out, pausing for a bit to watch the Grand Floridian pianist perform. He wound up singing "Bella Note" directly to an admiring little girl and it was awesome. 
There wasn't much left on my agenda so I decided to head back to All-Star Movies by way of the Magic Kingdom bus stop. Oddly enough at this late hour I had still yet to receive a text that my room was ready. It arrived just in the nick of time as I got off the bus: the Mighty Ducks building.
I hustled over to check it out before backtracked and retrieving my bag from bell services; since my room was only just ready I figured it would be faster to get it myself rather than wait for someone to bring it by my room.  
Down, lucky.
Then it was time for one of the most crucial activities of the evening: laying out all my stuff for the next morning's race. Sports bra, pants, shirt, arm warmers, socks, sneakers… the list goes on. Thankfully it was all there!
While I worked I found my Holy Grail of mindless, calming pre-race television: Say Yes To The Dress. Glorious. I've never been one to, like, dream for years about my wedding day or whatever, but I do want a pretty dress and some cake. Do you think I could convince my dad to just buy me those for funsies?
A couple hours of relaxation later (see, I told you this would be an uneventful trip report) and it was time to think about dinner. I bopped over to the Movies food court and picked up my usual pre-race kid's pasta, which I cheerfully consumed while continuing my pretty dress watching.
But then I was approaching the scary part: going to bed. I set three alarms on my phone AND a hotel wakeup call via phone, but I always work myself up into a tizzy the night before the race. Lord knows I'll never wake up at 3am on my own, and my anxiety about sleeping in kicks in hard core. I wound up spending the entire night dozing off and then jolting awake in a cold sweat on the half hour, terrified to check the time.
So: do I sleep through the race or what? Find out in my next post!
Don't forget, you can follow FRoA on Twitter @fairestrunofall and on Instagram @fairestrunofall. If you have any questions or thoughts, leave a comment or email fairestrunofall@gmail.com. See ya real soon!