I'm sure I'm not the only one who keeps a small shrine to Disney parks in their cubicle. Some of the more enterprising of you may have beautifully framed photographs and artfully fanned park maps. Me, I more or less slapped some schmatta on the wall with push pins and called it done. 
Okay, so it's not the most impressive display, but it definitely cheers me up to glance over once in awhile and see my old Annual Pass or the pin I got for helping train a porcupine at DAK. 
Recently while casting an eye over my collection, I spied an ancient relic. Do you see it?
That's a paper WDW FastPass, all right. But so what? I'm sure there are tons of those floating around. They're even still issued for some special occasions. But this particular kind may never be seen again. Check out the text: it's a Surprise FastPass from 2011!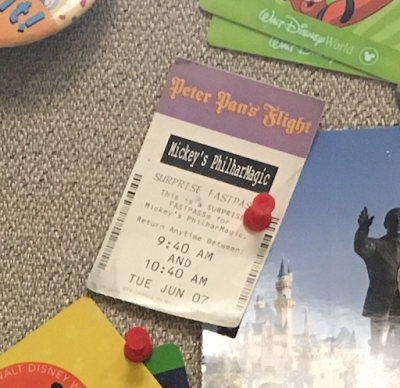 This particular type of FP was spit out in conjunction with the FP you had actually come to the machine for. I only ever remember getting one for Philharmagic, as this one is, but maybe someone in the audience remembers getting a different kind?
Obviously its presence on my work wall means I never used it. That is because a Philharmagic FP is basically useless. I like the show, but since I can basically wander into it at any time I don't generally worry about it. Unless it's a peak period, I can't imagine this FP being useful to anyone – and I betcha these FPs weren't sliding out of the machines as a bonus when the crowds were Thanksgiving-heavy.
The only thing I can think of is that Disney was trying to a) shuffle crowds around and b) hoping that n00bs would just be excited for an extra FP and not actually realize how pointless it was. 
But the real question is this: think My Disney Experience will ever randomly assign surprise FastPasses? 
Because I don't. >D
Don't forget, you can follow FRoA on Twitter @fairestrunofall and on Instagram @fairestrunofall. If you have any questions or thoughts, leave a comment or email fairestrunofall@gmail.com. See ya real soon!