I'm such a sucker for Target's Disney collections. I'm there every week to buy my groceries, and they always seem to have something new! Usually I'm pretty strong about not buying extras unless there's a good sale, but in the case of the cheapity-cheap skin and makeup items they just released, I allowed myself to succumb a bit. Hence last week's review of the sheet masks – and today's review of an eyeshadow palette! 
Quick note: usually I try spread out similar content so that you have more variety to read, but since I'm not sure how long this collection will be available I wanted to get a review out sooner rather than later so you can decide if you want to buy it while there's still time. If there's something else in the collection you'd particularly like reviewed, hit me up in the comments. Okay, onward!
Eight bucks will snag you a palette in one of two color schemes, a smokey neutral that bottoms out in black or the one I picked up, which is warmer with reds and browns. Both feature a mix of matte and metallic shades. 
The most important thing to note is that, whether because of quality, handling, or some combination thereof, these shadows crumble easily. I didn't see a single one that didn't suffer some errant powder along the edges, and a couple even had completely shattered segments. Definitely open them up to check for breakage before you buy! And maybe think twice before having it sent through the mail, at least at full price.
The packaging, besides featuring a plainly shellshocked Mickey Mouse, is cardboard, but the finish is smooth and it doesn't feel flimsy. The palette features a mirror, which is a nice touch, and comes with a double-sided brush, one side haired and one side sponge. Personally I prefer to use my own, larger brushes but this is handy in a pinch.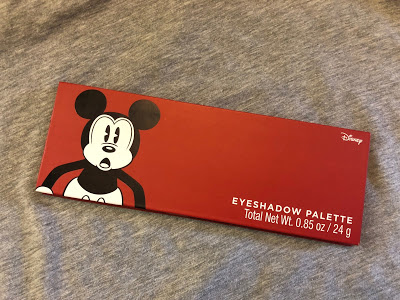 Unsurprisingly (at these prices), the color payoff is pretty sheer. Below I swatched each color with one sweep using the spongy side of the included brush. (None of the colors are named; I just went left to right out of the packaging.) 
In brighter light.
Most apply to your lids pretty sheer, too, but they aren't unworkable. The palest tan and the metallic reds were particularly malleable. I do think you'd be hard pressed to build up any truly vibrant color, but you can bring about a very pretty wash if natural is your thing. Some eyeshadow primer should help.
So there you have it! For an $8 palette, this one performs like… an $8 palette. You can probably pick up something better from your favorite drugstore brand if you're not super into Mickey. But I just can't get over the inherent cuteness of doing my makeup in my Disney resort room under Mickey's heraldry. If you feel the same, it's not a bad purchase.
Don't forget, you can follow FRoA on Twitter @fairestrunofall and on Instagram @fairestrunofall. If you have any questions or thoughts, leave a comment or email fairestrunofall@gmail.com. See ya real soon!