Since I spent most of this WDW trip in a conference, I won't be doing a traditional trip report, but I definitely still have a lot of stuff to tell you about that will be loosely collected under the July 2018 trip keyword. Read on!
Picture it: lunchtime. The final day of the conference. I've just left my last session of the trip. I walk out of the Swan resort and into the bright sunlight and think: I simply cannot stare down one more conference buffet lunch. I have had all the build-your-own-salad and chicken in chafing dishes I can take for one week.
Lucky for me, I was on Disney's Boardwalk, a shopping and dining complex featuring no small number of food options. I could sit down for a burger at Big River Grille. I could get a fresh caprese sandwich at the Boardwalk Bakery. Does Flying Fish even do lunch? I could find out. 
Or I could skip the whole nutrition portion of the meal and proceed straight to ice cream from Ample Hills Creamery. Jackpot!
My original thought was that I'd get one of their fancy sundaes, probably one of the kind with "gooey butter cake," whatever the hell that is. Whatever; I like gooey desserts AND butter, so how could I lose?
However, upon being met with a dizzying array of choices and a dearth of understanding of what flavor would even go with gooey butter cake, I decided on an ice cream flight instead.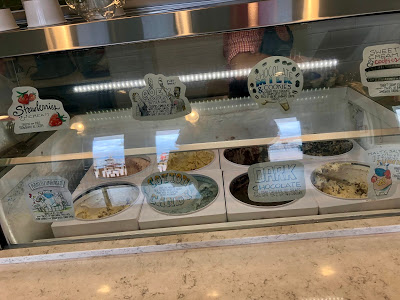 Having made this selection, a Cast Member dutifully deposited mini-scoops of ice cream into a specially designed plastic clamshell. Even with six slots, it was hard to narrow it down. My particular CM was generous with her scooping, and my clamshell could hardly close!
I tried: 
Sweet Cream 'n Cookies

Ooey Gooey Butter Cake (so that solved that problem)

PB Wins the Cup (with homemade peanut butter cups!)

Baked/Unbaked (featuring both dough and baked cookies)

Sally Sells Seashells (WDW-exclusive flavor)

Malty Salty Pretzel Punch
All six were delicious, as you would expect – sweet, creamy, and of course, fast-melting. My personal favorite was PB Wins the Cup; you could really taste the difference in those homemade peanut butter cups.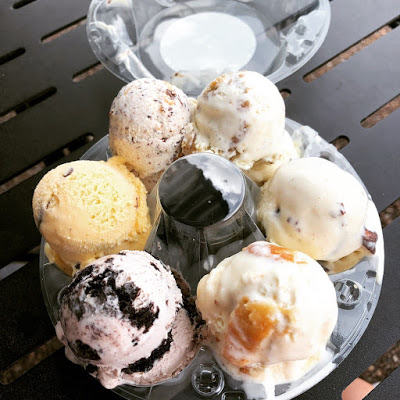 That being said, I would not recommend an ice cream flight. GASP! Why? Because with my spoon bouncing from sweet and chocolate-y scoop to scoop, the flavors ran together until all my tongue was getting from any of them was a general sort of creamy sugar taste.
No, I recommend instead making the hard decision and selecting one, maybe two flavors. Make it a sundae if you like. But really focus on your choice. Savor it. Come to understand it. Once you have become one with that flavor, only then you may try another. Oh, darn; I guess you'll have to go back!
Don't forget, you can follow FRoA on Twitter @fairestrunofall and on Instagram @fairestrunofall. If you have any questions or thoughts, leave a comment or email fairestrunofall@gmail.com. See ya real soon!