Trip report time! See all the posts in this report.
And now for the final day of the trip report. Boo hiss.

We got up early to shower and finish packing before dragging our luggage to the airport check-in desk and heading to Disney's Animal Kingdom.

There was a very long line for the DAK bus, but several buses arrived one after the other to get us going quickly. I realized why too late: DAK had Extra Magic Hours this morning. I had totally forgotten to check. Amateur move.

Oh well! I resolved to keep a close eye on available FastPasses, and we kept on with our day. Obviously since we had missed the start of EMH the Flight of Passage line was too long. 🙁 I later thought I had picked up an FP for it but it turned out in my haste I just got a River Journey FP. I swear I remember it being FoP when I booked it but what can ya do.

Anyway, back to the morning at hand: River Journey was only about 25 minutes so we did that instead. I know this ride is much maligned but I rather like it. It could definitely stand to be longer with a more involved story, but I think it does a wonderful job creating a sense of place.

After communing with the strangely atonal Shaman of Song we stopped at Pongu Pongu for breakfast. Erika got a breakfast sandwich that seemed perfectly serviceable. Meanwhile I took the opportunity to check off one of my bucket list food items: the lumpia, a sort of egg roll with pineapple and cream cheese filling.


I understand that this, much like River Journey, is a somewhat controversial item, with those who try it falling into distinct love-it-or-hate-it camps. Well, somehow i still managed to be straight down the middle – I thought it was pretty good with a crisp sugary crust and creamy filling, but it could be improved with some more textural contrast on the inside.

Next I intended to lead Erika to Kilimanjaro Safaris, as I had previously seen in the MDE app that the line was too long. Unfortunately after our breakfast I saw that the wait time had jumped a fair bit during that short time, so I instead steered our little party toward Dinosaur, which had practically no line. In the meantime I picked up a safari FP and all was right with the world. 

I had also previously obtained an Expedition Everest FP, so we headed over to Serka Zong for a trip through the mountains. I always like to visit with my friend the Disco Yeti.

We had some time to kill before our safari FP, so we took a spin through Gorilla Falls, which nabbed us some particularly nifty views of the… mongooses? Mongeese? Those and the gorillas.


Our FP time opened up and we boarded our safari. Our driver was very good; his delivery was friendly but not too squeaky-enthusiastic if you know what I mean. We got to see a couple of teen giraffes having a fight, and a mother hippo and her baby sunning themselves.


Post-safari we popped into Zuri Sweets so Erika could get a chocolate snack, and then Dawa bar for a Ngumu jungle juice for me. This used to be POG juice mixed with rum but they now use peach schapps instead. It was still good but I think I might prefer the rum slightly better.


Refreshments in hand, it was time for my FAVORITE THING: Festival of the Lion King, of course! For some reason part of the standby line was routed through the back door, which put us in the giraffe section, but I asked the Cast Member nicely and she let us walk across to the lion section (I like doing the weem-aways). We got tumble monkey high fives and all was right with the world.


Lunchtime was upon us, so I unceremoniously dragged Erika to my beloved Nomad Lounge. More on that to come!

From there we headed back to Harambe to see the Harambe Village Acrobats, and act I had wandered past before but never stopped to watch. It was good! None of the tricks were mind-blowing but the stacks of humans they created were impressive all the same, and their energy was really good. Erika and I even allowed ourselves to be pulled onto the stage to learn a dance.


We took a bathroom break at my favorite WDW bathrooms by the FotLK theater (CLEAN!), at which point I discovered the Avatar FP I thought I had wasn't. Blast and damnation. But there wasn't much to be done about it so late in the day, so we pondered our alternatives.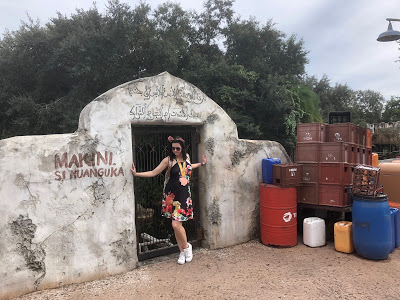 Here I am pondering my alternatives.
Initially we thought we'd sneak in one more ride on Everest, but as we headed in that direction we happened to walk by the Theater in the Wild just as the Finding Nemo musical was about to start. Great believers in providence, we took in the show instead.

Then it was time to say goodbye to all our company. We boarded a bus to Pop, grabbed some snacks, took one last lap around the gift shop, and hopped on the DME bus to the airport. Plane ride and home. The end.

Thanks for slogging through this trip report with me! I still have a couple more related posts up my sleeve including food reviews, so keep an eye out. See you for the WDW Marathon 2019!

Don't forget, you can follow FRoA on Twitter @fairestrunofall and on Instagram @fairestrunofall. If you have any questions or thoughts, leave a comment or email fairestrunofall@gmail.com. See ya real soon!