Continuing my trip report for my January 2019 WDW trip. See all the posts in this report here. Onward!
Post-massage, I hightailed it back to my room to squeeze every last second out of the experience before checkout. I put on some restorative Hotel TV (Friends marathon; you can always count on one) and finished packing all my stuff before slinking down to bell services to check my duffle. Thus unburdened, I hopped on the bus to Disney Springs.

My first order of business was to grab some food, but as is my wont, I got distracted. I made the game time decision to take a left toward the West End instead of my usual right, and was immediately drawn, like Ray to Evangeline, to Disney Style.

I don't think I'd set foot in this area since the big Disney Springs overhaul, and Disney Style was certainly new to me. Its contents reminded me of Trend-D over in the Marketplace, as redesigned by a teenage Instagram influencer. This makes it sound horrifying, which it kind of is, but ALSO, it is full of CUTE! And COLORFUL! And therefore I was entranced.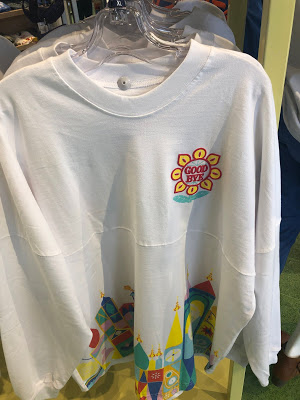 I am particularly fond of this small world spirit jersey,
which essentially tells you to GTFO.
My selfie game is insufficiently strong for many of these photo ops, but I was able to wrangle a Cast Member into taking a picture of me with the mural because CASTLE.

I had to get out of there before I bought EVERYTHING EVER, so I threw up a quick Twitter poll about what color Minnie ears I should get and then hustled myself out. I also asked Twitter where I should eat lunch, but I got so hungry in the interim that I wound up bumrushing Morimoto Street Food for snacks. Review to come!

I toyed with the idea of seeing a movie at the AMC theater but decided for a more active shopping session. I instead did a thorough tour of Sephora, Uniqlo, and Zara – without buying anything of course because all my souvenir budget was earmarked for – wait for it – EARS!

Speaking of ears, guess where I headed during my inevitable jaunt through World of Disney?


Guys, I may have a Minnie ears problem…

But I do have SOME self-control: I have limited my ears purchases to max one pair per trip. Which meant I had a lot of thinking to do, and I decided the best place to do it would be Jock Lindsey's Hangar Bar. 

My bartender and I had an in-depth discussion about whether I should branch out and try a new drink, but ultimately I went with my tried-and-true Anything Goes, plus a pretzel to round things off. I munched and sipped and consulted Twitter, and ultimately we both came to the same conclusion: Spaceship Earth ears it would be. Better luck next time, purple potion and rainbow!

I'm sure I could've gotten them at any number of nearby Disney stores, but I couldn't resist rolling back to Disney Style, my new favorite place to desperately try not to spend money. As she scanned my purchase, the CM said, "Normally I ask if you want me to cut the tags off so you can where them out of the store, but you're already wearing ears…" Damn skippy, lady!

The time of the Magical Express grew near… but I still had a few plans up my sleeve. I hopped the bus back to Kidani and walked it back to the pool, where I changed into my swimsuit in the locker rooms and did something I'd never done before: used the Disney resort hot tub! Verdict: not hot enough.

You probably think that's the end. Incorrect! I did one more lovely thing before I accepted my airport fate: I sat by the fire in the Palace Library and listened to a bunch of kids participate in the nightly drum circle. Kidani Village at its finest, folks. I frickin' love AKL.

And so, as the pounding beat made my raging feet not easy to ignore,* I dragged myself to the DME bus stop and flew home. AGAINST MY WILL, may I just add.

So that kinda ends the trip report, but nobody panic – I have a handful of food reviews still to come!
Don't forget, you can follow FRoA on Twitter @fairestrunofall and on Instagram @fairestrunofall. If you have any questions or thoughts, leave a comment or email fairestrunofall@gmail.com. See ya real soon!