And now for my favorite kind of post – the trip report! I'll be covering my 2020 Marathon trip. You can read all the posts in this report here. Onward!
The bus line post-half marathon was long, but lucky Pop's popularity was anticipated and many buses awaited us; we were on one and back in our room in no time flat. We took turns showering and changing before finishing up some light packing and heading out the door – it was time to transfer from Pop to Animal Kingdom Lodge!
So when I initially made my room reservation I only planned to run the marathon. When I switched to Goofy, I needed to add some nights to my trip – but rented DVC points (my method at the time) are notoriously immobile and nonrefundable. Not one to fret, I assembled a split stay, and the time to switch was upon us. We left our bags with the luggage assistance fellows with the promise we would see them again at our new resort.
AKL, as a deluxe resort, is much nicer, but I must confess leaving the Skyliner behind was painful. >D
Race buses were still circulating between the finish line and the resorts, and a charter was using the Disney Springs slot. Luckily I saw a bus labeled Disney Springs in the DAK spot, and we climbed aboard on faith. When I saw the Cirque de Soleil tent I knew we had made it.
First on our agenda was brunch with Becky of Disney In Your Day and company, which was delightful – more on that to come in a later review, of course. After that we ducked into the Dress Shop, just to look. No, really, we didn't even buy anything this time! (Because runDisney already takes all my money. Have I mentioned I love my new race jacket?)
I said we didn't buy anything; I didn't say we didn't WANT to buy anything.
I was out to spend some money, though, and we headed into Basin with purchases in mind. I've been trying to make the switch to solid shampoos since it's more sustainable etc., and I find Basins are among the cheapest that work well (skip the conditioner bars, though; in my experience they suck). I examined the wall of shampoo bars carefully before filling a cardboard tube with my selections. I also picked up some of my old oatmeal soap since my skin has been skewing sensitive of late.
After our shopping adventures we grabbed a bus to Animal Kingdom Lodge and then when straight onto the bus to Disney's Animal Kingdom. We paused on the way in to make some very normal hand gestures.
We already had a FastPass open, for Dinosaur, so we rode that.
Next we walked over to Serka Zong for some ice cream, which we ate in the Rivers of Light stadium. I'm so glad they keep it open during the day – it's a lovely respite from the crowds with plenty of seating.
The finishing of our ice cream coincided nicely with the commencement of our Expedition Everest FP+ time, so we rode that before rolling over to Festival of the Lion King.
We made it to FotLK fifteen minutes early but somehow we were held in a line??? As a sort of overspill crowd????? We got in and ended up in the back of the giraffe section, which was fine, but I'm accustomed to a much closer seat over in lion. The show was amazing as always; I'm just a overly picky malcontent.
We were close enough to our Flight of Passage FP to head over to Pandora to do some exploring before we rode. I still haven't been through the regular queue! Not that I mind the short waits, mind you, but I hear it's amazing. Also, this was the first time I managed to get through the pre-show without the "wait, something went wrong" bonus scene. I legit thought it was a regular part of the video, not a contingency plan, but apparently it only plays if stalling is necessary.
It was getting on in the afternoon and we had gotten up very early. Also we would be getting up earlier. Either way, it was roundabouts time to head back to AKL. Oddly enough, we still hadn't gotten a text message that our room was ready. We finally received the go-ahead on the bus back, but took a quick detour through The Mara food court to get dinner and some post-race pastries. Also I had to seek out the runDisney pickup point in advance of the morning's bus ride, because I am a paranoiac.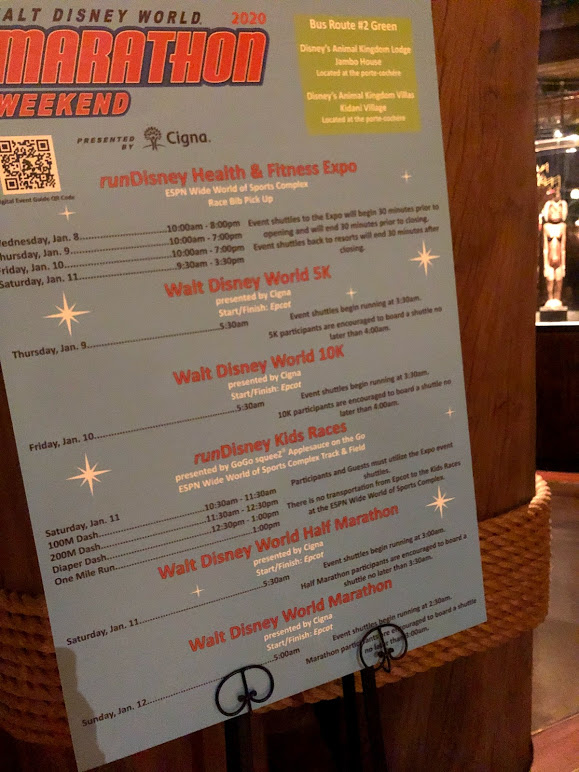 I ALWAYS take a picture of the bus schedule so that I can continually check it.
I may be high anxiety but at least I'm punctual.
Then we found our room on the Zebra Trail, and – holy upgrade, Batman! We had a savanna-view room we did not pay for! Yowza! Given the lateness of our room's readiness (the text arrived at 5:39pm) I'm guessing the ran out of regular rooms. I'll take it!
So that was an excellent omen. We skittered down to bell services to grab our bags before settling into our room and prepping. In the morning: THE MARATHON.
Don't forget, you can follow FRoA on Twitter @fairestrunofall and on Instagram @fairestrunofall. If you have any questions or thoughts, leave a comment or email fairestrunofall@gmail.com. See ya real soon!