And now for my favorite kind of post – the trip report! I'll be covering my 2020 Marathon trip. You can read all the posts in this report here. Onward!
This is the story about how a recurrent IT band issue left me horrifically undertrained for the WDW Marathon, a full 26.2 miles worth of running in high heat and humidity, and also I was already tired from running a half marathon the day before and somehow it was AMAZING and I loved it and it was even better than last year???
As the Mad Hatter advises, we shall begin at the beginning: our morning began with a chipper 2am wakeup call, which was super fun as always. Although for once I actually really slept for a couple hours. I'm as anxious as ever so I think perhaps even my psyche is finally tired.
Anyway, Erika and I woke, dressed, and ventured into the night to grab a bus to the start line. One of the nice things about staying at a deluxe resort is that the bus lines are never as bad, and we were able to wander onto a bus at our leisure. I was decked out in my Sally costume, and I prayed to Catherine O'Hara to give me strength.
Per my usual we were at the staging area a good two hours in advance, and amused ourselves with some photography before we were finally permitted to make the long walk to the corrals. I sent Erika off to corral F with a crisp high five before wandering down to corral C for the long wait.
And a long wait it was, indeed. A big deal had been made of the race start being moved up to 5am this year, but at 4:57am we hadn't even had the national anthem yet; something was clearly up. I took an extra porta potty break while the race hosts continued to chatter and stall for time.
It turned out the reason for the delay was that the course traversed much of the same parking lot area currently being used as drop off by the buses. Many have decried this as an obviously bad idea, and I don't necessarily disagree, but I do have an operating theory: I think the reason Disney made the race start 5am instead of the usual 5:30am was because they knew they wouldn't be able to clear the area in time, and they were giving themselves breathing room. By that token, our start time just before 5:30am was actually a win. Or a bunch of the race organizers are idiots; all things are possible.
Moving right along. Corral C came up pretty quickly, and soon I crossed the start line and headed toward… Epcot?
Okay. Listen. I knew that there had been changes to the marathon course. However, for some reason I had it in my head that the changes amounted to fun tweaks; I didn't do a full study of the new map on the principle that it would be a fun distraction if I encountered some surprises here and there.
Well, as it turned out, "here and there" was EVERYWHERE. The course was COMPLETELY different. I spent just about the whole race like "Where am I?????" Some changes were, to my mind, positive, and some were negative, but I certainly got my surprises.
The first few miles of the race include a brief run through Epcot, where I stopped to commune with my best friend Figment before rolling past the Mexico pavilion and back out of the park. (Incidentally, it is CRIMINAL that there was no legit Figment and Dreamfinder photo op here.)
We experienced some parking lot time and some road time, which was predictably a bit boring but so far I was feeling okay; slow, but okay, and miraculously, pain-free! My side and knee were KT-Taped to high heaven but it seemed to be working. You know what else is incredible?
Rim shot!
(Not gonna lie; I stopped almost exclusively for Frozone.)
I've talked before about how around mile 7 is my least favorite part of the marathon, but I was used to be it being right after the Magic Kingdom. This time it came before, but I was too busy being confused by my surroundings to register if this was an improvement. All I can tell you is that by the time I hit Cinderella Castle around mile 10 or so the sun was already up, so just like in the half no glorious nighttime-lit-up castle photo for me. Sigh. There were no appreciable lines for pictures, though, so I stopped for one anyway.
Oh, wait, but before that I stopped for Buzz Lightyear in Tomorrowland and also my beloved Sam Eagle in Liberty Sqare! JJ was also out and if I'd had to presence of mind I would've asked him to try to take a selfie with me with Sam in the background if we could make it work. Maybe next time?
I'm gonna play catch with my dad!
You are all WEIRDOS.
Back to chronological order. Okay, the course took me out of the Magic Kingdom via the usual backstage way; there were some characters out but nothing I didn't already have or particularly love so I kept on rolling.
Roundabouts here I think we ran past the sewage treatment plant as per usual, because even a new course can't save you from everything. Oh, and I was very surprised to see the Haunted Mansion gravediggers at a very early mile 12 or so.
Can't scare Sally, duh.
I hit mile 13 shortly afterward and my morale actually got a boost. If you think of the marathon as, I don't know, a parabola or whatever, the peak is 13.1, and once you pass that, it's all downhill from there, right? I mean that in the positive sense. Something like that. Anyway, my feet kind hurt and it was hot and muggy and I was slow but I wasn't experiencing any pain and the halfway point was behind me, so: onward!
We had reached another period of long boring roads, but some characters livening things up a bit. I saw a top hat on a duck and thought I was stopping for Scrooge McDuck; it turned out to be Fancy Donald and Daisy but that was okay too, I guess.
I also stopped for the country bears, inexplicably rousted from their usual home in Frontierland. The camera caught me off guard but given the company I think it kinda works…?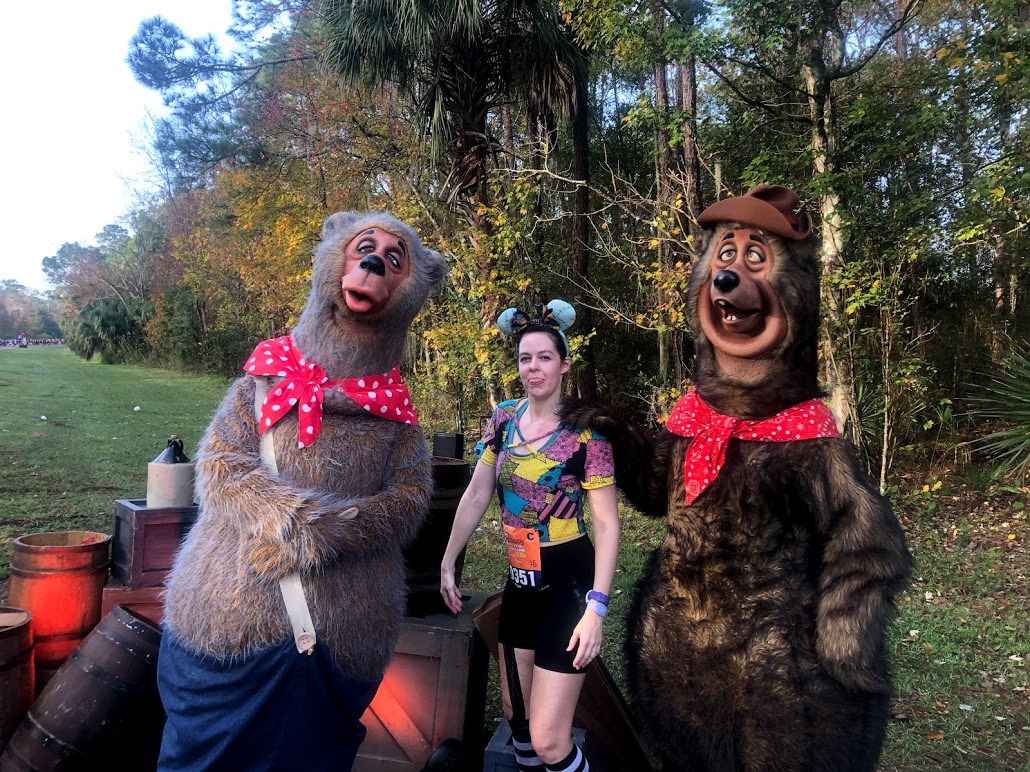 Mama, don't whip little Buford – I think you should shoot him instead
Finally we approached the Animal Kingdom; there were a smattering of animals out but NO FESTIVAL OF THE LION KING PERFORMERS????? They are my rock! My must-do! Theory: because DAK was positioned much later in the race this year, the FotLK cast couldn't be out because they had to prepare for a show. Which is unacceptable and I demand we return to the original course immediately.
But back to what I was actually doing at the time. Right. So I entered Disney's Animal Kingdom, used the bathroom, trotted past Everest; you know, the usual (if I recall correctly it was around 9am but I didn't see Everest operating; not sure what that was about). I turn the corner on the way to Dinoland, feeling, y'know, reasonably okay about things for mile 17ish.
And then I see her. It's HER. It's KEVIN!!!!!
No, seriously, I busted out my phone in line expressly so I could send my only in-race tweet, which read as follows: "KEVIN KEVIN KEVIN KEVIN!!!!!!!"
And it was everything I dreamed it would be.
May I take your bird back to camp as my prisoner?
OH PLEASE OH PLEASE OH PLEASE BE MY PRISONER
So I grinned my way out of DAK, my feet heavy but my heart light, my Kevin-induced joy propelling me down boring between-park roadways. "Hi Sally!" said a water stop volunteer. It's nice to feel recognized.
On the road I came across a couple denizens of the Adventurer's Club, which had little to no line. "The people who remember the Adventurer's Club," they were saying into their mics, "are much older and slower than this." Well, I already had a photo with them from 2018, but I wasn't about to let them feel unappreciated, so I stopped for a pic.
It turned out to be a very gratifying stop at that, for the second I approached the martini guy lit up. "Look what we have here! It's Sally!" he said. "It's like The Nightmare During the Marathon!"
"The whole thing, really," I couldn't help but reply, and was very pleased with myself when he laughed. "KUNGALOOSH," we all agreed, and I ran back onto the course.
I also I met up with Señorita Minnie who was cool but certainly no Kevin.
Then came the much-lauded new addition: Blizzard Beach. Boy was that a disappointment. First of all we got routed around the seemingly endless parking lot, and then once we got into Blizzard Beach barely anything was even happening. The wave pool was running and stuff like that, but there weren't any characters or anything. I'd actually say I prefer Wide World of Sports, where at least there were lots of characters and marching bands and stuff.
Blizzard Beach was hard, but it was about to get harder. For awhile there I had been using the following mantra: "I am comfortable with being uncomfortable." But I was getting awfully uncomfortable. My feet definitely hurt. My muscles were sore. I was shuffling along. Luckily I wasn't in any real pain, but somewhere in the area of miles 21 to 23 I wasn't thrilled with my position in life.
But guys – this year, it happened for me. Y'know how last year, even though I was better trained and all that jazz, I didn't get the miracle boost from running into the Studios? This time, God only knows why, it WORKED. Oh boy did it work. I took one step over the berm into Hollywood Studios and I was instantly almost in happy tears. All my aches vanished. I was full of joy. I. WAS. RUNNING. DISNEY!
And so here on out, despite everything that came before, I had THE BEST TIME. The course was back on track the way I remembered it and I was soaking it all in. Spectators were calling "Go Sally!" left and right; I was slapping fives and groovin.' Hyacinth Hippo says what up.
On the Boardwalk someone happened to yell "Dig deep!" and I immediately began singing my Song of the Training Cycle to myself: "Ya gotta dig a little deeper! For you, it's gonna be tough! Ya gotta dig a little deeper! You ain't dug near far enough!" I'm sure I looked like a crazy person, mouthing nonsense with a crumpled almost-crying-for-happiness face, but what can ya do.
Then we finally hit World Showcase and as always that was MY JAM. The classic Disney music was playing as I surged on. It was still hot and it was still humid and I was still just SO DELIRIOUSLY happy. Oddly enough, I didn't see a single character out – maybe because of the heat advisory they were trying to keep everyone moving? But it didn't matter; I was zooming and in the zone.
Let's see; what could really put the finishing touch on my runner's high? Oh, I don't know – how about if THEY STARTED PLAYING "DIG A LITTLE DEEPER"??? It wasn't quite the ecstasy of my "How Far I'll Go" moment of 2018 but it was darned closed. I added hand gestures to my lip syncing and ran on.
The weird new course swerved us out of World Showcase before Norway, which while not ideal was understandable to accommodate construction. What I did not care for is that no one bothered to carry over the music to the final backstage bit of course. I missed the end of my song. 🙁 Would it have killed them to set up some some additional speakers? Also and more importantly, where the hell was the gospel choir at mile 26???? I demand answers, runDisney!
All this kvetching is to say: I had made it! I had the gas in the tank to plunge for the finish line, and while I crossed under the wire with one of the worst marathon times of my career, I had hit all the heights of happiness I come to runDisney to hit. Somehow, despite my poor (and I mean POOR) training cycle and record heat and humidity, I had SO MUCH FUN. My heart was full from having just run the WDW Marathon – and broken, because it was over.
Clearly I'll see you next year. And the year after that, and the year after that, and the year after that, and the year after that, and…
Don't forget, you can follow FRoA on Twitter @fairestrunofall and on Instagram @fairestrunofall. If you have any questions or thoughts, leave a comment or email fairestrunofall@gmail.com. See ya real soon!