Are you familiar with the Parkeology Challenge? You can get the full lowdown here, but the gist is that you ride every single ride in the four main WDW theme parks. If it's a ride with cars/physical movement, it counts. So, Main Street vehicles? Counts. It's Tough To Be A Bug? That's a show; don't worry about it.
It's not something I've ever put too much thought into attempting myself, because I tend to be high enough on the anxiety scale as it is. 🤪 But when the Parkeology guys offered a virtual version in an attempt offset quarantine doldrums, I was all about it!
Basically the idea was that the Parkeology guys would spend 8 hours tweeting a ride, every 10 minutes. In that 10 minutes, it was up to you to tweet back a selfie that interpreted that ride. You could prep your selfies in advance or you could perform extemporaneously.
I chose to take all my photos the weekend before to keep the stress levels down, and starting 11am last Saturday I was right there tweeting my "rides." Some of them were frankly phoned in, but others I'm quite proud of!
With that in mind, I'm going to make YOU look at them. Presented in the order they were "ridden," with my effortlessly witty commentary intact, here are my entries in the Virtual Parkeology Challenge 2020, plus some hard-earned badges!
Prepare for an onslaught because holy hell there are a lot of photos…
Ride #1: Avatar Flight of Passage
"Oooh, I LOVE Beastly Kingdomme!!!"
Ride #2: Dinosaur
"Now you're speaking my language! (I speak Rawr.)"
Ride #3: Splash Mountain
"Don't think too hard about it"
Ride #4: Soarin'
"Don't forget to remove these little beauties."
Ride #5: Astro Orbiter
"Second time I've ever ridden it. Historic!"
Ride #6: Millennium Falcon – Smuggler's Run
I did a video
"Semper paratus."
Ride # 7: The Haunted Mansion
"I'm hurrying, I'm hurrying."
Ride # 8: Mickey & Minnie's Runaway Railway
"I hear it's cartoony?"
Ride #9: Living with the Land
"So you're telling me all this produce ends up in my meals???"
Interstitial
"Is there time to run to World Showcase for a beer?"
Ride #10: Rafts to Tom Sawyer Island
"I remember these fitting more people."
Ride #11: Alien Swirling Saucers
"I am uncomfortable."
Ride #12: Kilimanjaro Safaris
"I think this lion is suffering from hyperpigmentation."
Ride #13: Main Street Vehicles
"I can't believe the CM just handed me a skateboard and told me to go nuts."
Ride #14: Wildlife Express
"I hear Rafiki's out for pictures at Conservation Station."
Ride #15: Tomorrowland Speedway
"Wave the checkered flag!"
Ride #16: Peter Pan's Flight
"We're following the leader(s)."
Ride #17: Walt Disney World Railroad
"I assume they let you ride in the engine if you bring your own hat."
Ride #18: Journey Into Imagination
"And a dash of childish delight."
Ride #19: Primeval Whirl
I did a video
"Some of you never learned how to spot in ballet class and it shows."
Ride #20: Liberty Belle Riverboat
"As Tiana likes to take over now and again I present: a princess and some frogs."
Ride #21: Triceratops Spin
I did a video
"What can I say; I'm a purist."
Ride #22: Test Track
"The fasten seatbelt sign is up ahead."
Ride #23: Star Tours
"On the dark side you get to wear a cape! Chicks dig the cape!"
Ride #24: Buzz Lightyear's Space Ranger Spin
"Man, these Magic Kingdom blasters really DO suck compared to Disneyland."
Ride #25: Rock 'n Roller Coaster
"Wait a minute – I love that idea"
Ride #26: Jungle Cruise
"Don't look now, guys, but I think the tiger escaped from the temple."
Ride #27: it's a small world
"I'll be that one shepherdess in the Netherlands or whatever."
Ride #28: Kali River Rapids
"I shall remain dry, thank you."
Ride #29: Tower of Terror
"There was time!!!!!!!!!!"
Ride #30: TTA PeopleMover
"I'm getting my hair done in the future."
Ride #31: Slinky Dog Dash
"Today the role of Wheezy will be played by my dear friend Patguin."
Ride #32: Carousel of Progress
"Guess I'm the resident flying ace now!"
Ride #33: Seven Dwarfs Mine Train
"Heigh-HOOOOOOOOO!"
Ride #34: Gran Fiesta Tour
"And neither him nor me was ever seen again!"
Ride #35: Barnstormer
"Goofy + Challenge."
Ride #36: Mission – Space
"The SPACIEST Mission!"
Ride #37: Dumbo
"Have you ever seen an elephant fly? Because I think mine might be missing its feather…"
Ride #38: Voyage of the Little Mermaid
"Decisions, decisions…"
Ride #39: Na'vi River Journey?
"I SAID BEASTLY KINGDOMME. I mean, the animals are made up either way."
Ride #40: Frozen Ever After
"Okay, so, I'm in Puerto Rico, but just focus on the dress and pretend I look cold."
Ride #41: Mad Tea Party
"Why is a raven like a writing desk?"
Ride #42: The Many Adventures of Winnie the Pooh
"Have you seen a spotted or herbaceous Backson around?"
Ride #43: Toy Story Midway Mania
"How many points do you think I'd get for smashing this plate?"
Ride #44: Prince Charming Regal Carousel
"HORSIES!!!!"
Ride #45: The Seas with Nemo & Friends
"You know he never even knew his father!"
Ride #46: Spaceship Earth
"Spaceship Earth fans inhaled while Rome burned."
Ride #47: Magic Carpets of Aladdin
"I don't think mine is working right, Laddie."
Ride #48: Pirates of the Caribbean
"But WHY's the rum gone???"
Ride #49: Expedition Everest
"Okay, so, what we're going to do is sneak down to the riverbank and use these fins to make yeti prints. A little thrill for that preeminent cryptozoologist, Joe Rohde."
Ride #50: Rise of the Resistance
"I just want Kylo to know I'm a fan."
Ride #51: Big Thunder Mountain Railroad
"Hold on to your hats and glasses!"
Ride #52: Space Mountain
"We're in the tunnel! Photo op is just ahead, guys!"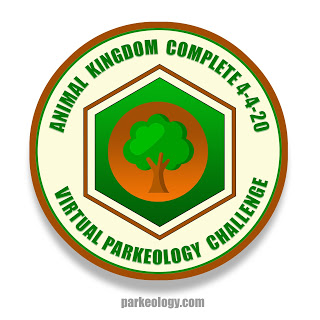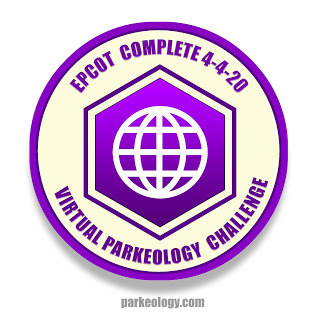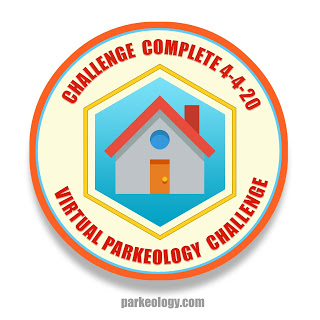 Did you participate in the Virtual Parkeology Challenge? Share your favorite photos!
Don't forget, you can follow FRoA on Twitter @fairestrunofall and on Instagram @fairestrunofall. If you have any questions or thoughts, leave a comment or email fairestrunofall@gmail.com. See ya real soon!