This is not the blog post about race medals I expected to write.
It seemed like it would be much more straightforward. I was going to tell you about how I used to put all my race bibs and medals on my cubicle wall. That looked like this.
But then we moved to Puerto Rico in 2019, and all those bibs and medals came down. They were packed away in a box and shipped to the island. With no clear display area, that box got shoved under the bed. That looked like this.
Fast forward to last month, when Pat gave me a medal display rack for Christmas. Hooray! I had always wanted one of those! We set it up last weekend, and I pulled out my box of medals for display. Only as I started to unpack them, something seemed… off.
Some of the medals were discolored, somehow? The metal had corroded. But the box had been closed the whole time! Sure, Puerto Rico is humid, but not that humid, and anyway it was only about a quarter of them, not all. What the heck happened?
I had almost finished putting all the medals on the hooks when I got a whiff. A very distinctive whiff. If you have a cat, you know the whiff I mean. To me, it smells almost like something burning. Ammonia.
CAT PEE.
My stupid cat climbed under the bed and PEED ON MY MEDAL BOX.
In the immortal words of Charlie Brown: AUUUUUGH!!!!!
JUST LOOK AT THIS TREMENDOUS JERK
So. Cool. Cool cool cool cool cool. Cool!
I mean, it's okay. It's just medals. Only a handful of them, even. And I think I can clean 'em up. I'm going to start by simply soaking them in water and then go from there. The ribbons on most can be readily removed and soaked as well. It's gonna be okay.
But not exactly how I envisioned the triumphant return of my medal display, y'know?
Nevertheless, it's the display I have. It looks like this.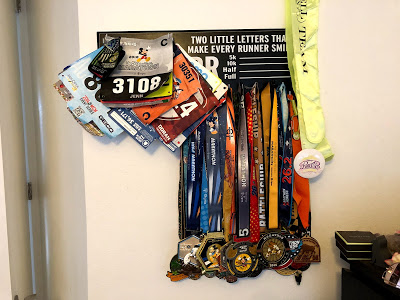 It might be a little overloaded. I should probably get another one. Two or three. Several.
I'll tell you what I should not do, though. I should not store any more medals under the bed!
Don't forget, you can follow FRoA on Twitter @fairestrunofall and on Instagram @fairestrunofall. If you have any questions or thoughts, leave a comment or email fairestrunofall@gmail.com. See ya real soon!