The full trip report is over, but the details still need filling in. Read on for more May 2021 WDW fun!
Our last-minute decision to walk over to the Grand Floridian for dinner at the Enchanted Rose was made casually, but it turned out to be one of my favorite meals of the trip. Brace yourself, because you're about to be hit in the face with some AMAZING drinks. (Metaphorically. Listen, if I really could, I would.)
Drinks at the Enchanted Rose are not cheap. But what they lack in low cost, they make up for in high value. While you can absolutely get standard mix drinks, beers, wines, and liquors, the bar's cocktail menu is beautiful unique and creative. If you're curious, you can check out the menu yourself here.
ENCHANTED ROSE DRINKS
After carefully perusing the offerings, I chose for my first drink the Island Rose (pictured above): Ketel One Grapefruit & Rose vodka, lime, orgeat, pineapple, bitters, and rose water. I ordered it, as I frequently do, expressly for the rose water, as I am a huge fan of rose flavors (it's my favorite tea and makes a darn good macaron as well).
Sadly the rose was just not pronounced enough for my taste, but it was a well-balanced drink, not too sweet. I also don't recall tasting the alcohol, although I'm not sure if that's from clever mixing or a light hand from the bartender.
For my second drink, I went with the Floral Bitter Beauty, a drink I initially passed up due to its inclusion of gin. It's not that I don't like gin, I'm just not entirely a fan, either. You have to use it wisely. But the description – with elderflower liqueur, campari, aperol, lemon, and soda – sounded kinda like but not exactly a Negroni, and I do enjoy those, so I went for it.
And loved it! There was just enough gin to add a twist of woody flavor without being overpowering, and I'm always down for bubbles.
…AND FOOD
We also got a food of course. Becky was aghast that I had never had truffle fries before, so we ordered a serving. I liked them! The mushrooms added pleasant earthy and umami elements to the crunchy, salty fries, and I'm never mad about the presence of parmesan cheese.
Our other order was the crab macaroni and cheese. Full disclosure: I'm not big on crab. Or lobster. Or clams. Most shellfish, really. And while I tried some of the crab in this dish, it didn't do much to overcome my scruples. The mac and cheese itself was good, of course, but I could've done with something a little gooier while at the same time crisper at the top, if that makes sense? Good mac and cheese doesn't need a breadcrumb topping if you're asking me. I mean, it was good, but I'd probably order something else next time.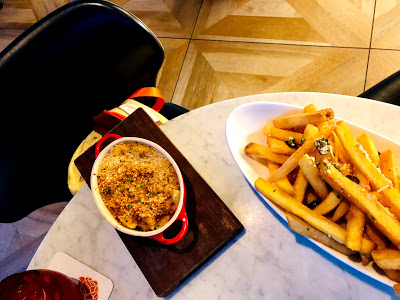 I realize that I'm ending things on a bit of a down note, but don't misunderstand me – The Enchanted Rose was a trip highlight. It definitely has a more adult vibe; I'm sure kids are just as welcome as anywhere else in WDW, but it's a fancy-ish feel with even only the faintest touches of Beauty and the Beast. If you're operating child-free, however, I definitely recommend making time to have a few drinks there. Disney's getting your money anyway. Why not drink away your troubles with quality?
Don't forget, you can follow FRoA on Twitter @fairestrunofall and on Instagram @fairestrunofall. If you have any questions or thoughts, leave a comment or email fairestrunofall@gmail.com. See ya real soon!